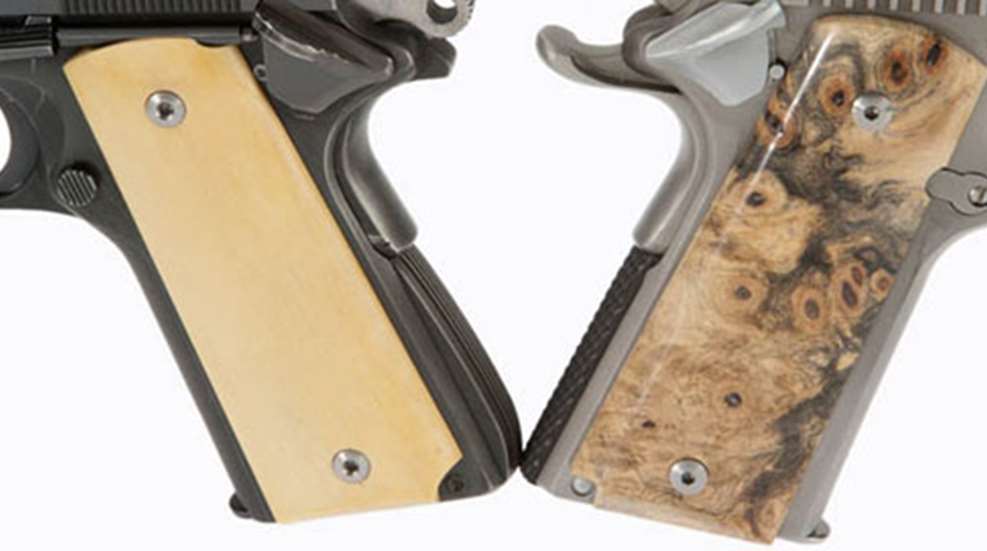 Other than being the type of pistol I carry most often, various brands and models of John Browning's masterful 1911 also occupy the largest amount of real estate in my gun safe, which I consider a byproduct of the gun collector's blood I share with my father.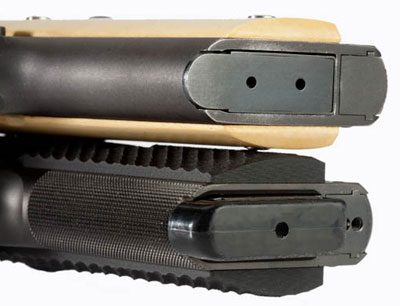 However, despite the tremendous pleasure I experience from collecting firearms of all calibers, makes models and sizes, I consider handguns that don't fit my hand properly to be a real problem. Case in point, my latest acquisition: a Seattle-marked Detonics ScoreMaster chambered in .45 ACP with a second barrel chambered in .451 Detonics Mag. Despite the added versatility of being able to shoot multiple calibers, I found myself unable to completely deactivate the pistol's Michigan Armament grip safety while holding the pistol with a "high-thumb" grip (resting my thumb atop the thumb safety).
Normally, I would contemplate fitting an aftermarket grip safety (such as those featuring an extended pad or memory groove to aid in deactivation) or pinning the safety in place—as was the company's practice with its subcompact CombatMaster—or perhaps accomplishing the same task with a bicycle inner tube. My goal was not simply an inexpensive fix, but one that would preserve the pistol's aesthetics and collector's value.
The pistol sported the original Pachmayr wraparound rubber grips and mainspring housing. Given the flat contour of the latter, I began to entertain the notion of swapping grips for an ultra-thin pair of panels. While it would undoubtedly solve this functional faux pas by reducing the ScoreMaster's overall grip circumference, such a modification requires installing shorter grip-screw bushings, which are easy to cross-thread and/or damage due to very fine threads.
Luckily, an easier solution is available in the form of handmade Tactical oval 1911 grips by Tony Rist. The design comes from the fertile firearm-oriented mind of fellow gunscribe, Wiley Clapp, and offers a practicality-based enhancement that improves the overall ergonomics and controllability of your pistol—without the added expense of a gunsmith.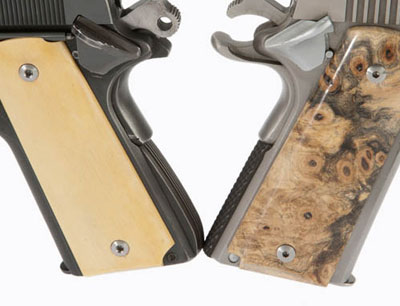 Such benefits stem from their tapered-oval profile, which extends past the fingers of your shooting hand, and narrows as the panels approach the frontstrap for maximum purchase. This is especially noticeable by shooters with small- to medium-size hands. But that's not the only benefit. The wider surface area at the rearward portion of the panels helps to distribute recoil where it's needed most, resulting in a rock-solid firing grip that is both extremely comfortable and controllable—even during rapid fire.
Whether your taste gravitates toward the exotic or every day, Rist crafts his grips from a wide variety of hardwoods, including walnut and holly to buckeye burl and African blackwood, so the finished product is sure to be as eye-catching as it is functional.
For those of you looking to gussie up your old warhorse with a functional face-lift without breaking the bank, consider Tony Rist's Tactical Oval 1911 Grips. Contact Tony Rist: (775) 883-5952.