The quintessential American semi-automatic handgun, the 1911, was designed by John Moses Browning and has served U.S. military/law-enforcement personnel and civilians for more than a century, and it's still going strong. As a rockstar of the service-pistol world, the 1911's popularity is also apparent by numerous manufacturers that produce their own versions of iconic "Old Slabsides." Available in several calibers and configurations—from stock versions to highly customized works of art—only your imagination (and budget) need dictate the type you want to buy. In its century-plus of service, virtually every conceivable redesign, modification or tweak has probably been developed or attempted. Yet, amidst all the change, some new companies, like Maximus Arms, have rejected the renaissance. By remaining true to the Browning's original 1911A1 design and making a few critical modifications, the company produces quality, precision-crafted 1911s at a fraction of what other custom builders charge.
In the past two decades or so, though, a few popular 1911 modifications have emerged and endured to the extent their practicality and desirability are universally accepted. Much to its credit, Maximus Arms, with its staff comprised of gunsmiths (who are also certified as law enforcement armorers) CNC machinists and metallurgists with military and law enforcement backgrounds, recognized and incorporated these tweaks into its new Legion pistol while resisting the urge to overdo it. The result is a better pistol—without any extraneous features—but with precious little left to want.
The pre-production Legion uses a Series 70 fire-control system, referring to the Colt Series 70 pistol introduced in, well, 1970. Like its predecessors, the latest soldier in the Maximus Arms lineup sports a true 1911 design, meaning the single-action semi-automatic is recoil-operated and engagement with the front of the slide is accomplished via a barrel bushing, as opposed to a bull barrel. Given that the latter involves one less part near the muzzle, such pistols are often perceived as being more accurate. Yet, at typical self-defense distances, the former is more than capable of practical accuracy. From a maintenance standpoint, it's also fieldstrips easy with bushing wrench. (The aluminum model that ships with the Legion is one of the best wrenches I've used. It features an integral flange that does a fantastic job of capturing the recoil-spring plug during bushing rotation.) Both slide and frame are blued 4130 steel and each sport a glare-reducing matte finish.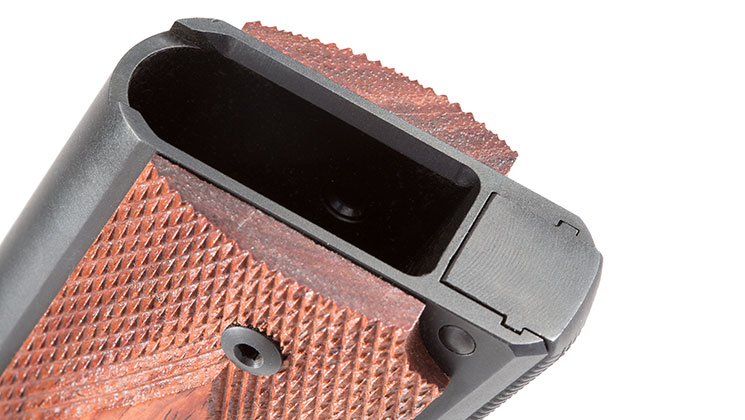 For a nice aesthetic touch, Maximus Arms' logo—a Spartan helmet—is prominently displayed on each side of the slide, behind the rear serrations. With the pistol in partial battery, pushing up on the back edge of the barrel's hood produced no perceivable vertical play, suggesting the unramped 5-inch Storm Lake match-grade tube should produce decent accuracy. Both the feed ramp and barrel's throat appeared to be nicely polished for enhanced reliability. Once-custom enhancements, including an extended thumb safety, high-ride beavertail grip safety, with raised pad for rapid actuation, skeletonized hammer and trigger and lowered and flared ejection port are all included.
A pair of Kensight fixed sights are anchored to the slide via dovetails. While ledge-style sights are gaining in popularity, they are still appreciated for their resistance to snagging. The wedge-shaped variant atop the Legion provide a crisp sight picture that is quick to acquire, and, the design lend itself to drawing cleanly from concealment. However, such sights buck a common trend, given their absence of any dots or related reference points. While hardly a deal-breaker from a purist standpoint, night sights or a brass bead would be a welcome addition on any pistol intended for personal protection.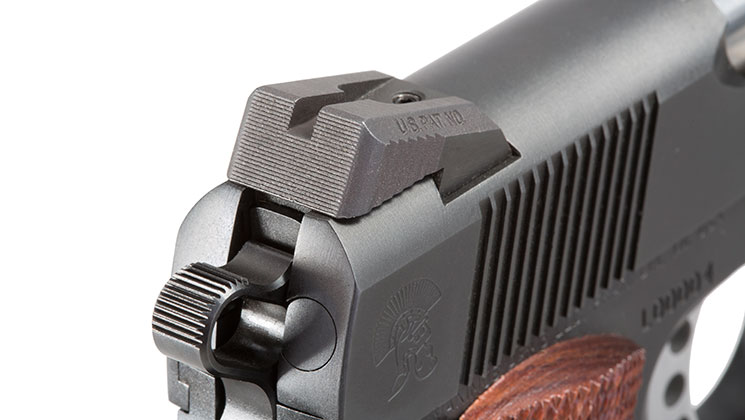 The Legion utilizes a full-length Sprinco USA full-length recoil-management system, as opposed to a traditional recoil spring/guide and plunger arrangement. While it may cause purists to balk and tactards to oppose it citing they hinder one-handed malfunction clearances, I suspect the folks at Maximus Arms opted for the departure because it prolongs the life of the handgun by reducing wear and tear or lessen sensitivity to recoil, a Sprinco USA guide rod helps by accomplishing both of those tasks and more. The company's guide rods are designed to significantly reduce the damaging forces associated with the slide-to-frame impact of semi-automatics pistols by incorporating a chrome silicon wire, secondary sub-spring assembly on the rear of the company's heat-treated, 17-4 stainless steel guide rods. Use of the sub-spring creates a reduction of energy transference that proves quite beneficial for shooters in the form of reduced muzzle flip, less felt recoil and faster sight recovery resulting in quicker follow-up shots. For me, in this instance, the obvious benefit outweighs parting with tradition.
Several features focus on creating an optimum firing grip for the shooter, including checkering on its flat mainspring housing, adjacent checkering on the pistol's walnut grips, which are of a single-diamond pattern and sport the company's Spartan helmet logo (a handsome touch sure to appeal to a connoisseur of the self-defense pistol). The checkering offers ample purchase without being overly abrasive. Besides protecting from hammer bite, the presence of a beavertail safety allows shooter's hand to fit high under the slide, thereby helping to counter muzzle flip.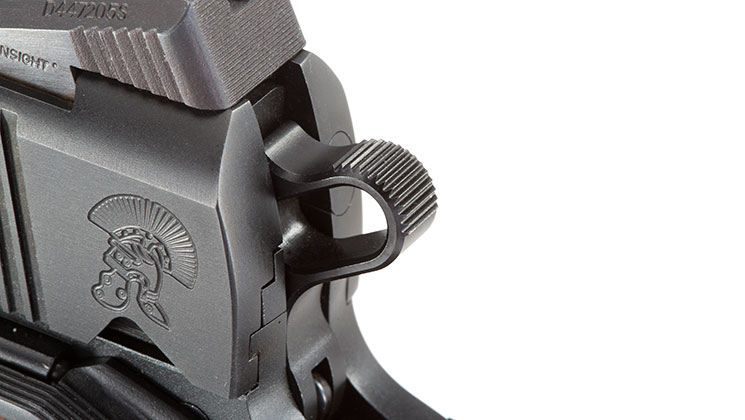 Though the size of the 1911's frame and slide has shank as the 1911 has evolved, there's something to be said for the ease finding and acquiring a firing grip on full-size 1911, either from leather or concealment. While other variants may lend themselves to being more concealable, pistols like the Legion offer a greater sight radius and a more practical alternative for those with large hands.
How did the Legion shoot? There were no failures to feed or fire. Of the three loads tested at 15 yards, testing from a bench was as expected. Groups ranged from slightly less than 1.5 inches to just over 3 inches. Interestingly, the pre-production pistol didn't demonstrate a penchant for a particular load. While I suspect having a reference point on the front sight and a narrower rear-sight notch would have produced tighter groups, I also fired one group from each load at 7 yards. At typical defensive distances the handgun's accuracy potential was immediately apparent. Each load produced tight ragged-hole clusters ranging from .65 inch to just a hair over 1 inch—the smallest going to the SIG Sauer Elite Performance 200-grain JHP.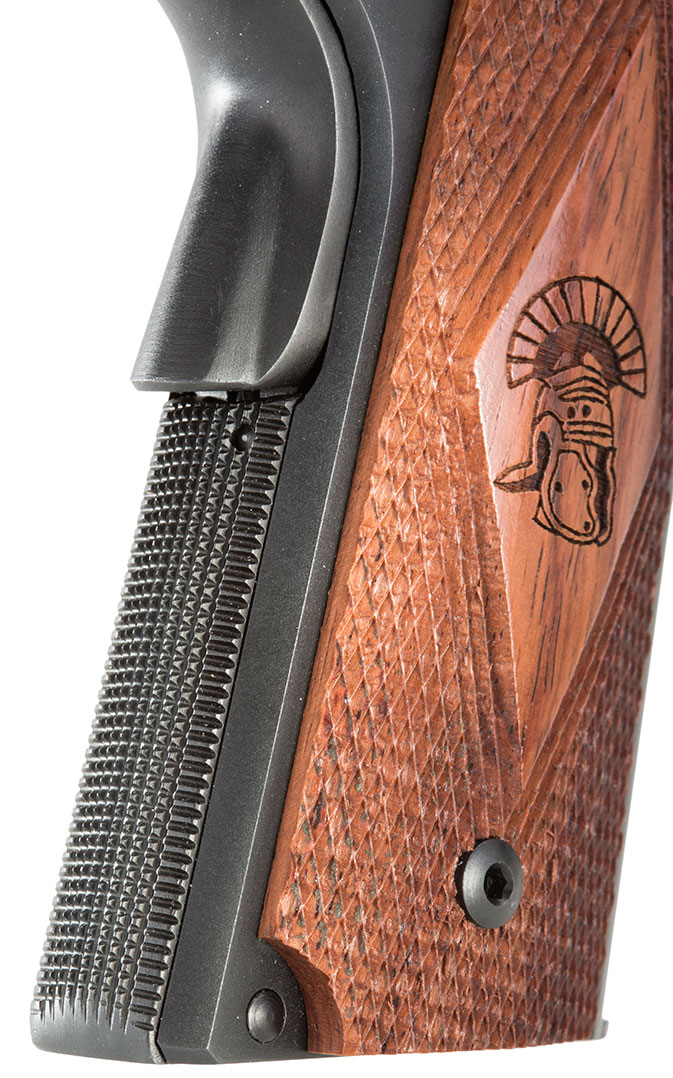 For 1911 fans looking for custom pistol performance on a less-than-grandiose budget, consider Maximus Arm's Legion. It offers all the high-end features commonly seen on pedigreed pistols, at a fraction of the price. You can never have too many 1911s, and in this case shooters will definitely be getting more bang for their buck.
Specifications:
Manufacturer: Maximus Arms; (615) 595-9777, maximusarms.com
Action Type: Recoil-operated, semi-automatic
Caliber: .45 ACP
Capacity: 8+1 rounds
Frame Material: 4130 steel
Slide Length: 7.44 inches
Finish: Matte Matte blue
Grips: Checkered, single-diamond walnut
Barrel length: 5 inches
Rifling: 7 grooves; 1:17-inch RH twist
Sights: Kensight fixed rear; fixed front
Trigger Pull Weight: 5 pounds, 10 ounces
Length: 8.7 inches
Width: 1.3 inches
Height: 5.6 inches
Weight: 38 ounces
Accessories: Hard-plastic case, two 8-round magazines, cable lock, bore brush, metal bushing wrench
MSRP: $1,300
On Target: Copious custom features
Off Target: Lack of night sights
Shooting Results:

Velocity measured in fps at the muzzle for 10 consecutive shots with an Oehler Model 36 chronograph. Temperature: 66 degrees Fahrenheit. Accuracy measured in inches for five consecutive, five-shot groups from a sandbag rest at 15 yards.