Whether it was the result of religiously thumbing through my father's holster catalogs when I was a kid, or the popularity with which they appeared in TV detective dramas and movies during the '60 and '70s, I've always been fascinated with the upside-down-style shoulder holsters from back in the day.
Last year, I had the opportunity to fuel this fascination when I purchased a Bianchi International Model 9R holster online, still in the original factory-sealed packaging—it was the holy grail of gunleather. Although the holster I purchased was originally made for Smith & Wesson K-frame revolvers, the packaging listed other compatible wheelguns, including a Colt D-frame.
A reincarnation of the 1930's-era Berns-Martin Triple Draw holster, the Model 9R shared an open-front design, an ambidextrous harness, along with an internal U-shaped spring that retained the pistol. Some variants of the Model 9R also contained belt loops on both sides of the holster as an alternative carry method.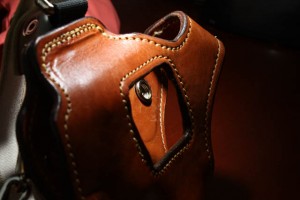 From a historic and technological standpoint, such an innovative holster would be a perfect pairing with one of my large-frame contemporary custom Colt "FitzGerald" Specials: a heavily modified revolver conversion also dating from the 1930s.
I decided to research the Bianchi 9R further to see if it was even made to accommodate larger-frame Colts chambered in .45 Colt or .45 ACP. According to Mr. Bianchi at Frontier Gunleather, the Smith & Wesson K-frame was the largest frame size produced for the Model 9R. To further add to the challenge, he no longer had access to the original Model 9R pattern.
To my surprise, however, Mr. Bianchi was more than willing to design a shoulder holster to accommodate my large-frame Fitz Special. The opportunity to have a holster custom made by someone with the notoriety and skill of John Bianchi was too incredible to pass up. In the end, I'd have a one-of-a-kind holster for a truly classic self-defense revolver.
Unlike other holster companies that offer holsters for select models of handguns, Frontier Gunleather maintains an extensive collection of gun molds and forms along with thousands of custom holster patterns from which to choose. An alternative to mass-produced gunleather, Bianchi's company views its products as handmade works of art, giving personality to each thanks to a combination of styles, designs, choices of finishes and other preference-oriented details.
Each of the company's gun belts and holsters are made of premium-grade, full-grain cowhide, are fully leather lined and saddle stitched. To further illustrate this notion of art, each holster is individually handcrafted one at a time and consists of 26 detailed operations performed using 17 precision tools and on three machines. The post-assembly process involves finishing the holster with a variety of fine hand-rubbed oils, waxes and leather dressing. Due the amount of individual attention given to each holster, features such as carving, color and stamping will vary from one product to the next, further enhancing its individuality. By the time a product is ready for shipment, it's safe to say each holster or gun belt has had the same degree of artisan-based bodywork and pampering as a finely crafted European sports car.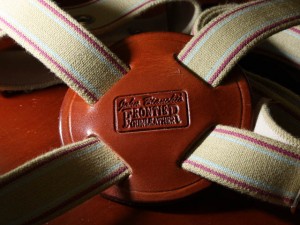 When designing my shoulder holster, Mr. Bianchi insisted on following up our e-mails with a phone conversation to decide what features it should have. Together we settled on a horizontal method of carry for ease of access without affecting concealment. Along similar lines, I selected the company's fully adjustable khaki-colored "figure eight" harness, which has subtle-but-stylish aqua and red pin stripes, is made of a heavy-duty, 1-inch-wide equestrian-grade elastic and provides a good balance to my big-bore Fitz's weight of 1 pound 8.7 ounces.
But that's not all. Its slotted leather centerpiece enhances fit and long-term comfort without binding. Being wheelchair bound, the latter is an extremely welcome feature.
Sporting a flat contour, similar to the pancake-style holsters of old, the first thing to catch the attention of many is a square-shaped cutout in the middle of a golden-brown finish that exposes the revolver's cylinder when holstered. While most would consider this an aesthetic whim, it's actually a feature grounded in practicality, and it functions as a supplementary means of retaining the pistol. Despite already possessing an ample 1.5-inch-wide retention strap along with a sturdy snap, my Fitz Special contains the speed-enhancing, albeit controversial, partially cutaway trigger guard, so I completely understand the reasoning for what I'm sure Mr. Bianchi perceived as an extra ounce of prevention.
As practical is the extra feature is,  it makes for a somewhat choppy draw stroke, due to the edges of the cylinder catching on the cutout as the gun is clearing leather. Thankfully, an adjustable gun-side tie-down, made of the same elastic, helps smooth the process to a degree, and I have no doubt it will become even easier following sufficient practice and a wear-in period.
If you're looking to add some old-world class to your favorite carry piece, more than a run-of-the-mill holster can provide, Frontier Gunleather has the extra artistic touch you're looking for and your handgun deserves.