Featuring a lightweight modular design capable of accommodating more than 90 different handguns, an ambidextrous harness and a unique retention system to facilitate hassle-free reholstering, the Safariland 1090 Gun-Quick shoulder holster has a lot to offer—especially when considering the concealed-carry needs for those with physical disabilities.
Far from your run-of-the-mill leather shoulder holster, designer John Bianchi described the Gun-Quick  as a "…modern weapon delivery system." Its body is made from an injection-molded, glass-filled synthetic material, which unlike traditional leather holsters, won't corrode, fade, deform or mar your handgun's finish. Additionally, the Gun-Quick was engineered to accommodate more than 90 different makes and models of medium- and large-frame semi-automatics instead of a single pistol. Brands include (but aren't limited to) Beretta, Browning, EEA, Glock, Heckler & Koch, Ruger, SIG Sauer, Smith & Wesson, Taurus and Walther. This type of versatility makes the Gun Quick an ideal concealment option for the concealed-carry newcomer who may own multiple handguns, but has yet to amass a multitude of holsters.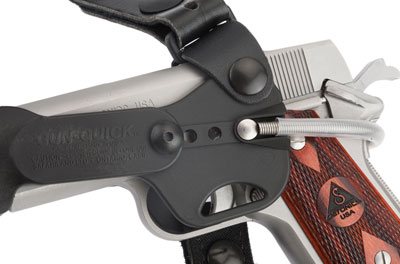 Length and width adjustment is accomplished by loosening the screw of the muzzle-retention portion of the holster, without removing it. Then, remove the left- and right-side adjustment screws. Once you have checked and double-checked the pistol is unloaded, insert the muzzle into the muzzle-retention portion of the Gun-Quick until it's fully seated. Then, while keeping the muzzle seated, replace the front portion of the holster until the retainer spring rests against your pistol's grip tang. Next, replace the side screws and lock washers in the appropriate adjustment holes, so adequate spring tension securely retains the pistol. Then, tighten the side screws, taking care not to overtighten them. Finally, adjust the holster's width so the pistol rests against the opposing sides of the Gun-Quick's interior—making sure to allow 1/16-inch clearance so its muzzle easily clears the holster's body the draw stroke. Tighten the muzzle-width screw, taking the same care to not overtighten it.
To verify the adjustments and Gun-Quick's retention, hold the holster's harness in both hands and shake it vigorously over cushioned surface, like a pillow or sofa to avoid damaging the pistol should it shake loose. If it does, increase spring tension by adjusting to the next inward set of side-adjustment holes. This process should be repeated until you achieve a balance of ease of draw and retention.
Holstering a pistol in the Gun-Quick is a relatively simple, albeit unique process. Tilting the pistol's muzzle downward and away from your body, hook your pistol's grip tang against the holster's retainer spring and pull back until the muzzle cants in an upward arc until it enters the muzzle-retention portion of the Gun-Quick. Given this holster's innovative design, sufficient time for familiarization along with dedicated practice is highly recommended before incorporating the Gun-Quick into your concealed-carry complement.
So what are the benefits of Gun-Quick's spring-retention system? The absence of traditional releases, such as hammer thongs, snaps and straps simplifies the drawing and holstering process to basic elements. Why use a spring? In addition to its vital retention roll, it is a major contributor in creating a fluid, natural-feeling motion by allowing the spring to roll smoothly off the grip tang during the draw stroke. Similarly, the spring also proves beneficial when holstering. Tension—along with the Gun-Quick's heavy-duty construction—eliminates the need for aid from your support hand.
While the Gun-Quick has a lot to offer concealed-carry enthusiasts as a whole, I believe it has a more significant impact among the physically disabled—especially those who are wheelchair bound.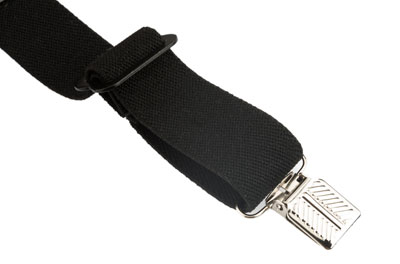 First, let's consider its harness: Featuring a half-harness design, this holster is noticeably easier to don than the more common dual or figure-eight-style straps. Then there's the obvious advantage of it being ambidextrous. While such a feature is commonplace today as an aside, back in the in the late '70s when my father first introduced me to firearms and recreational shooting, left-handed holsters were only available through custom leatherworkers, which is why I have a fondness for ambidextrous holsters even now. I vividly remember coping with the absence, until the first ambi Uncle Mike's nylon holsters hit the scene nearly a decade later. When I wore it out, I thought my pistol-packing future looked bleak. Thankfully, a Bianchi M 66 holster came into my father's possession and he passed it on to me.
In addition to minimizing the likelihood of printing through a jacket, the Gun-Quick's half harness could be a plus for people forced to contend with limited range of motion. The use of suspender-style fasteners on its elastic tiedowns, instead of conventional straps with snaps, may prove easier to manipulate for people with limited fine-motor skills.
Finally there's the Gun-Quick's most obvious feature—its spring-retention system, which enables users to achieve a complete firing grip prior to drawing the pistol, unlike conventional horizontal shoulder holsters that requires the thumb to unsnap some sort of strap. Those, like me, who have to deal with a loss of fine-motor skills as part of their disability, can appreciate this because although it may be simple for some, the act of flicking a thumb break is a challenge for others.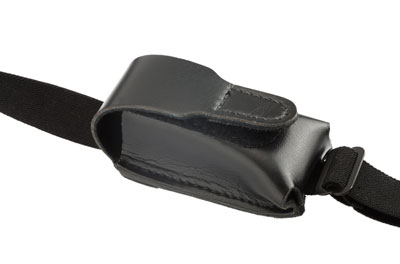 Thanks to the Gun-Quick's spring-retention system, a thumb break no longer part of the equation. Neither is the tedious task of returning your pistol to conventional shoulder holster: reinserting it, only to try to put it in a handgun equivalent of a headlock by trapping it between your support-side armpit and wrestling to engage the snap. (For me, such a task was often difficult, not just due to my uncooperative fingers, but having cerebral palsy, it occasionally became harder whenever my muscle spasticity kicked in.)
Conversely, and by nature of its design, drawing and reholstering a handgun using the Gun-Quick is accomplished through deliberate, fluid and natural motions, or gross motor skills, to manipulate the retaining spring.
As far as gripes go, I only have two with the Gun-Quick. Regarding its magazine pouch, I suspect its generous size was to accommodate both single- and double-stack magazines, which makes sense when you consider the adjustability of the holster. Unfortunately, while the pouch easily accomodates one double-stack magazine there's not enough room inside to accommodate two, single-stack magazines. It also slides a little too freely down the support strap, which suggests something else is needed to anchor it in place. As such, when you consider how other horizontal shoulder holsters feature dual magazine pouches, I'd prefer a means of carrying two magazines, perhaps in a vertical arrangement down the support strap.
Whether you're contending with a physical disability or not, the Safariland 1090 Gun-Quick Shoulder Holster offers an innovative means to conceal and access a handgun quickly, and therefore deserves closer examination.