As a gunwriter, my affinity for firearms stands to reason. There are, however, some things that just naturally carry over, such as knives. As a concealed-carry licensee, the latter offers a first line of non-lethal defense. Yet, my fondness for watches is a bit harder to explain.
I've been a fan of ArmourLite watches ever since I reviewed one of its ISO100 Isobrite watches back in 2013, and I've been a fan ever since. Designed to meet the demanding needs of law enforcement officers, military personnel, first responders and extreme outdoorsmen, the company's watches are designed to endure hard use while remaining durable, providing accurate time and ease of use in all light conditions.
Despite the rigorous requirements for such a demanding clientele, the brand has grown significantly over the years, and its new Valor line proves it is possible to for a good product to evolve into something even better. Like other watches in the Isobrite line, the Valor ISO402 boasts lightweight-yet robust black polycarbonate construction paired with an anti-reflective, scratch-resistant sapphire crystal for enhanced durability. Its matching silicone band sports two rows of holes and dual keepers, each of which provides added security and non-slip purchase when the ISO402 is on your wrist.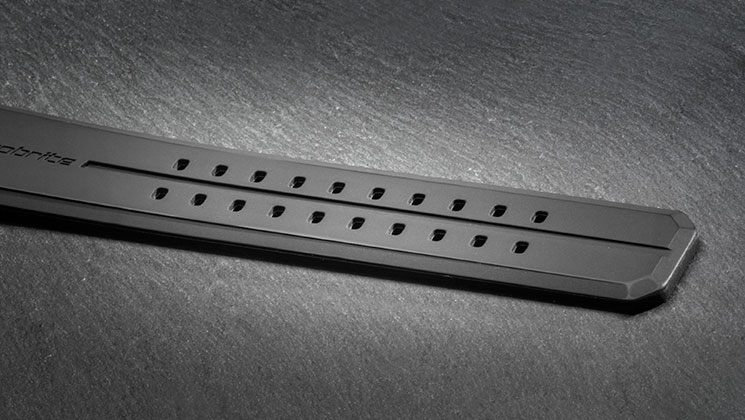 One look at the Isobrite, and it becomes instantly apparent that the watch gets its name from the T100 tritium illumination. Swiss tritium illumination involves extremely tiny glass tubes ("tritium markers") that are filled with tritium gas. The interior of the glass tubes are first coated with phosphorescent paint. The tubes are then filled with tritium gas (an isotope of hydrogen gas) and laser sealed. Electrons of the tritium gas inside each glass tube continuously react with the phosphorescent paint, resulting in a radio-luminescent light source. The electrical reaction of this chemical process makes the phosphorescent paint glow constantly for up to 25 years. No external power source or charging-by-light is necessary to maintain the glow. The glow is completely self-powered.
Unlike the T25 tritium found in most tactical watches, the ISO402 contains the same amount of low-level radioactive isotope found in firearm sights, resulting in a display four times brighter than similar offerings. (The T25 and T100 designations refer to the combined amount of tritium gas that is hermetically sealed inside the glass tubes in the watch. T25 watches have up to 25 mCI [millicuries] of tritium gas inside the watch. T25 is found in the majority of tritium-illuminated watches, such as Luminox, Traser, MTM, Invicta. T100 means there is up to 100 mCi of tritium gas Isobrite watch. T100 watches hold more tritium gas than T25 watches. The higher volume of gas results in more electrical energy being created. More electrical energy equals brighter illumination. T100 is considered a luxury and makes seeing the time in the dark much easier on the eyes—especially those of editorially-taxed gunwiters.) The end result is a tactical timepiece possessing the rock-solid construction and accuracy that a Swiss Ronda 5040.D Quartz movement can provide, along with a 4.5-year battery life.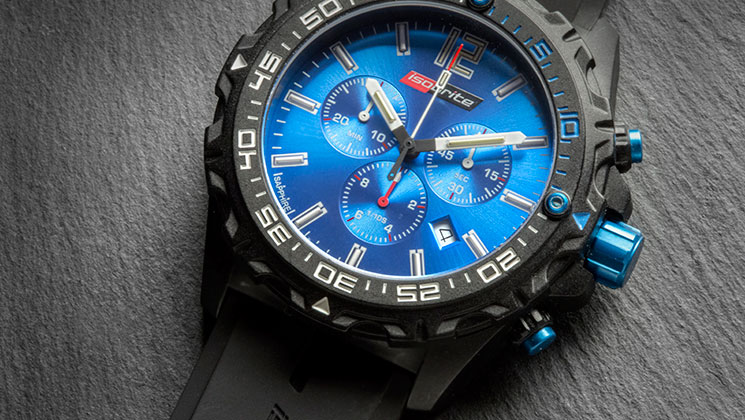 This watch's attractive dark-blue face consists of brilliant blue markers that are legible even in complete darkness. To distinguish the watch from others in the valor line, its "12" is constructed of tubes that are filled with orange tritium. (The watch's hour, minute and second hands each contain vials of the same colored tritium.) Three chronograph subdials—minute counter, second counter and 1/10-second counter—are found in the center of the face. Large, easy-to-read white markers and matching hour/minute/second hands add another eye-catching dimension of color and contrast, not to mention a no-nonsense appearance. On the outside, blue and white hash marks and numbers adorn the unidirectional, graduated, ratcheting bezel. Thanks to an integral O-ring, the Isobrite boasts water resistance to 200 meters and the ISO402's blue-colored crown contains a double O-ring seal for an added layer of protection. Two blue-colored stopwatch buttons flank the crown.
The ISO402 ships in an attractive zippered-nylon travel case is and includes a rubber strap along with an extra nylon band—both of which are large and provide a comfortable fit.
Whether you're a service member, a police officer, an extreme outdoorsman looking for a timepiece tough enough to take whatever mother-nature can dish out or a gunwriter in need of a watch built to shrug off the chronic concussion of magnum recoil and dings from hot flying brass, the ArmourLite Isobrite Valor ISO402 is everything short of bulletproof while being a leadslinger's idea of a truly unique fashion statement. MSRP: $550; armourlite.com