Whether the origins are genetic, a byproduct of consuming too much dirt during adolesence or a cumulative lack of oxygen resulting from climbing too many trees, some of us find ourselves fueled by the thrill of outdoor pursuits and unable to resist the alluring pull of nature, regardless of season, weather or age. While I've always been able to relate to this type of desire (my physical disability notwithstanding), as a gunwriter such a fondness for the outdoors is a huge benefit, for obvious reasons.
Nonetheless, there have been times when my occupation has left me feeling at Mother Nature's mercy, especially during unforeseen events like when a range session is punctuated by a sudden cloudburst that soaks you to the bone, or when you're in the process of policing brass and your cell phone slips out of your pocket, landing in the mud.
Such instances make me wonder what secrets modern outdoor enthusiasts possess that allow them to accomplish their pursuits in the wild without sacrificing the benefits of modern electronics. Of course one can argue people retreat to the outdoors as a means of temporarily severing our technological ties, and I don't disagree.
Thankfully, LifeProof has successfully bridged the gap with the company's iPhone 4/4S Case, which provides uncompromising protection from the elements, without restricting access or unwanted bulk.
The case is comprised of a two-piece, polycarbonate frame with an elastomer exterior that, when snapped together, safeguards your mobile device from a variety of potential hazards. Unlike similar cases, the LifeProof adds a mere 1/16  inch (from center to center) to your phone, combining a constant level of protection within a sleek, stylish and unobtrusive design.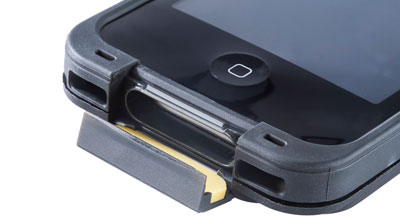 But don't let its ultra-thin, polymer construction fool you, because the seven levels of protection concealed inside grant even the most hardcore outdoor enthusiasts the freedom to take their iPhone along, wherever life may take them. Built to military specifications, it is capable of withstanding a high degree of impact and shock, so the next time you phone slips from your grasp, falls from atop your desk or spills from your pocket when you bend over to tie your shoe, the LifeProof case protects your mobile device from daily tumbles, fumbles and bumbles with which we have all been temporarily stricken at one time or another.
The addition of internal O-ring surrounding the case's perimeter creates a continuous, semi-permanent seal to provide uncompromising IP-68 protection from a wide variety of debris, such as dirt, grit, sand, lint, and even ultrafine dust particles. This ever-present shield from such a wide range environmental contaminants enables your iPhone to serve as the perfect companion in the field by providing not only instant communication, but also essential navigation tools such as a compass, GPS and maps.
Similarly, the LifeProof iPhone 4/4S Case would be ideal for not only a plethora of outdoor-related activities and pursuits, but numerous professions, too—especially construction, demolition and farming, to name just a few. Best of all, you can now go to the beach with the peace of mind knowing at least one of your belongings won't be invaded by sand.
An additional (and perhaps the most impressive) benefit of this is it case's O-ring seal is its waterproof IP-68 protection (the highest international-protection rating), which not only makes your phone impervious to rain, sleet, spilled drinks and snow, it enables you to use your phone while surfing or swimming. After assembling the case and submitting the empty case to a water test to verify no liquid is seeping in, firmly close the charge-port door and tightly screw in the supplied headphone-jack cover to avoid potential damage to your phone.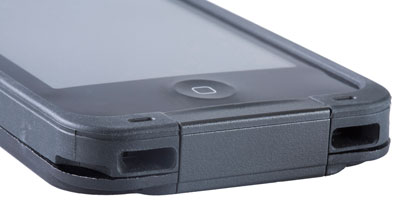 Best of all, the case also provides 6.6 feet of submersible protection, while double AR-coated optical glass lenses facilitate crystal-clear photo and video quality—making it a potential source for capturing underwater sights and sounds, marine wildlife or the kids summertime shenanigans in the pool. Whenever the urge for tunes hits, simply swapping the headphone-jack cover with the supplied, gold-plated headphone adapter and waterproof  headphones (sold separately) is quick and simple.
Although assembling the case appears to be a no-brainer, taking the time visit the company's website is highly recommeded to ensure  both pieces fit together properly, and to make sure the seam around the edges are completely closed, with only a very fine, evenly spaced gap surrounding the case's circumferance prior to performing the water test. (Similar care must be taken during disassembly to avoid damage to the O-ring.)
As expected, the LifeProof case passed the water test with flying colors. Swimming, however, is not a common activity for me, nor can I foresee myself needing to take underwater photos or video for my job. However, I have no doubt regarding the waterproof claim—this case is built as advertised and is capable of serving as a momentary aegis, safeguarding my phone from knocks, drops and dunks into anything from Mother Nature and your spilled morning joe, to an otherwise untimely demise in the dank depths of a toilet.
Similarly, drop tests from waist and chest heights, to simulate the phone falling from a pants or shirt pocket—despite my misgivings—proved the LifeProof iPhone case to be tough and resilient (at least as far as my bathroom floor is concerned), but don't perceive it as indestructable. Subsequent inspection between tests revealed the case's seal would occasionally come loose in spots, and since it was an easy fix, my phone came away unscathed.
The only noticeable difficulty I experienced was with regard to interfacing with the case's waterproof screen. While sending e-mails and surfing the web, it was necessary for me to tap harder than I expected. As with any new product, there is always adjustment period, and I have no doubt it's something I will eventually become accustomed to.
No matter what your passion or profession, the LifeProof  iPhone 4/4S Case provides the freedom and peace of mind to use your iPhone in ways you have—up until now—only dreamed.