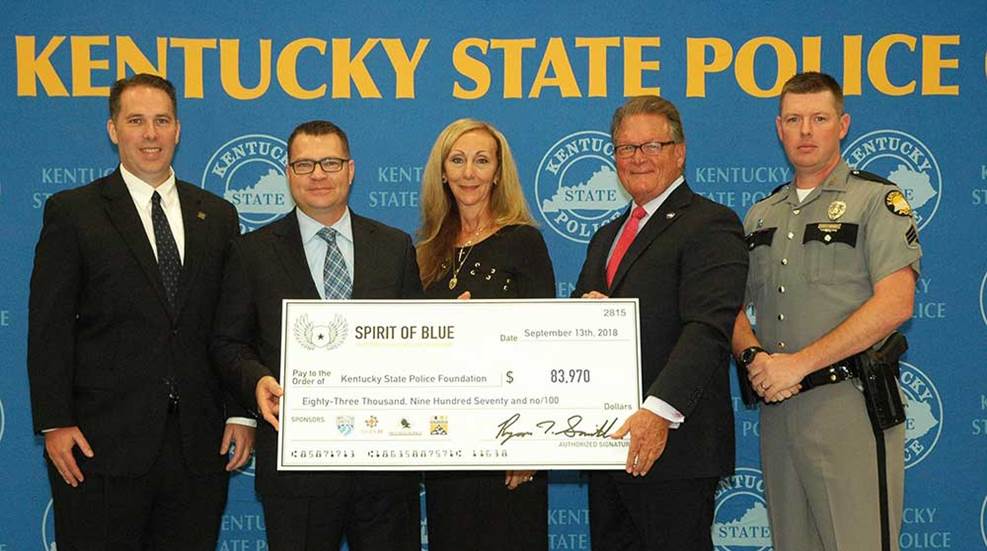 A Trooper Joseph Cameron Ponder Memorial Safety Grant has been awarded to the Kentucky State Police Foundation (KSPF) by the Spirit of Blue Foundation that will outfit 1,000 troopers and officers with life-saving tourniquets and duty-belt cases to keep them at hand for emergencies. The grant was funded in large part by a partnership with Law Enforcement United, with contributions from Eleven 10, North American Rescue, Sportsmen Organized for Law Enforcement and private donations. Total value is $83,970.
The grant is named in honor of Kentucky State Police (KSP) Trooper Joseph Cameron Ponder, who was killed in the line of duty on Sept. 13, 2015. The fatal incident started with a simple traffic stop, and while the law-enforcement officer was trying to find lodging for the suspect and two children riding with him, the deadly chase began.
Ponder's mother, Brenda Tiffany, was instrumental in the grant's creation and attended a special ceremony held at the Kentucky State Police Training Academy on the anniversary of her son's death. "This is the first time I have looked forward to Sept. 13th," she said. "It's such a positive contribution on his behalf."
"On behalf of the Kentucky State Police, I would like to thank the Spirit of Blue Foundation for this very generous grant," KSP Commissioner Rick Sanders said. "This grant will allow every officer to have immediate access to an effective tool which may save a life of an officer or citizen."
When only minutes exist to treat a life-threatening injury to an extremity, tourniquets are applied to prevent excessive blood loss until that individual can be placed into proper medical care. "Tourniquets are quickly becoming one of our most granted pieces of equipment," explained Ryan T. Smith, executive director of the Spirit of Blue Foundation. "The reason is because they are more affordable than most safety equipment and, sadly, officers need this type of life-saving device more as threats to their lives, and others, become more prevalent."
Of the 2,196 tourniquets Spirit of Blue has provided through grants nationwide, five have already been documented as being used to save a life.