Former LEO Adam Weber started Weber Tactical as a competition rig maker but expanded its line into concealed carry and range gear a couple of years ago under the "Original Gear" moniker. This experience in both worlds led to the creation of the Range Holster, an OWB setup with a speed clip that makes range time a ton of fun.
The Range Holster starts with a .08-inch thick Kydex taco shell molded for each gun model; in my case, a Glock G17. The shell comes with an optic cut, which worked great for my Vortex Venom strapped on top. Two Phillips head retention screws sit below the trigger guard for easy adjustment. Why two? One screw isn't quite enough for a custom fit for a gun as long as a G17. The second screw gives it just a little bit more customization not typically found in this price range. It's a nice touch.
Securing the holster to your belt is a Blackhawk QDR mount, one of the best on the market, that adjusts for belts up to 2 inches wide. Too often, holster companies make you choose which belt size you wear when ordering. If you change your belt preference later, you're stuck. The adjustable QDR mount lets you change it up without ordering new clips. Simply move the stopper to the next slot and you're good to go. The clip is also ride height and cant adjustable up to 15 degrees by simply moving the three screws. You can even invert the clip if you prefer the closure to be at the top and the hinge at the bottom.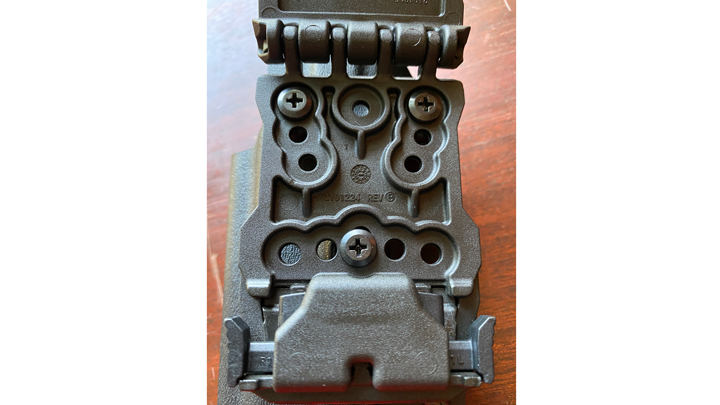 The setup Weber has created with the Range Gear holster allows for either a range shooting or competition. I work as an instructor at a local gun range and shoot competition on the side. This holster works for both. It is IDPA and USPSA approved and runs well in 3-Gun. It's also available in right-hand and left-hand configurations.
Unlike a lot of other holster makers, Weber tends not to get too flashy with their colors and designs outside of their dedicated competition rigs. This makes production easier and keeps down cost, savings that get passed on to the consumer. Almost all of their holsters are sub-$100, including the Range Holster, which checks out at $52.50, a relative bargain considering all you get. Overall, the Weber Tactical Range Holster is a solid and versatile option for most OWB applications.