Conventional wisdom says never take a knife to a gunfight. Words to live by, right? But what if you could take both a knife and a gun into the fight, kept together in the same holster? That's the thinking behind the 3i Holsters OWB full Kydex holster with the bonus knife carrier.
A relatively young company, 3i Holsters was founded in southeastern Ohio back in 2015 and immediately started to gain a small but loyal following thanks to high-quality Kydex materials and molds, as well as fun artwork and color combos. The holster biz is now full of companies offering great holsters and fun designs, but 3i has always chosen a slightly different road to travel with interesting cuts and added touches not offered by competitors.
The OWB holster they sent for review is for a Glock G17 and features a subtle woodland camo pattern on the outside. I'm not big on decoration for my holsters, but this one is very subdued and offers just the right amount of color to set it apart from the typical black Kydex boredom.
Function-wise, this holster is spot on. The mold was precise with no retention adjustment needed, although that is an option with a Philips screw set against the trigger guard cover. Six other Philips screws with Chicago backers hold the three — yes, three — kydex panels together (more about why there are three below) with four of the screws serving double duty as clip holders. This allows for an easy change from OWB to IWB by just replacing the clips.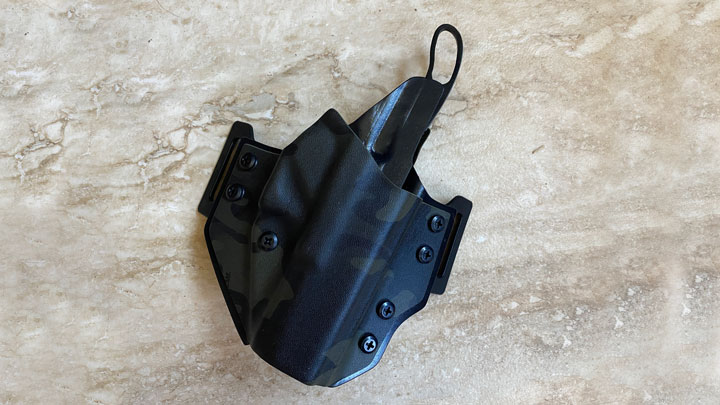 Soon after I received the sample, I took it to an outdoor range on a hot summer day where a friend of mine and I worked on pistol speed shooting and AR/pistol transition drills, offering a chance to run the holster hard and see how well it performed under the pressure of repeated quick draws and reholsters. It ran so smoothly all day that soon I forgot it was a new holster. It felt like one I had run for years.
Now, about the knife and three panels mentioned above. This is a great touch that offers a built-in backup weapon. The knife slides into its own sheath sandwiched between the two back panels. This puts the handle of the knife right at hand for an easy draw that's as natural as drawing the gun, but the knife does not accidentally come out when you draw the gun.

I was more than a bit concerned about this at first, but after a few practice draws, I realized the gun comes out on its own without disturbing the KA-BAR knife, which, by the way, is included with the holster. When you do need the knife, the grip is easy to grab and pull, drawing out the knife in a ready-to-use position.
At $80, the 3i Holster is right in line with many competitors and has the quality craftsmanship to substantiate the price. Plus, you get a knife built in. All this from a veteran-owned small business. It's definitely well worth the look.