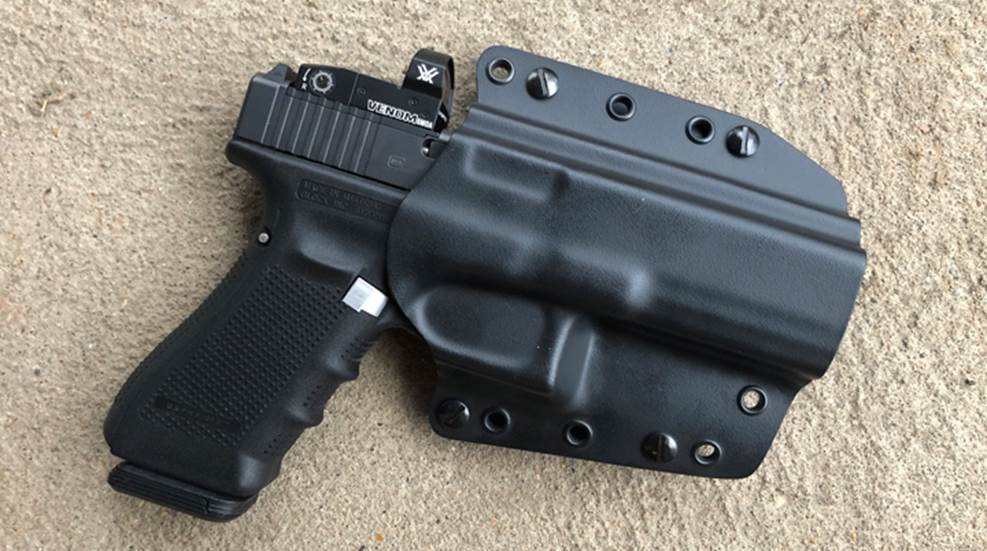 Long known for their classic leather holsters, Galco Gun Leather also offers a line of kydex IWB and OWB rigs for those who prefer the stiffer material. Leather isn't for everyone, so Galco offers this line of kydex holsters as an alternative and broadens their line to attract more customers to the line that has been making quality holsters since 1969.
One of the Galco's more popular kydex choices is the Corvus, a two-piece holster that can be worn as either an OWB or IWB and comes with hardware for both. In its native configuration out of the box, the Corvus serves as an OWB available with either 1.5-inch or 1.75-inch belt loops. This choice of sizes is a great offering for those who like to wear a slightly taller belt.
The version Galco sent me to try was for a Glock 17. First impression was excellent, with great millwork, rounded off edges that didn't catch on anything, tight screws that connected the front and back panels, and an overall quality product. The gun fit perfectly into the mold, offering a solid click when it locked in. Drawing was easy, with enough hitch to feel the solid retention but loose enough to come out with minimal effort.
The fit of the holster against my side was much snugger than many other kydex OWBs because the belt loops are tighter. This is good and bad. The good is that the entire rig is easier to conceal because it presses tighter against my side – comfortably, not pressing into me. The bad thing I discovered when I tried to run a standard leather gun belt through the loops: they're just a bit too tight and make running the thicker leather through. Could I do it? Yes, but it wasn't easy. It took a lot of extra work just to get the stiff gun belt, which I wear whenever I carry, through the loops. If you wear a nylon web belt, this won't be an issue.
Converting to an IWB is easy with the included leather snap hardware. Just remove the clip screws and add the leather straps. If you're a fan of snap leather clips, you'll like this conversion.
Like a lot of kydex holsters, the Corvus does not come in a left-handed option, or at least it's not advertised on their site. You can probably contact customer service and get one made. At $84.00, the Corvus makes a great OWB/IWB kydex option for open or concealed carry.