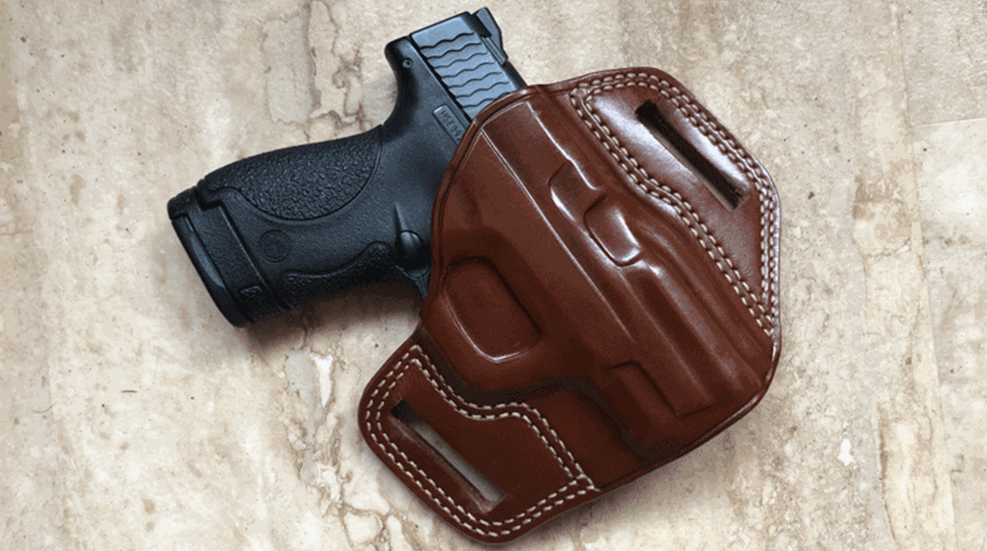 The pancake is probably the most popular and traditional version of the leather OWB holster. It's ubiquitous with undercover detectives in real life and private eyes on 70s and 80s television. Today's civilian CCW carriers are divided as to who is really "appropriate" for a leather holster. Is it the old crusty traditionalist who wouldn't carry anything but a 1911 or the new hip carrier who wants a "retro" look?
Galco Gunleather seems to be on track to attract both audiences and everyone in between with the Combat Master line of leather OWB holsters. Let's start with the obvious: It's leather, so it's not as hard as Kydex and will wear over time in ways Kydex won't. This holds true for pretty much leather holsters out there, Galco or otherwise. If you're looking for a holster that will retain its perfect shape after 10 years of constant use, leather is not for you. However, you can still get many years of reliable service out of a high-quality leather rig if you treat it right and adjust your expectations.
The Combat Master starts with two pieces of finely crafted leather double-stitched together around both 1.75-inch belt loops. The inside is suede to prevent scratching or marring your gun. Through close to 50 draws and re-holsters, the holster left zero marks on the slide of my 9 mm Shield, even after carrying the gun on my hip all day several times.
While I'm not a big OWB carrier, preferring instead the deeper concealment of IWB, this holster fit so tightly against my side that I didn't have to alter my cover garments at all. I wore it with a quarter zip sweatshirt sometimes and an open front flannel shirt other times with absolutely no printing. And it was so comfortable that I almost forgot I was wearing a gun. The snugness also made getting in and out of my car simple and unobtrusive.
Drawing and re-holstering were smooth and snag-free. The mouth of the holster stayed wide open, but the whole gun settled nicely inside with minimal encouragement and felt secure throughout the day.
The Combat Master is available for small and large semi-automatics and revolvers for both righties and lefties in a wide variety of guns. Don't see your gun on the list? Ask and they will probably make it for you. At $99, the Combat Master is a bit of an investment for a holster, but the leather look and longevity certainly justify the cost.