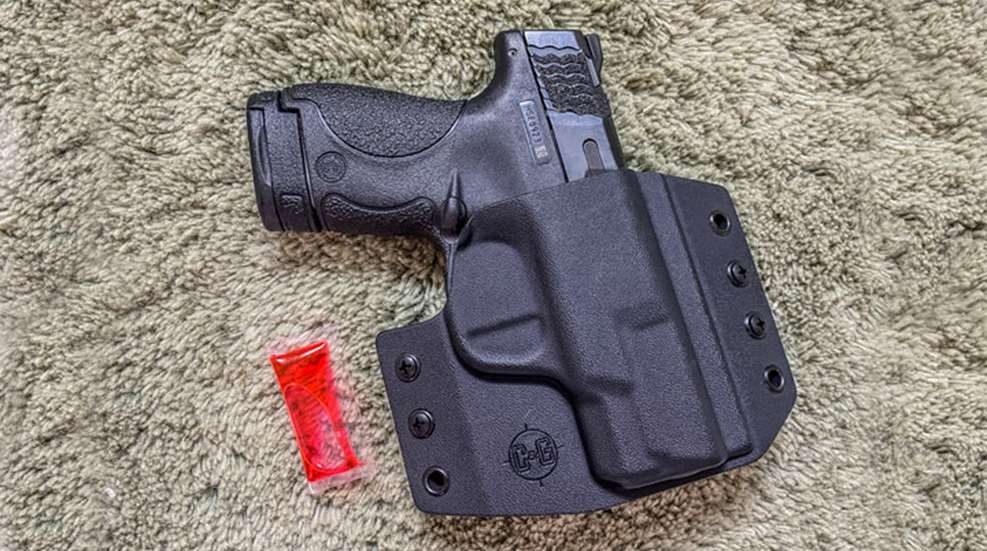 Sometimes fancy is too much. Sometimes ordinary is what you need. But you never want plain. Who wants plain? That's the same as boring, right? Well, C&G Holsters has expertly navigated the fine line between fancy and plain with its Covert Kydex OWB holster, a no-nonsense tool that delivers utilitarian function but has nice touches that make it stand out.
I will admit when I first laid eyes on the Covert I was less than impressed. Just another boring black Kydex OWB. Ho hum. But as I played with it more, I found it has some features that definitely recommend it.
First, the Kydex is sturdier than many other holsters I've tried. It doesn't appear to be thicker, but it's stiffer. Not sure if they used a different formula—I'm in no way a scientist—but it has a more substantial feel and doesn't bend at all when I pushed hard on the panels. The back panel flexed a bit, but that appeared to be more the seams than the panel. Not that the seams are weak. In fact, it takes quite a bit of effort to separate them even a smidge. (That's a technical measurement, slightly wider than a smidgen. Work with me here.)
Speaking of the panels, the front and back are held together by four Phillips screws in seven holes, the extras being for simple cant and ride adjustment. The fit is firm, and the panels are smooth and rounded, eliminating errant snags or scratches. One nice extra touch is a subtle leather-like texturing on both panels that gives the holster exterior a nice aesthetic and just a bit more grip than slick panels.
The belt clips come in either 1.5 or 1.75 inches and are beefy enough to go over any decent nylon or leather gun belt. There is also a MOLLE option if you lean that way. Running a red dot? The top of the holster is cut to accommodate it. The edge of the trigger guard is cut to allow easy access to the magazine release in case you need to change mags while the gun is holstered.
As always, I tried my famous flip test—putting the unloaded gun in and flipping the holster upside down—and it stayed put just fine. It also felt solid and secure on my belt all day, yet was easy to draw and reholster with nary a hiccup. That said, I would still like to see a retention screw by the trigger guard to allow for custom retention and to make sure the holster still does its job after months or years of daily use. It's one of my pet peeves: every holster should have some sort of adjustable retention. But maybe that's just me.
The final nice touch: C&G includes a small clear plastic tube of thread-lock so you can tighten the screws down to reduce the chance of them backing out.
C&G offers the Covert in 34 colors and graphic patterns, including a few camo variants, as well as lefty and righty configurations. At $69.99, the Covert Kydex is a great value in a tough, no-messing-around OWB holster.