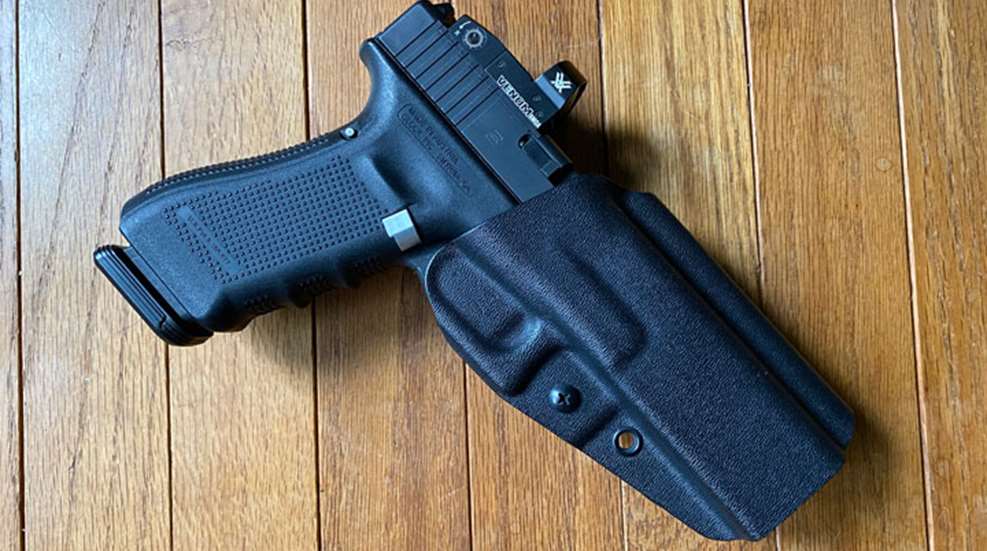 Firearm instructors the world over will tell you, "If you want to get better, you have to put in the work." It's a tried and true mantra that spans all disciplines, never more so than with firearms, where lives may depend on accuracy and skill. And, you also have to have good tools that will work with you and stand up to all the rigors of hard training to be better. Training matters. Gear matters. Holsters matter.
That's the thinking behind Advanced Holster's Groundwork OWB. Molded from 1/8-inch aircraft grade Kydex, the Groundwork starts with a highly durable taco-shell design that stands up to abuse and the accidental drop on hardwood floor (ask me how I know) and then adds your choice of three different belt options: Tek-Lok secure folding clip, duty drop loop, and RTI hanger. Tek-Lok is the standard/default and most popular mount, and the last two options come with a small upcharge. Holes are pre-drilled for all three mounts, so you can upgrade later if your needs change.
While some might find it odd that a non-competition OWB—although it is totally legal for IDPA and USPSA—would have such a fancy belt clip, the security of a Tek-Lok ensures that you have not only strong holster retention but options for putting it on and taking it off not commonly found in other typical belt clips. For those who are not familiar with Tek-Lok, the dual option mount lets either open the lock to work it on and off while leaving your belt on or close it and work your belt through like a standard clip.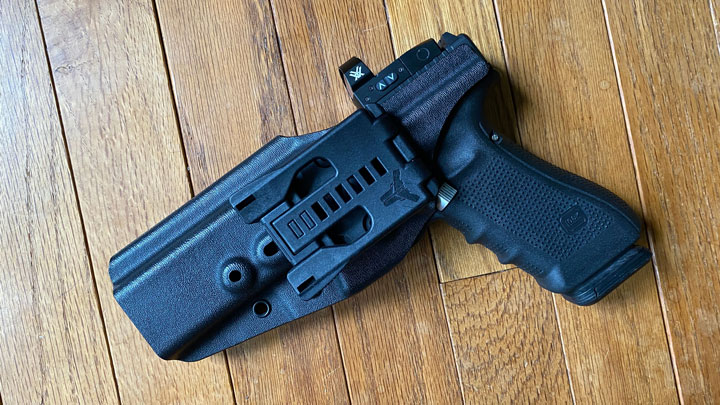 Pistol retention comes from a Philips-head screw with Chicago screw backer and rubber gasket drilled right below the trigger guard. The one they sent me was already adjusted for my Glock G17, so I didn't need to mess with it, but I did anyway just to see how well it worked. Adjustment was super simple and stayed in place through multiple draws and reholsters. It's also optic ready, with the top cut down to accommodate the glass.
I run my test holsters hard, so they have to work just as hard to get a passing grade. This one passed with flying colors. From a sure click when inserting the gun to solid retention through a full day of run and gun on the range, the Advanced Holster Groundwork did the work. And at an MSRP of $69.99, it's a great value for a tough, no-nonsense OWB.