by
Shooting Illustrated Staff
posted on August 15, 2020
Support NRA Shooting Illustrated
DONATE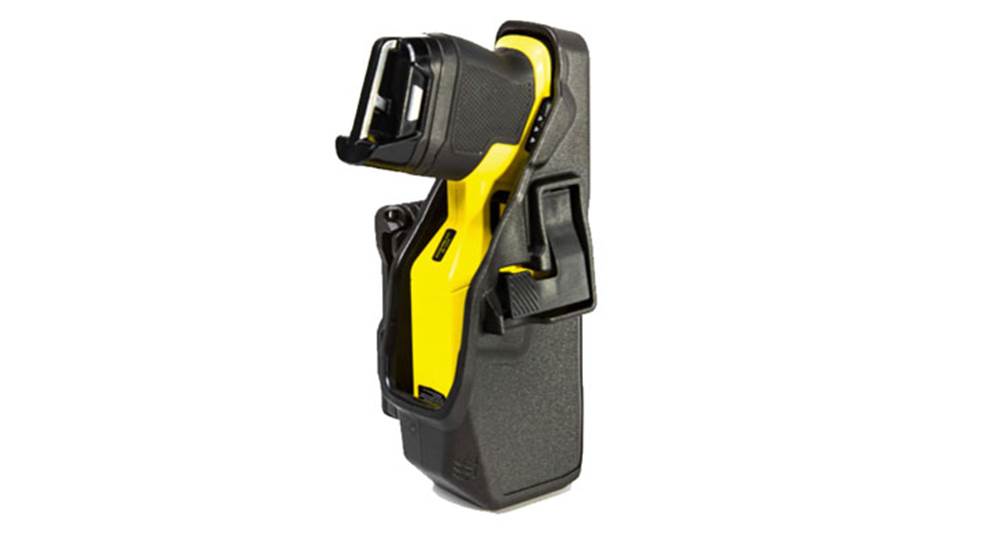 Having a less lethal option on your person gives you more ability to neutralize a violent attacker. We train and practice to use our defensive firearm to save lives, but many times, the solution lies with something less likely to cause a lethal injury. This is especially true of law enforcement, where pepper spray and tasers have become common fixtures on an officer's patrol belt. Now Blackhawk, a leader in law enforcement and military equipment for over 20 years, is rolling out the new Taser 7 holster, which features a distinctive draw motion that helps officers from confusing their gear when under stress, avoiding a potentially hazardous situation.
The Blackhawk Taser 7 holster has a crossdraw or support hand draw design that requires a rocking motion to draw the taser out of the holster, rather than a traditional straight-up handgun draw. When the taser is re-holstered, it automatically engages the active retention mechanism and Taser 7 safety switch. The trigger is completely covered when holstered for added protection against accidental discharges.
Other key features of the holster include Blackhawk's new Quick Dual Release (QDR) holster platform, which allows officers to exchange the taser and holster between shifts without having to remove other items from their duty belt. The holster is compatible with all Blackhawk duty platforms including belt loops, QD systems, MOLLE adapters and tactical thigh platforms.
Blackhawk TASER 7 Holster Specifications
Active retention system design is adapted for tasers with cross draw or offside hand draw design

Different draw than a pistol to help prevent confusion under stress

Automatically engages safety when taser is re-holstered

Fits all Blackhawk Duty Platforms, duty belt loops, MOLLE and tactical thigh platforms

Easily removable belt loop design allows exchange between offers without removing other gear

Completely covered trigger when holstered

The Taser 7 holster is currently offered in Blackhawk's matte black finish in both left and right-handed configurations. The Basketweave finish option will be available in the coming months. MSRP for the Taser 7 holster from Blackhawk is $54.95, and more information on this product and other items from Blackhawk is available at blackhawk.com.