Lots of holster manufacturers tout their wares with a gimmick. Use their holster, and something amazing will happen, transforming the way you carry. It will revolutionize your EDC and make you safer, faster, better protected – an all-around better person. And you'll get killed on the streets if you don't buy one.

You've heard this before, right? Some of these gimmicks range from the semi-cheeky to the absolutely ridiculous. Hang around the industry long enough, and you collect a war chest of these schticks, each more outrageous than the last.

When I received the Torsion IWB holster from Bravo Concealment, I was more than a little skeptical at the company's claim that "Our breakthrough Torsion Technology integrates a 10-degree inward angle which allows the gun holster to conceal your handgun better than any competitor's holsters."

Conceals better. Yeah, right. I've heard this all before. Make me a believer.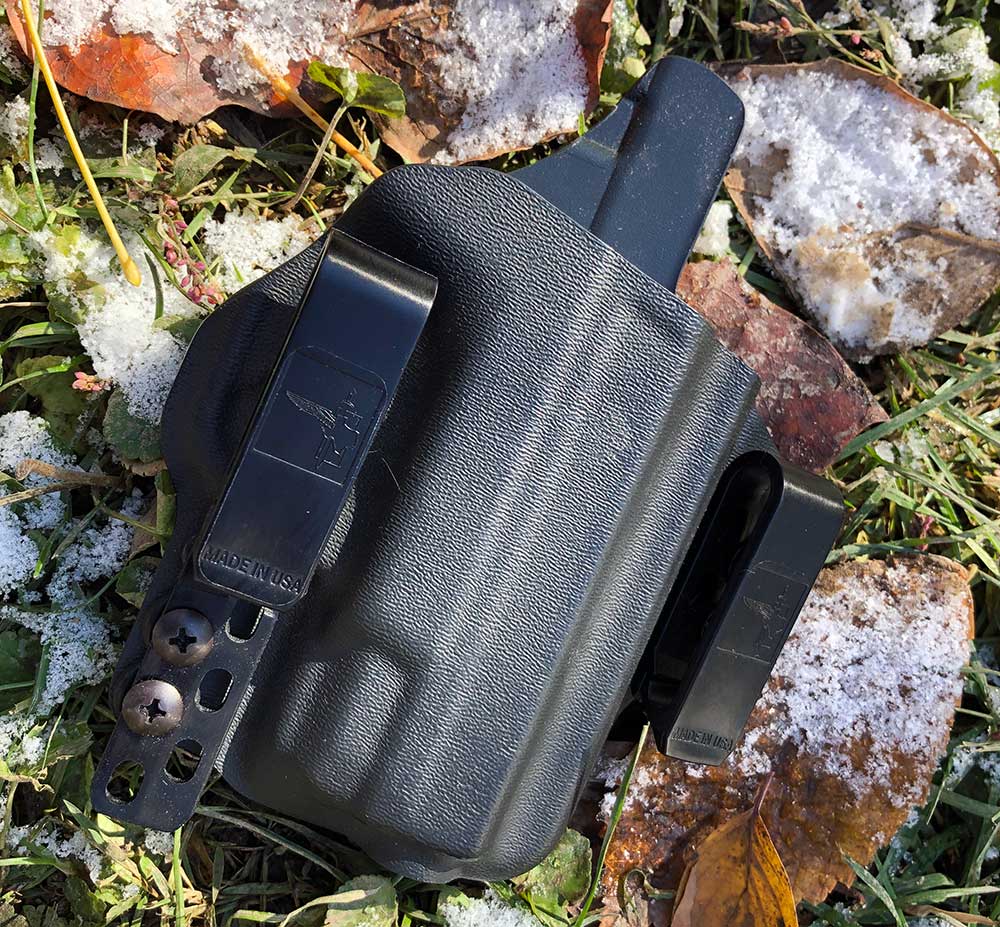 When the package arrived, I immediately opened it (because it's a new holster and a true gun guy simply does not wait to open gun stuff) and saw what looked like yet another IWB Kydex holster. Nothing remarkable—until I took a closer look, especially from the top down. That's when I noticed what Bravo meant by "the integrated inward angle allows your handgun to ride closer to your body without any extra attachments or accessories."

Unlike a lot of conventional two-clip holsters, the rear clip on the Torsion is mounted on the outside of the trigger guard rather than next to it. This unconventional design means the rear clip pushes the trigger guard against the body, rotating the grip of the pistol tighter against your side (or front, if you appendix carry).

Speaking of appendix carry, another clever feature of the Bravo Concealment Torsion is its versatility. It comes with two clips attached by Philips screws, making them easy to remove or adjust. The rear clip has six adjustment holes, allowing for three rise and cant options, while the front is either on or off.

If you prefer appendix carry, you'll want to remove the front clip to allow for easy in and out of your waistline. For strong-side hip carry, the second clip firms up the holster, but you can remove it if you don't want to mess with two clips every time you take the holster on and off. The nifty 10-degree angle still works with or without the other clip installed.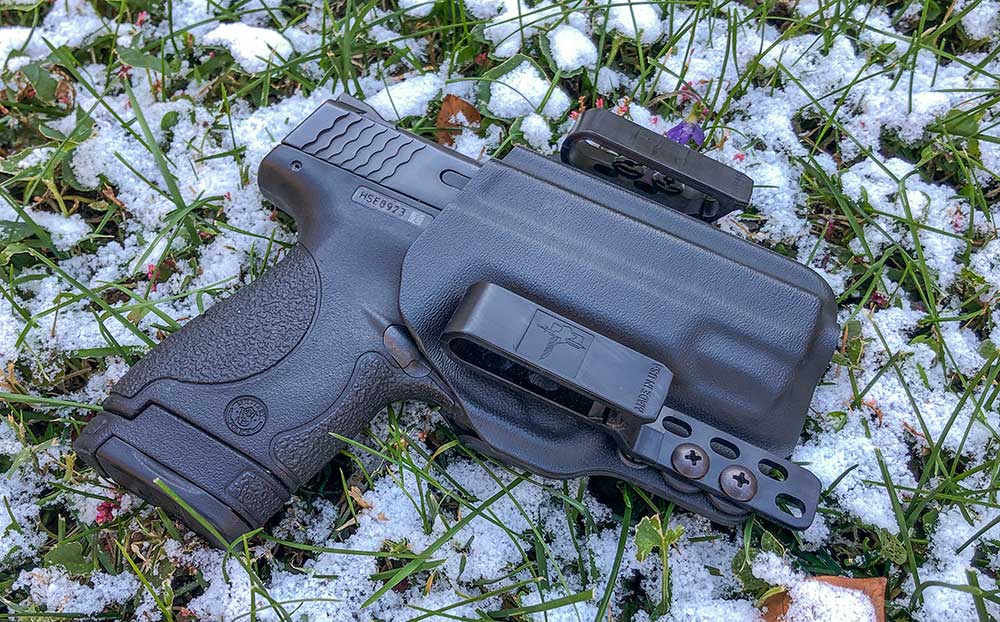 As I always do with evaluation holsters, I set out to carry all day to see how it performed. When I put on the holster the first time, I discovered my biggest (and only) complaint about the Torsion. As I slid the clips over my 1.5-inch leather gun belt, I noticed something no other holster had ever done: it pulled my pants down behind my belt.

Thinking this odd and wondering if I just did it wrong, I took the holster off and examined the clips and how they compared to others in my ever-growing box o' holsters. What was different? Why did it snag? The hiccup was a little flange sitting on the holster side of the clip that pushed the waist of my jeans down unless I opened the clip really wide and held the material up with my other hand – awkward when carrying 4 o'clock.

I reached out to folks at Bravo, and they said I'm not the first person to notice this issue. Let's hope they fix it in later editions.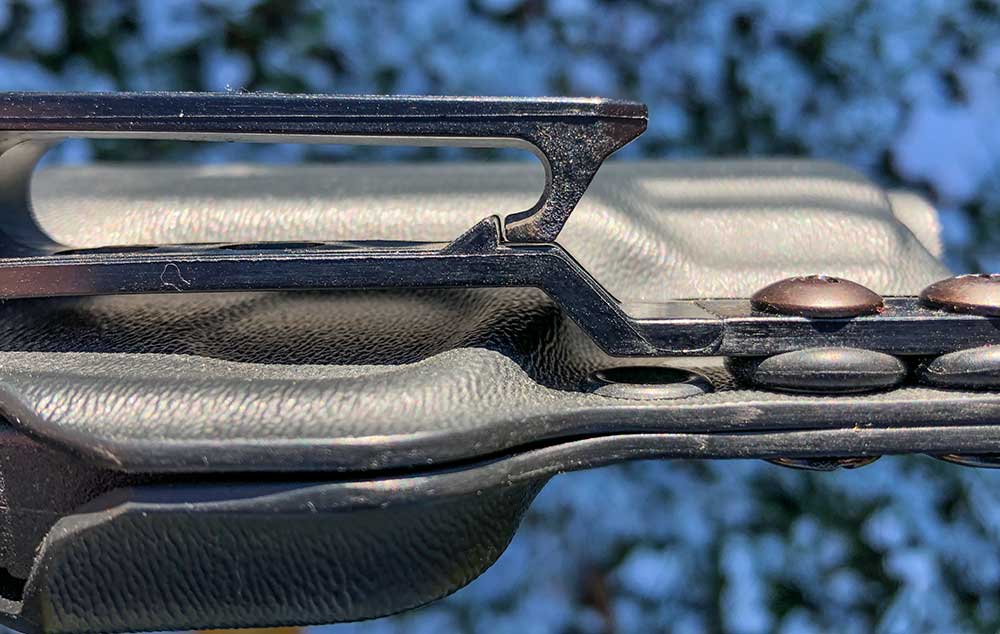 Once I conquered this minor annoyance, I added my pistol and started my day. Before I left the house, I tried a couple of draws, wondering if the tighter angle against my body might affect my ability to extract the gun. Nope. I didn't need to adjust my draw one bit.

By the time I drove to my first errand, I had almost forgotten I was wearing a handgun. While this is not uncommon with top quality IWBs, I wanted to test Bravo's big selling point: deeper concealment. I did the mirror check several times during the day and noticed zero signs of any visible print. The holster performed as advertised. It truly was deeper-than-typical concealment.

At $53.99, you can certainly find less expensive Kydex holsters, but you can also pay more for ones of lesser quality and a questionable gimmick. With the Bravo Concealment Torsion holster, the key selling point is true. The extra 10-degree inward angle really does hide your EDC firearm better.