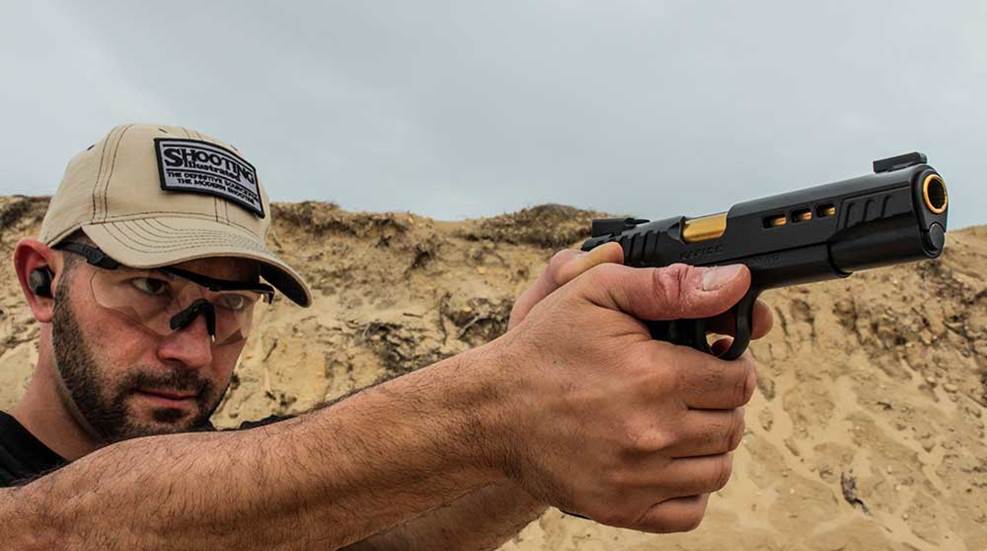 New Yorkers talk fast, move fast and even like to shoot fast. Situated just miles from New York City, legendary 1911 maker Kimber has turned out a number of extraordinary firearms, and the RAPIDE is no different. After getting my hands on one at the 2019 SHOT Show, I was excited to see the assignment turn up on my list of new guns to evaluate this year.

On my initial encounter, the first element I noticed on the Kimber RAPIDE ($1,490 MRSP) was the titanium nitride-treated barrel. This finish is not only tough as nails but leaves the treated surface with a brilliant golden hue. In addition to protection and looks, it adds a natural lubricity from which every 1911 can certainly benefit. The barrel is set inside of a minimalist, gloss-black, stainless-steel slide that has weight-reducing cuts in both sides as well as three located in the 12 o'clock position. These ensure a faster lock-up, enhanced cooling and just plain looks cool! The solid-steel frame is also finished in that same highly lustrous black coating.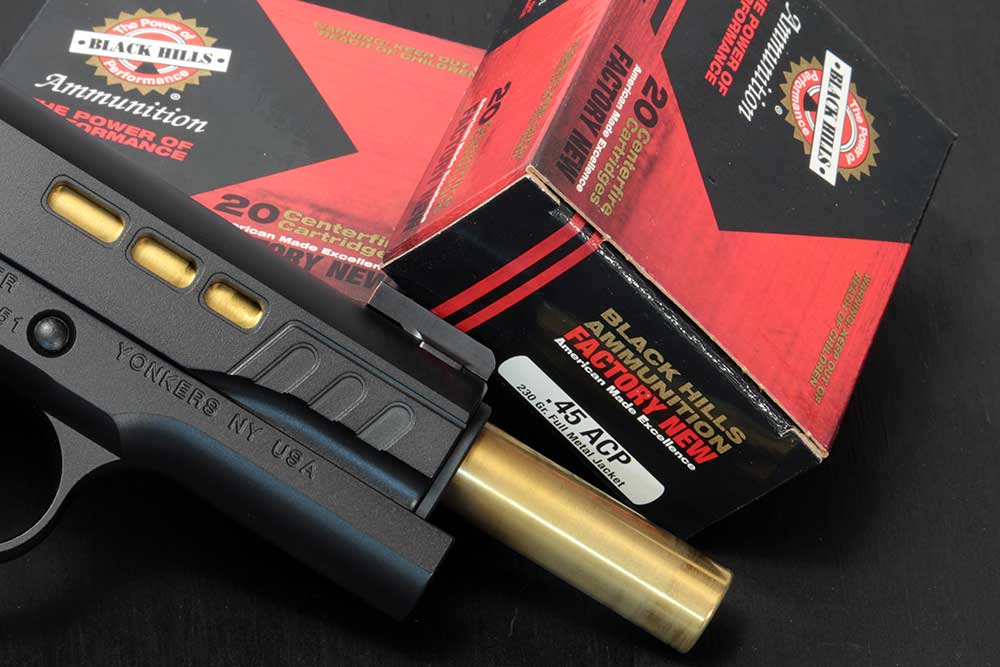 I found the RAPIDE's lightweight design to be a touch snappier than a traditional 1911; however I was able to tame it with the pair of WavZ G10 grips that are standard on this model. The Wavz G10's were very aggressive and helped me get a solid, secure purchase on the pistol. This was aided with the help of the stippling on both the frontstrap and the backstrap.

Range day was highly anticipated, as the clouds broke for just the second time in two weeks, very typical of a Long Island spring. On the range I set up a series of 66-percent and 100-percent IPSC steel targets from Champion Target, along with an MTM Case-Gard High-Low shooting bench and some paper for group testing. Before firing a shot, I examined the trigger and admired the intricate cuts made to give it some flair and help it snap forward faster during reset. The trigger was also drilled-and-tapped for a set screw to eliminate overtravel, allowing for a solid let-off. I weighed the trigger with our Lyman Digital Trigger Scale and through a series of 10 dry-fires, I found an average trigger break of 5 pounds, 14 ounces. This is certainly lighter than a mil-spec 1911 and the work that went into it was very obvious.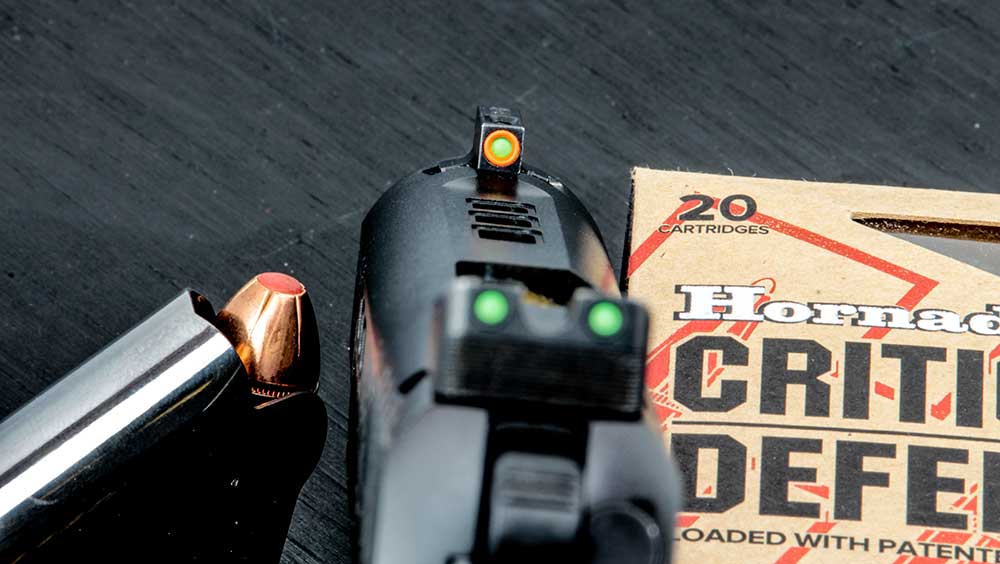 During that test, I checked my natural point of aim and noticed the TRUGLO TFX Pro day/night sights lit up like a Christmas tree in the bright midday sun. They gave me a very distinct sight alignment and picture…in other words: no excuses! Moving along to accuracy-testing, I brought Hornady's 185-grain Critical Defense, Black Hills 230-grain FMJ and Aguila's 230-Grain FMJ loadings with me to see how they stacked up at a distance of 15 yards. The Hornady 185-grain load gave me acceptable results for defensive use with an average group of 3.69 inches and the best one coming in at 2.75 inches. Black Hills and Aguila gave us the best groups overall, but that is to be expected, as the 1911 was developed specifically to fire 230-grain ball ammo. The Black Hills load gave us our best group at just a shade under 1 inch while, Aguila's best group was 1.06 inches. Their averages were 1.21 inches and 1.27 inches, respectively.

Moving onto the steel, I sent about 300 rounds downrange from distances of 40 yards to as close as 10 yards. I practiced drawing and transitions and found the Kimber RAPIDE to be very balanced and point exactly where I wanted it to. The slide reductions reduced that "muzzle dip" that 1911s are notorious for, due to the inertia from the slide returning to battery, and gave my presentation more of a feeling that it originated from my palm and not my wrist. Double-taps were pretty effortless, even at distances of 12 yards, as the reset was very short and extraordinarily positive.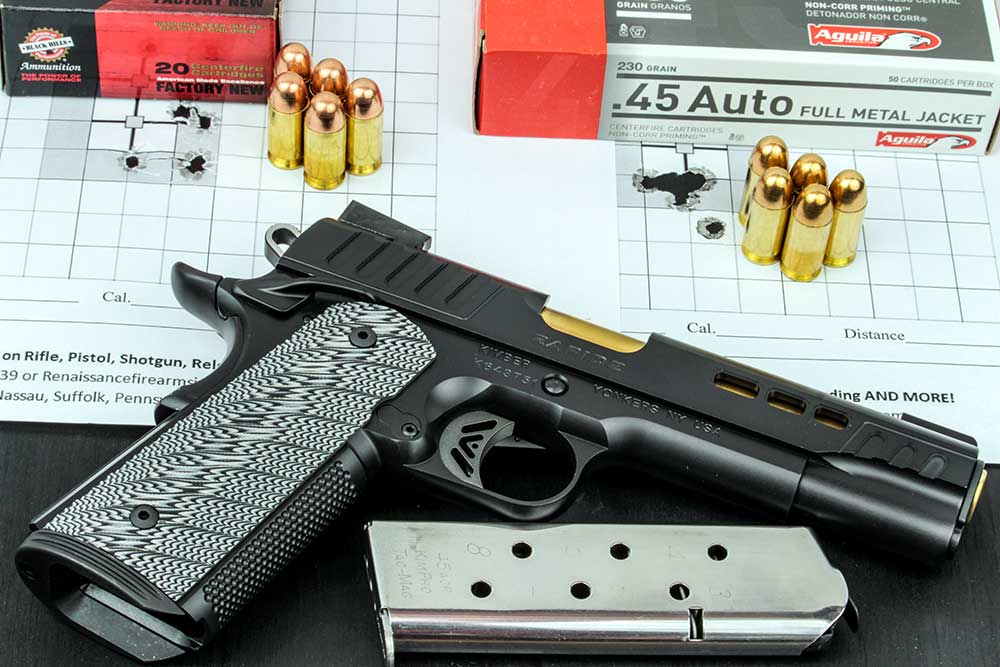 With a good isometric grip and stance, taming .45 ACP is really no task at all. I noticed even less recoil when I preformed my drills with the 185-grain Hornady loads, which I find very important with defensive ammo. Recoil can cost fractions of a second during a follow-up shot, which in turn might cost you even more. Mag swaps were aided by the beveled magazine well, which required a good smack for proper seating. The included eight-round flush fit magazine is a +1 design when compared to a traditional 1911 magazine. I found 10-round magazines or even 7- or 8-rounders with enlarged baseplates to make better use of the bevel, as they seat without having to get the heel of your hand up into the magwell.

Before leaving the range, I field-stripped the Kimber RAPIDE just as you would any other 1911. The TiN finish repelled most fouling and just needed a wipe with a dry rag. I used a bit of Liberal Tears CLP and a Real Avid Bore Boss to clean the bore, which really didn't need much attention at all either. After reassembly and a test-fire, it found its way back into my Blade-Tech OWB Kydex holster and kept me company on the ride home. If you are in the market for a well-built 1911 that is fun to run and is capable of tack-driving accuracy with factory ammunition, be sure to take a closer look at the Kimber RAPIDE.