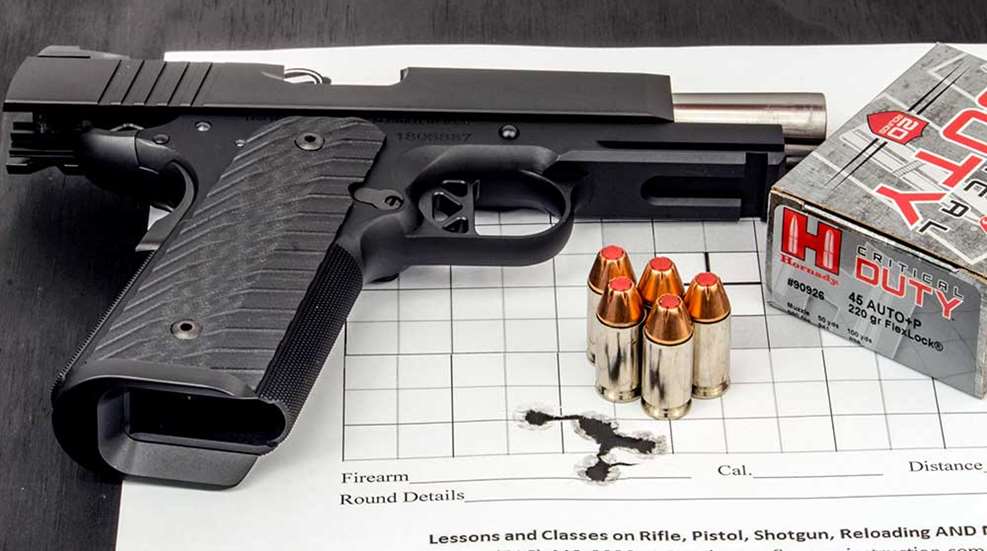 Lots of people love a Commander-sized 1911. Pairing the big-bore .45 ACP cartridge with the scaled-down version of Browning's classic design satisfies both range and defensive needs. Few other companies have perfected this balance better than Dan Wesson. Since 1968, the company have been delivering top-quality firearms to the consumer, and this streak continues with the TCP.
The TCP, or Tactical Commander Pistol, sought to strike that perfect balance between shootability and concealability. Before I even racked the slide, I could see that it certainly achieved that. The forged-aluminum frame kept the weight down, and the G10 grips helped ensure complete purchase while firing. This was coupled with a "cheese-grater" textured front and backstrap, which are built for those who work with their hands. I felt that the grip was slightly more angular than a traditional 1911, which I thoroughly enjoyed.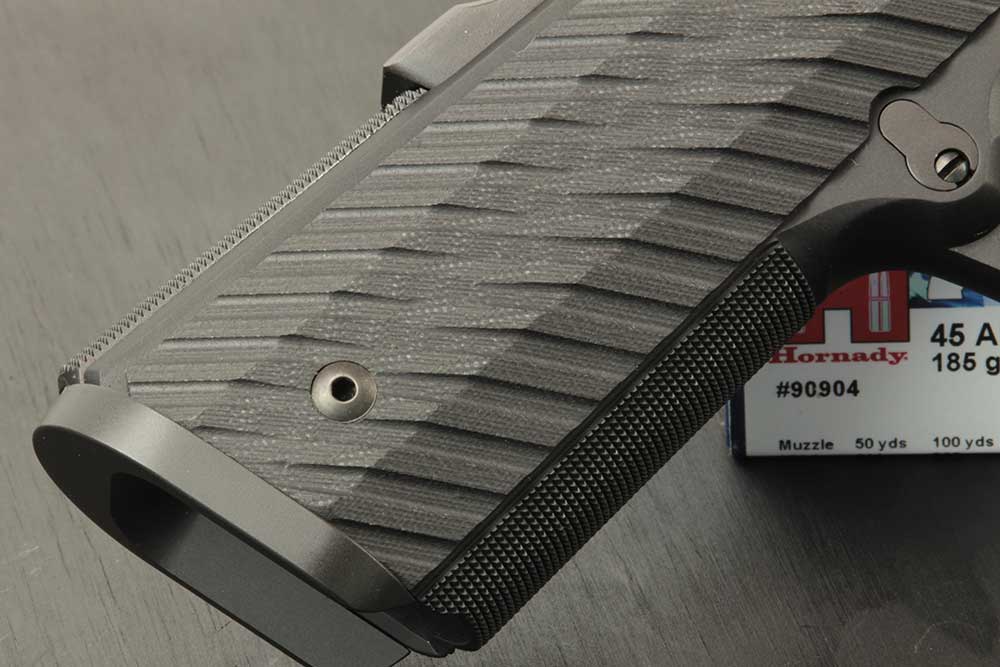 Choking my hands up, I noticed a brilliantly extended beavertail, which gave me a positive reference point for my best grip and protected the web of my hand against hammer bite. Looking the gun over, I observed that the rear sight was adjustable for windage and the front sight consisted of a black post with a brass bead. Brass is naturally bright and reflective and offers a sharp contrast to most objects found in nature. These features add up to rapid sight acquisition, which could be critical in low-light shooting.
Racking the slide open, I noticed the bull barrel that is this pistol's claim to fame. Bull barrels are known for better accuracy, less flip and faster cooling. I also noticed the reduced slide, which helped cut down overall weight and glare when aligning sights. After checking to ensure that the firearm was clear, I pointed it in a safe direction and familiarized myself with the trigger. The TCP has a flat K-style trigger that is complete with a setscrew to eliminate overtravel. I have always found this tiny feature to be instrumental to refined accuracy, because it doesn't allow for trigger-finger movement while the gun is firing. The trigger break was an absolute dream, as it had absolutely zero creep and a let off at only 4 pounds, 8 ounces.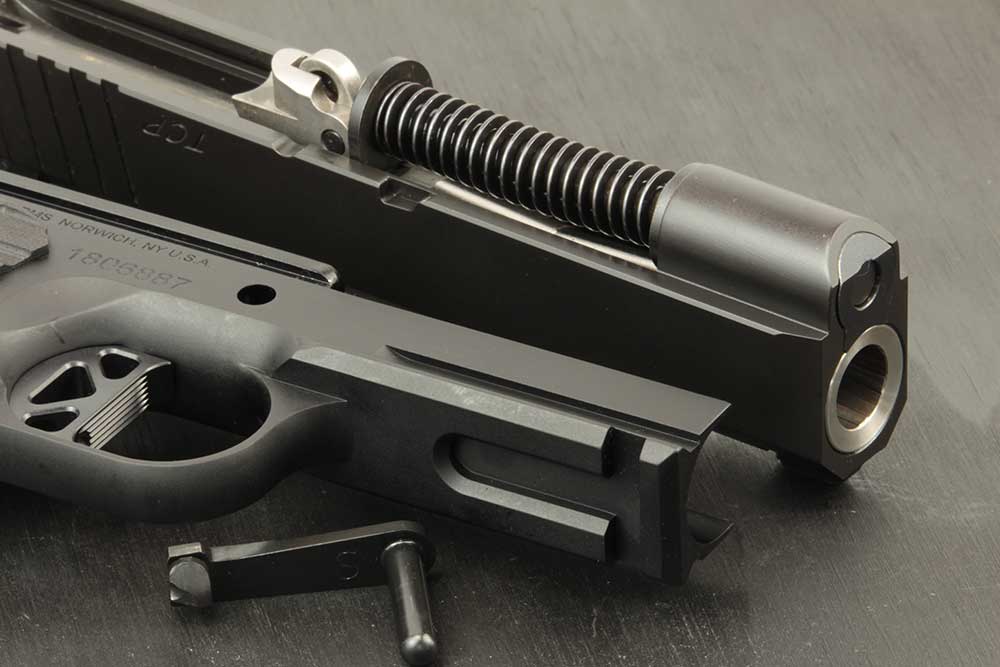 Range day couldn't come fast enough, as I was eager to fire this since the moment I laid hands on it. I selected two types of Hornady defensive ammunition for accuracy testing and some rapid-fire strings. My first round of the day was the company's 185-grain American Gunner round that is capped off with an XTP hollow point bullet. At 15 yards, I was able to produce several groups that hovered just outside of 2 inches, with my best coming in at 2 inches on the nose. While this was impressive for a 4-inch barreled gun, it paled in comparison to the results with the second Hornady load.

After allowing the TCP to cool, I fired five 5-shot groups with Hornady 220-grain Critical Defense ammo. Accuracy was astounding, as I produced group after group that was inside of that two inch mark with my best group coming in at 1.06 inches. After my accuracy test, I went ahead and conducted some more realistic testing, drawing from concealment and engaging steel while advancing and retreating.

I found the TCP to be exceptionally smooth, and the gun pointed instinctually in my hand. Although the hammer and beavertail are quite pronounced on this gun, I didn't experience any snags during my testing. Recoil was mild, and getting back onto target was effortless, enabling me to obtain split times similar to those I would expect with a full-sized IPSC gun at a quarter second or less. Within 200 rounds, I was able to get my 15-yard head shots down to 1.5 seconds from the holster. Throughout the day, I didn't experience a single jam with the TCP, which is a lot to say for a 1911!
Back at the workbench, I set my gear out for a quick cleaning and evaluation. After checking it for ammunition, I began my usual 1911 takedown routine, which starts with removing the barrel bushing only to realize that the TCP did not have one. It was an interesting disassembly, as it began like a 1911 yet ended like that of the more modern designs. Once I had the takedown notch aligned with the slide-stop, I was able to pull it out and slip the slide, barrel, guide rod and spring right off the front of the frame. I lifted the guide-rod and spring out and then the barrel, and voila! Completely disassembled.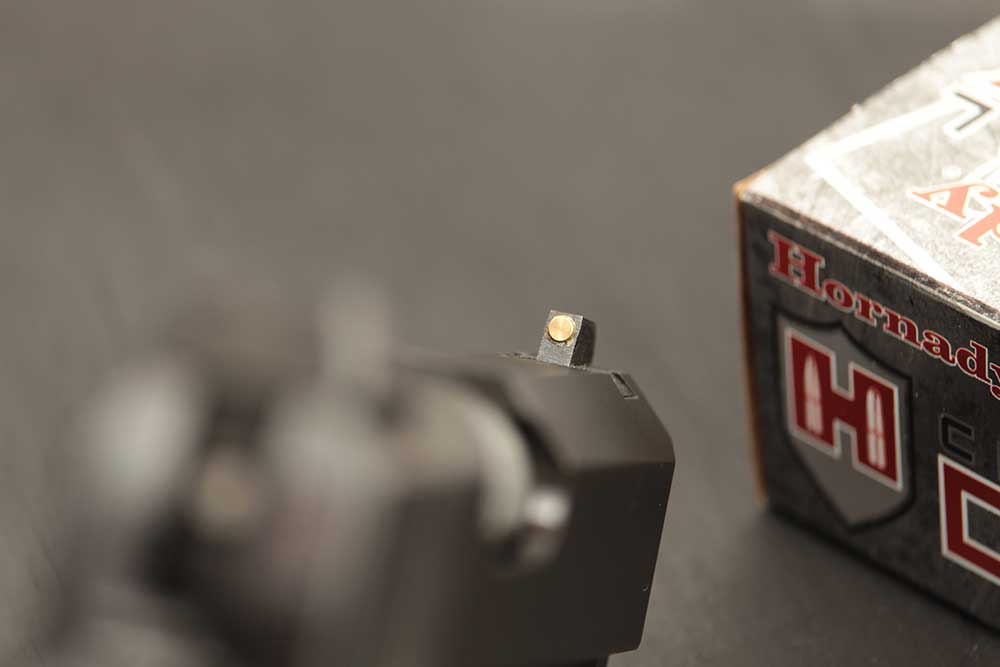 My final thoughts on the Dan Wesson TCP were that it was a great pistol that could replace both your competition and concealed-carry gun in one package. The hefty price tag of $1,725 becomes easier to swallow when you realize that you can compete and defend with just one piece of hardware. Either way, it was just plain fun to shoot, and I can give it my highest recommendation for reliability and accuracy.