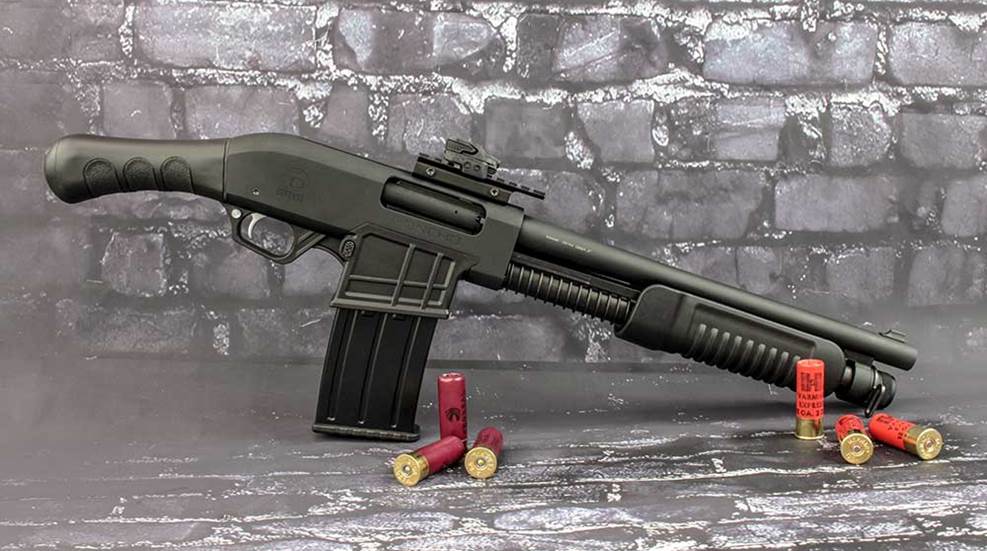 After Mossberg shook the world of defensive firearms with the 590 Shockwave, several other manufacturers followed suit to bring their rendition this unique shotshell-firing firearm design. Charles Daly is known for its unique offerings, such as the triple barrel shotgun and its .410-bore AR-15 upper, so a 14-inch firearm with a bird's head grip isn't too far a stretch for them.

While popular in its traditional tube-fed configuration, there is a certain attraction to detachable box-magazine firearms, no matter what the platform. The Charles Daly Honcho Tactical family grew by one earlier this year with the addition of just such a firearm, and I had the opportunity to spend a day on the range with it. At an MRSP of just $339, I certainly was intrigued to see how it performed.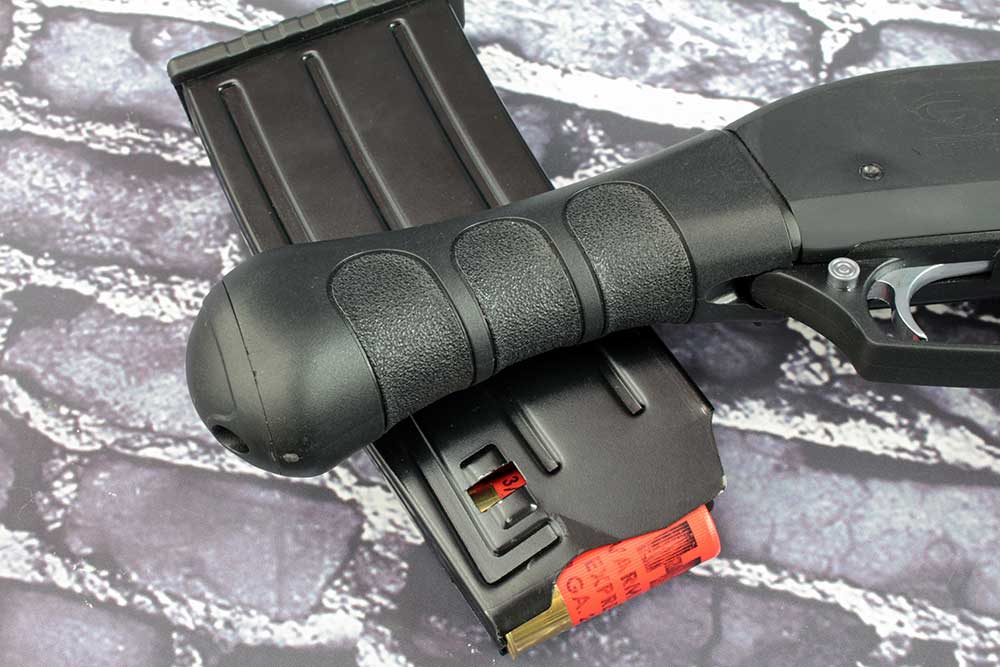 In the interest of full disclosure, I have never been a fan of pistol-grip-only shotguns. I have always felt that the benefit gained by shaving off overall length (at the cost of a stock) was outweighed by not being able to shoulder and aim the firearm. In addition, not being able to run it in 3-Gun events or even attempt a round of sporting clays makes it tough to picture scenarios where you would get the necessary practice to stay proficient. However I've never spent any time with this configuration, so I guess only fair to reserve total judgement until thoroughly wringing it out.

Peering down at my sample when it arrived at Long Island Gun Source, I looked at Cliff, and we both shook our heads in amusement. As I slapped the included five-round magazine into the magwell, we both chuckled. I didn't know what I was in for, but I had a feeling it was going to be a good time! Further inspection revealed a spring-assisted pump action that helps it close completely with each forward stroke. I thought this was genius, as short-stroking a pump-action shotgun is a reality, and it always seems to happen at the worst time.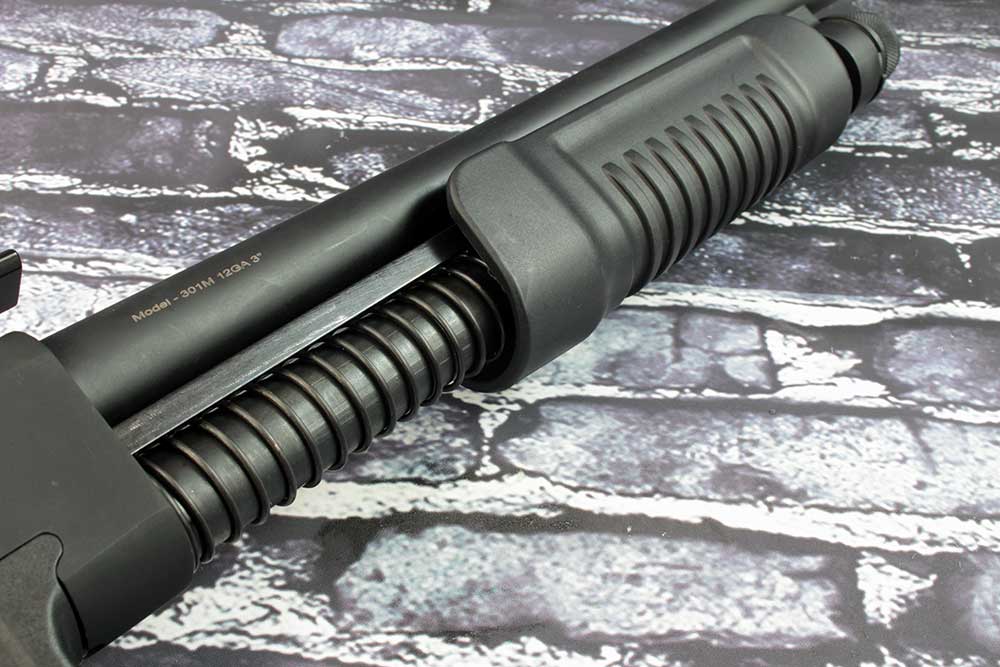 At an overall length of just 27.25 inches, I found it very easy to maneuver, particularly at hip level. The small package also fit into a plethora of quick-access safes and compartmental furniture that we had on hand. The Honcho also appeared to be valuable in unorthodox shooting positions, such as lying on your back in bed. The included five-round detachable box magazine makes it simple to keep at the ready, without losing time to stuffing a tube. Pro Mag also offers a 20-round drum mag to keep things interesting at the range or keep you in the fight ,should you require a few extra shots to neutralize a threat or multiple threats.

The blued barrel comes with a front sight blade. However, firing this platform from eye level would likely lead to an expensive trip to the dentist. The receiver employs a 3/8-inch dovetail groove for optics and accessories, which I found surprising, as this system is usually reserved for low-recoiling guns, such as rimfires and air rifles. Nonetheless, I secured an easy-to-find adapter and had myself a section of Picatinny rail in seconds. This allowed me to install a Crimson Trace CMR-201 Rail Master Universal Laser Sight on the rail, which was more or less zeroed from the last time project I used it on.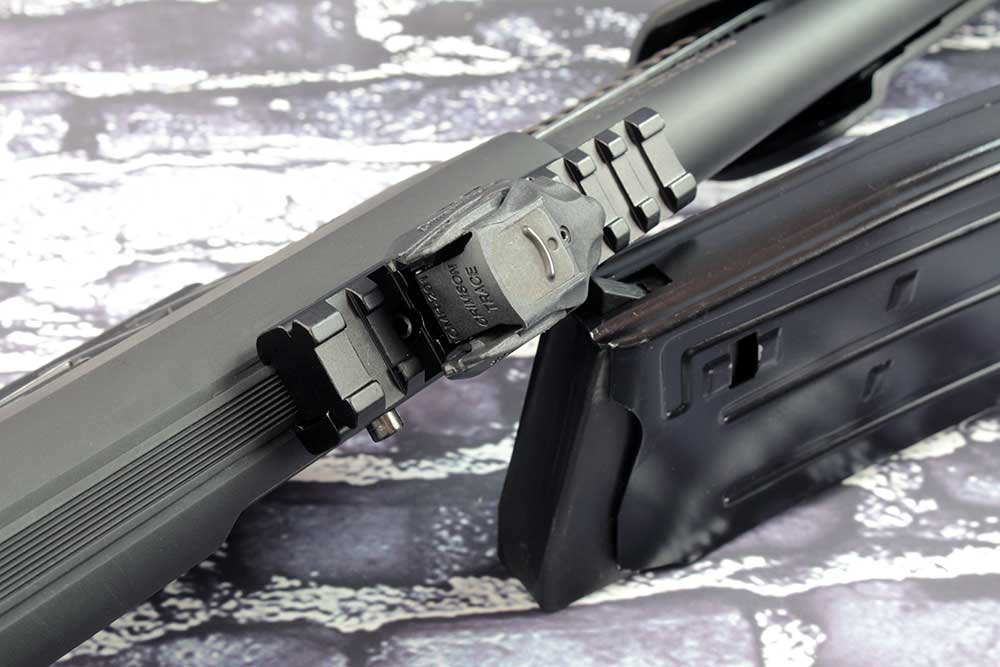 With a suitable sight installed, I was ready to hit the range. Accompanying the Honcho was an ample supply of Hornady No. 4 Varmint Express and Federal Premium LE Frangible 00 Buckshot shells. I figured I would see how each would pattern and try my hand at some awkward shooting positions on both paper and a full-sized Champion IPSC steel target. Filling my first magazine took a little work. I wasn't able to slip the shells in one after the other, as they got caught on the previous rounds brass lip. Therefore, I had to depress the top round while sliding in the next one. Once I realized this, prepping mags was relatively painless.

What wasn't painless was finding out that the rearward sling point is reversible but not ambidextrous. As I fired my first shot, the mounting point came back and skinned the side of my trigger finger. Lesson learned. I spent the rest of the day shooting the Honcho off of my weak side in lieu of switching it around. From that point on, it was pretty easy to control and quite comfortable. I will proclaim that the little scattergun would benefit from a hand strap on the pump, as I did experience a bit of slippage a few times during firing. I spent my ammo firing the Honcho from both against my hip and along my side. Both were effective and controllable, so that leaves options open to the shooter and the situation.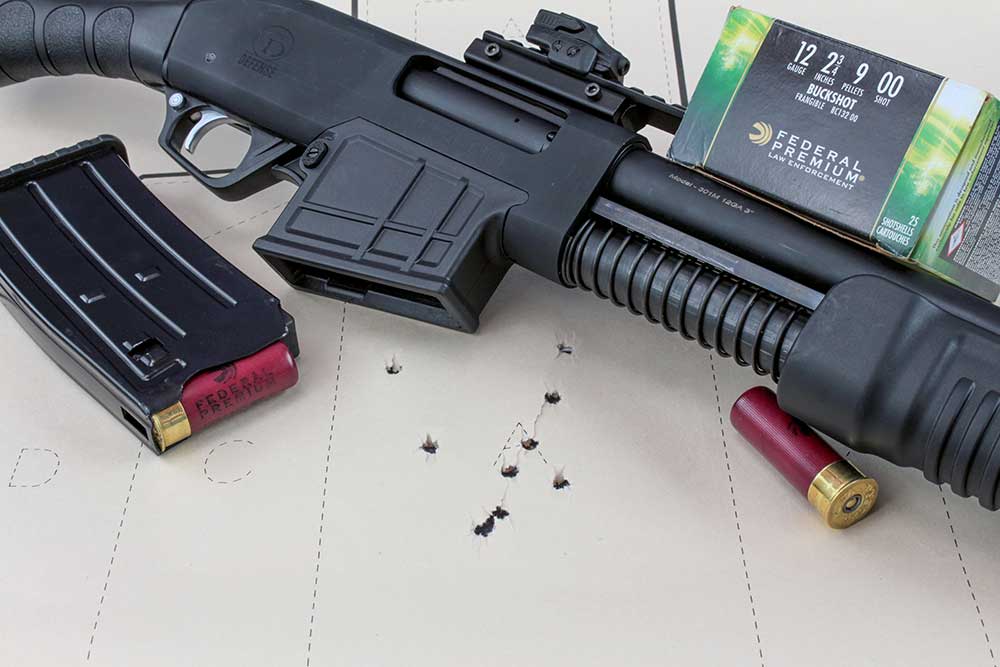 In my time, I found that the ammo selection really had a lot to do with overall pattern. At 7 yards, the Hornady Varmint Express produced very fine patterns of not much more than 2 inches. When I backed up to 15 yards, the spreads averaged around 6 inches. Our Federal 00 Buck gave me textbook 4- to 5-inch patterns at 7 yards, staying within the Alpha zone and in many cases didn't throw a single pellet into the Charlie zone.

I finished my range session by engaging the steel while sitting in a chair, lying on my back and even with my body oriented up range. The frangible ammo kept me safe at defensive distances, and boy was it fun to shoot! I find the entertainment aspect important, because I can easily see myself getting it to the range to practice. Shooting from the hip also takes all that 12-gauge recoil off of your shoulder, and that in itself makes it more pleasant to operate.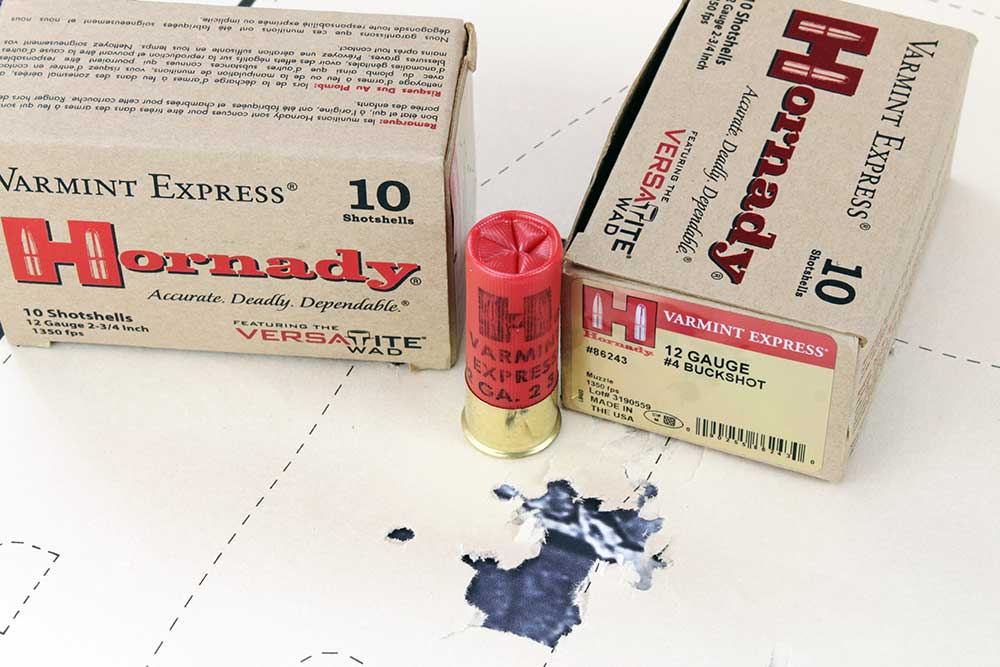 As I close the evaluation, it's important to revisit the topic of my patterns that day, particularly in relation to ammo and distance. While having the advantage of multiple projectiles, it's important to understand that your entire pattern might not stop in your intended target. Those that outline the target have a high likelihood of penetrating interior building materials and even some exterior materials. That being said, those considering the use of buckshot for defensive measures ought to understand what their pattern looks like at different distances and should also be well aware which directions are safe to shoot in and which are not.

For more information on the Mag-Fed Honcho and the others in the family visit charlesdaly.com.