With long-range shooting gaining ground like it never has before, Ruger has fed the need with the company's RPR or Ruger Precision Rifle. With features like an adjustable trigger, chassis stock, affordable price and more, it left the centerfire-rifle shooter little to desire in the way of an entry-level precision bolt gun.

Of course, its success and the growing popularity of precision-rimfire competitions ensured that a rimfire version would be created, and the .22 LR chambering was not far behind. However, what about the rimfire shooter that wants to reach out a little further? What about that guy who needs a bullet to hit a little harder? For these folks, Ruger now offers this Precision Rimfire package in .22 WMR.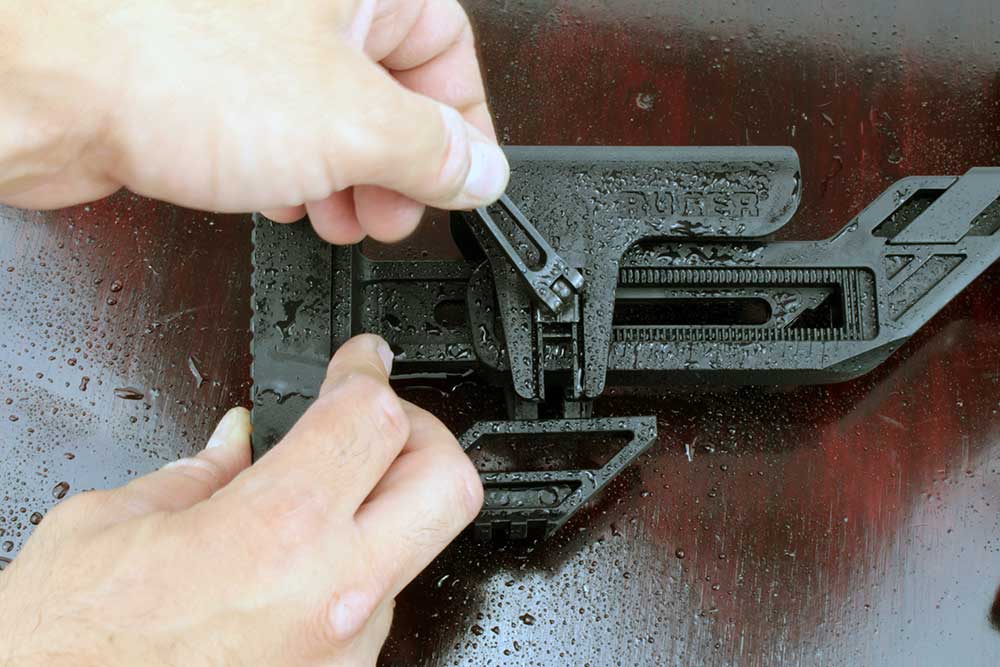 The Ruger Precision Rimfire rifle in .22 WMR comes packed with nearly all of the same features that made its bigger brother a hit, starting with the monolithic aluminum chassis that is adjustable for both length of pull and comb height.  While this is becoming the standard, I enjoyed the ease of adjustment built into Ruger's design. All that was required was the release of one lever and both components were free to be moved exactly where you need for proper eye relief and length of pull.

Underneath, we noticed the five-slot Picatinny rail section, which can be used to accommodate a monopod or similar accessory. Moving toward the muzzle, we took advantage of the M-Lok sections located on the handguard and mounted one of Magpul's new bipods directly to the underside of the fore-end.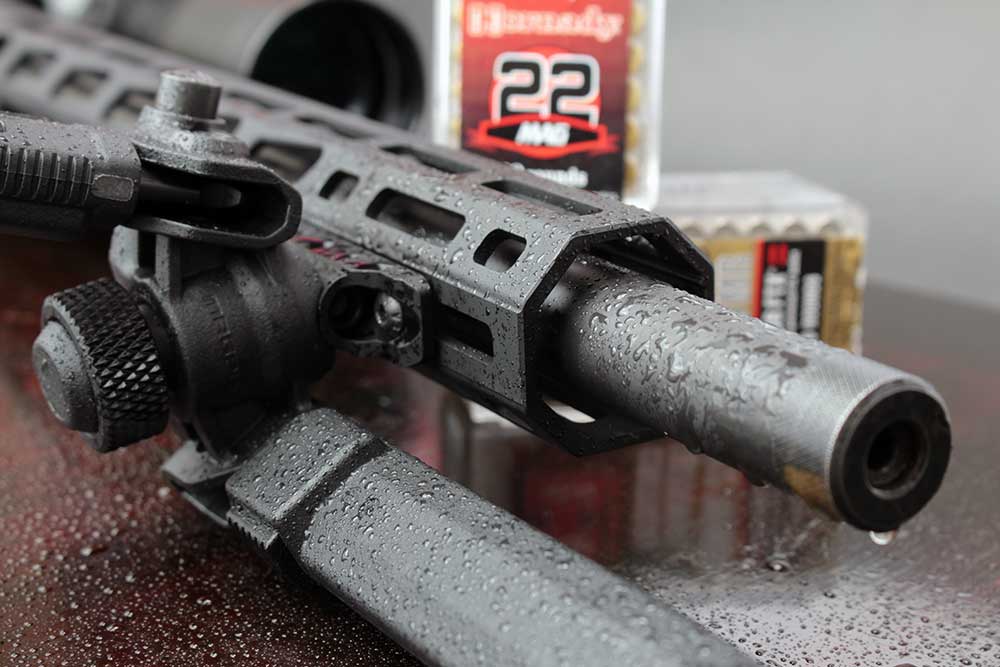 The receiver comes with a Picatinny rail already attached and ready for optics. Upon closer inspection, I noticed that it is marked "0 MOA" and doesn't offer any additional elevation. This is done likely to ensure that you can obtain a 50- or even 25-yard zero, as most rimfire-rifle shooters are taking shots at 100 yards or under.

Once we mounted our Riton 4-20X Mod 5 scope in our Warne 20 MOA one-piece base, we attached it to our rail and found the sweet spot for eye relief and bolt accessibility. The short bolt lift of the RPR .22 WMR action cleared our optic no matter where it was placed, so we had plenty of room to work with. The action is fed by a nine-round rotary magazine. Only one of these is included, but the Ruger Precision Rimfire will take any magnum rimfire mag, including the enhanced capacity BX-15 and aftermarket variants.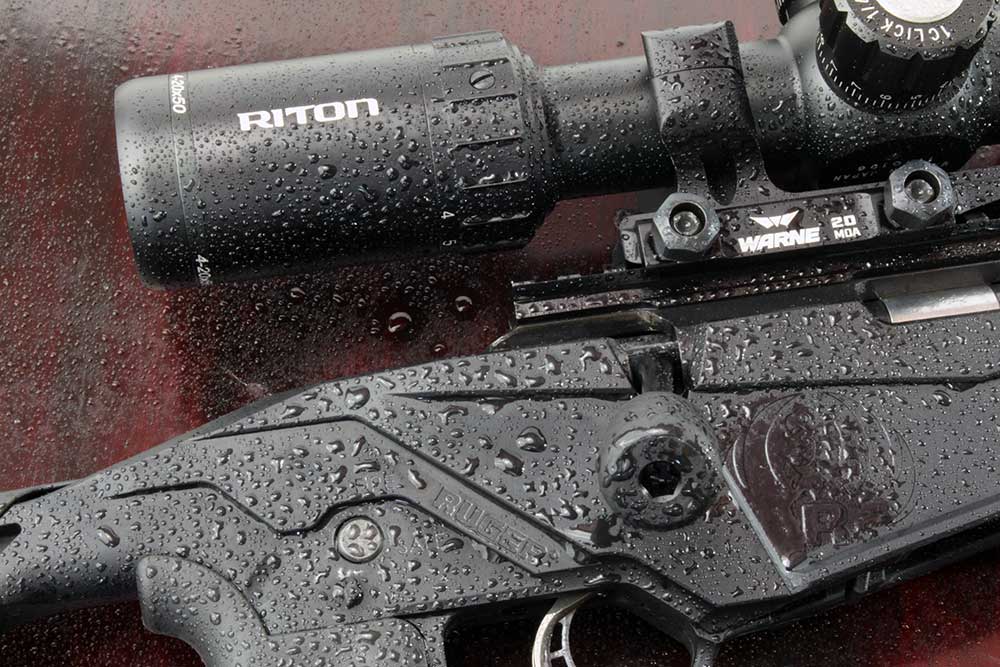 As you would imagine, no expense was spared on the barrel, as this is the core of a precision rifle. The .22 Mag. RPR is built with an 18-inch cold hammer-forged, heavy-profile barrel and is cut with the faster 1:14-inch rifling. This rate of twist will better stabilize heavier bullets when compared to the more common 1:16-inch rifling. At the muzzle, we appreciated the standard 1/2-28 TPI threading for effortless attachment of a sound or flash suppressor, although neither were required for our testing.

Whenever I evaluate an action that is purpose-built for accuracy, I turn my attention to the trigger. No matter how good the rifle, it needs to have a good trigger in order for that accuracy to shine through. The new Ruger Precision Rimfire Rifle uses a "blade-in-trigger" system that allows for an exceptionally light trigger pull that is not likely to discharge if banged or dropped. This style of trigger is found in nearly every accuracy-oriented build, and Ruger was no different. What did set them apart from many is the fact that you don't have to remove the stock to make an adjustment.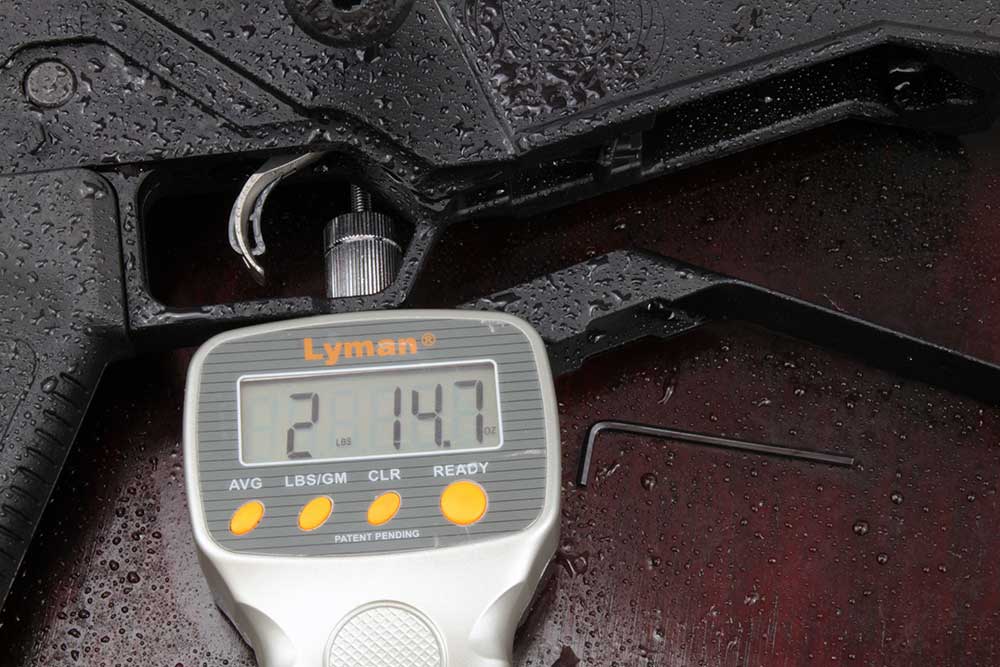 I have always been irked by the process of repeatedly disassembling and reassembling a rifle as I dial in the perfect trigger pull weight, as there are many triggers on the market that require adjustment from the inside. When setting up the RPR, I was able to make that adjustment right through the trigger guard, and best of all, the required Allen wrench is even on board the rifle!

We measured trigger-pull weight with our Lyman Digital Trigger Gauge and found that the trigger broke at 4 pounds, 3.5 ounces right out of the box. With just a few cranks, we were able to reduce the trigger pull down to 2 pounds, 14.7 ounces. The trigger broke without any over-travel. However, there was a touch of creep right before it let off.

For range testing, luck was not on my side with the weather. A storm slid in and stayed directly overhead while I was at the range for the time allotted for live fire. Although it was wet, there wasn't any wind to speak of, so I proceeded with an accuracy test of four different rounds of ammunition from Hornady and Aguila.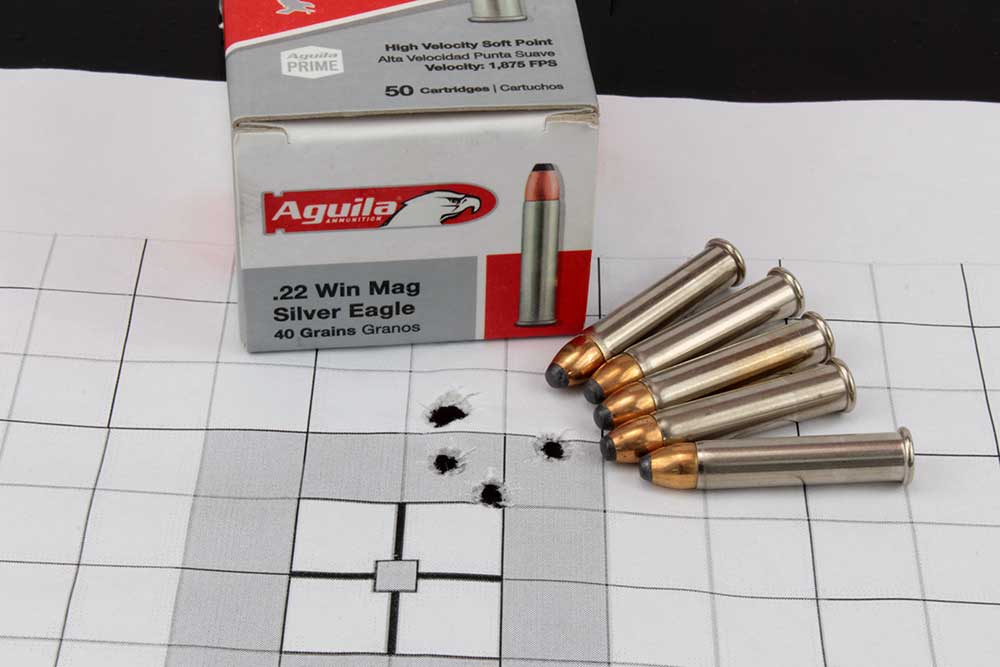 All rounds were fired from a distance of 100 yards in a series of five 5-shot groups off of the Magpul bipod. The Aguila Silver Eagle came in as the reigning champ with a smallest group of just .65 inches and an average of only .94 inches. Aguila's 40-grain brass load came in just behind the Silver Eagle load, with a best group of 1.12 inches and an average of 1.56 inches. The Hornady 30-grain V-Max came in third place with a best group of 1.45 inches and an average of 1.56 inches. Hornady's FTX Critical Defense load had a best-group performance measuring 1.96 inches with an average group size of 2.31 inches.

Throughout the rain, we didn't have a single malfunction in either the rifle or the optic. Riton did one hell of a job sealing the Mod 5, as we didn't experience any fogging or internal moisture when everything dried out the next morning. The Ruger Precision Rimfire turned out to be an excellent rifle, even in nasty weather conditions. I found shooting it in the prone position to be very comfortable, largely due to its level of adjustability and well-thought-out ergonomics. At an MSRP of only $529, it's hard not to have one of these in your safe for long-range varmint bombing or just in case you want to further your career as a tin can assassin.