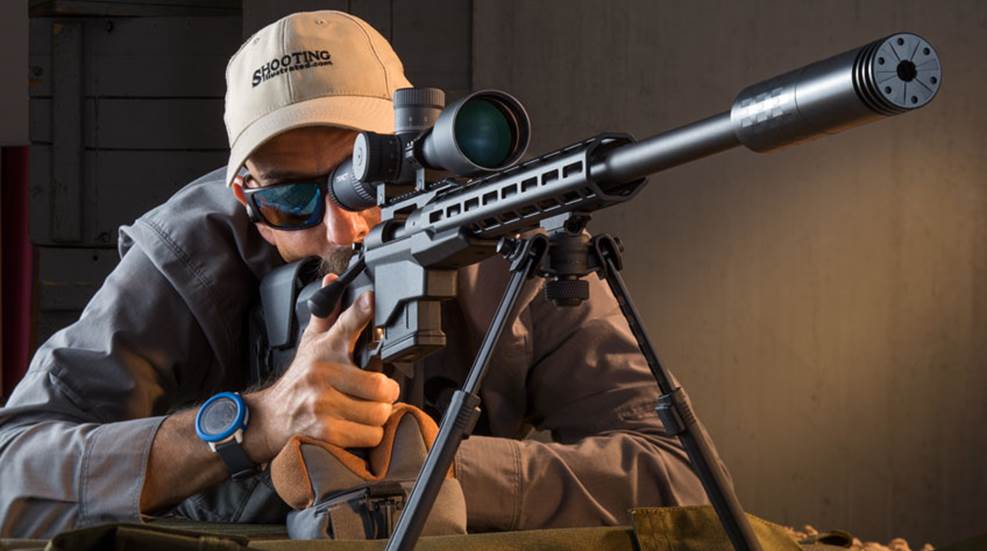 Some of the most interesting conversations take place around a warm rifle as we wait for the barrel to cool. One day on the range as I was sitting back in my chair, enjoying a cigar, the collective group of long-range shooters that I pal around with (affectionately referred to as "the panel") and I got to talking about the evolution of the rifle stock.

As we scanned the firing line, it seemed that on nearly every bench there was an aluminum-chassis-stocked rifle of one brand or another. The joke was "that's what the cool kids use" as we then needled our buddy with the custom laminate grabby piece, precisely built for his bench gun. While his gun is certainly going to be heavy enough to soak up the recoil generated by his small-bore benchrest cartridge, altering it is more of a chore than it needs to be. With the world of accessories constantly improving and changing, it pays to have an easily adaptable system to capitalize on it. This is the idea behind mounting systems such as M-Lok.
When M-Lok first hit the scene, it was almost exclusively associated with the AR platform. However, its utility was quickly recognized by bolt-gun enthusiasts, particularly precision bolt-gun enthusiasts. With more than 200 years of gunmaking experience under its belt, Remington knows a good thing when it sees it and quickly adopted a precision-chassis rifle that employs this technology.

While its products are well thought out, "Big Green" really needs a kick in the creativity department because the best nomenclature it could come up with was PCR, which is literally short for Precision Chassis Rifle. Then again, Remington could just turn to the Internet for suggestions—the technique that produced product names like the "Yeet Cannon" and "Boaty McBoatface"—so why not something like "Chassis McYeetlok?" But, I digress.
So, as I am sure you have guessed, Remington's new rifle is built with that same aluminum-chassis technology that has proven to be so effective as of late. This design is impervious to the elements and does not swell in humidity as wood does. This swelling can often change the point-of-impact and create inconsistent shot placement.

Aluminum alloy is also far more rigid than polymers and even fiberglass, so it can take more abuse and better handle heavily torqued action screws without the need for additional bedding material, like pillars or V-Blocks. The final product is anodized and Teflon coated to help you pry it out of your buddies' hands after they shoot it. Teflon also repels water and moisture, so I guess it is good for that, too.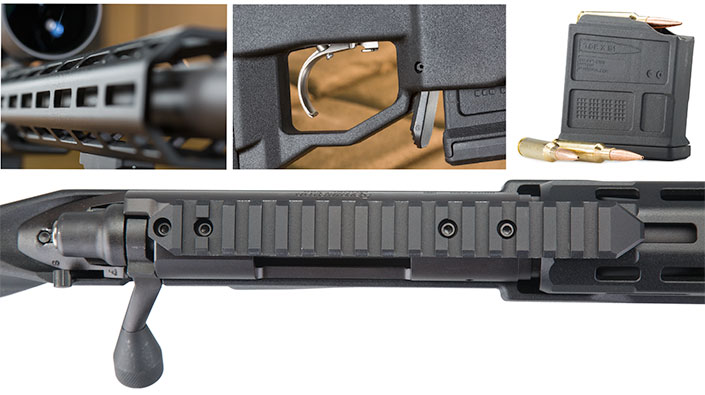 Extending off of the chassis is a removable, freefloat handguard, again made from aluminum. The handguard is slathered with M-Lok slots to deliver the modularity that we all seek. As the fore-end is octagonal, the end-user has eight positions from which to choose when mounting accessories. This is helpful when mounting a standard bipod or if you are considering a two-piece option. The handguard measures 13.5 inches, allowing accessories to be placed closer or  farther away as needed. 
When looking at what is actually attached to the new chassis setup, I'm reminded of the line in "Old School" when Vince Vaughn's character asks "Do you think I'm gonna roll out that kind of red carpet for a marching band?" I mean, it would be foolish if that amount of work went into cradling one of Remington's entry-level offerings—thus the heart and soul of the PCR is (naturally) a classic 700 bolt-action receiver. This robust action has been dropping deer and bad guys for more than 50 years. It is simple, sturdy and utilizes a two-lug bolt that works on the push-feed system.
Rounds are fed off of a five-round detachable Magpul PMag 5 7.62 AC magazine. I absolutely love that manufacturers have embraced these magazines, as they are gentle on your rounds, plentiful and even offer a 10-round variant if you need additional capacity. I found bolt manipulation to be smooth and quick, as there were only about 4 inches of bolt throw on my 6.5 Creedmoor test sample. Cycling was aided by the oversize bolt knob, which is invaluable when running guns like the PCR on the clock during competition. The other controls were simple and familiar as they consist of just a push-to-fire safety and a push-to-release magazine catch.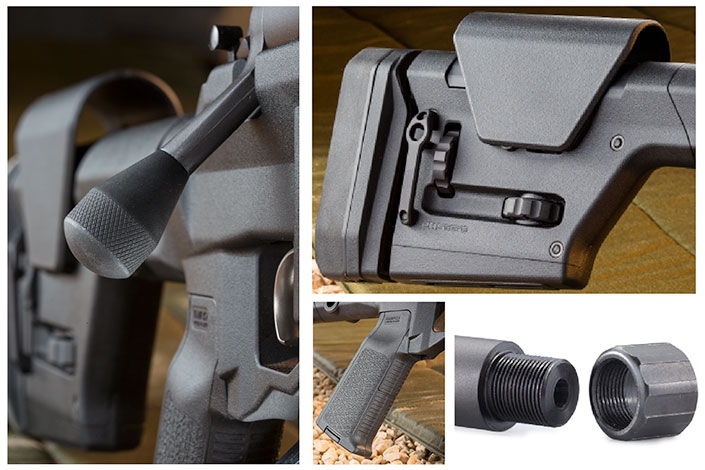 Although the rifle includes the user-adjustable X Mark Pro trigger, swapping it out to something like a TriggerTech or Timney drop-in unit is relatively effortless, as the 700 has a vast aftermarket from which to select parts. Although tempting, for my testing I left the factory trigger in place and played with the adjustment. This was accomplished simply by turning the screw located on the top of the trigger bow. The test gun had an adjustment range of 3 pounds, 7 ounces to 2 pounds, 4 ounces as confirmed by a digital Lyman trigger gauge.

I did note that for the change to take place, several hard cycles and dry fires needed to be conducted to make sure that the pull-force spring was completely seated. Many users have reported that "the screw doesn't work." However, it is mentioned right in the manual that you need to dry fire it a few times to get everything to settle after an adjustment. Read that pesky manual, people.
Now, some folks might find that the screw rubs against their trigger finger, particularly if your glove size is extra-large or larger. If that is the case, consider driving it in more or swapping the trigger group out altogether. I did not notice it, especially when I placed my finger as low as possible, which is also coincidently the proper way to press a trigger. 
Arguably no rifle part has more influence on accuracy than the barrel, and during the development of the PCR, much attention was placed here. The bore of the 24-inch, heavy-contour, bull barrel is cut with five grooves instead of the usual six, creating the 5R rifling that is referred to in its literature. This configuration puts a land across from a groove instead of across another land, reducing the amount of bullet deformation it will impart on the projectile as it passes through. The grooves of 5R rifling are also cut with a gentler angle, further preserving the bullet as it makes its way from breech to muzzle. Capping it off is, well, a cap that is placed over the 5/8x24 tpi thread, which allows for the easy addition of a suppressor or brake.  
Remington turned to Magpul to complete the package and allow for more end-user configurability. The PCR is built with the Magpul Gen3 PRS (Precision Rifle/Sniper) buttstock that offers the user another 1.31 inches of length-of-pull and/or .97 inch of rise to further customize the fit for that particular shooter.

For the grip, Remington went with the Magpul MIAD (Mission Adaptable), which gives the shooter a compartment for accessories like lubricant, batteries or anything else that will fit, as well as the option to tailor the frontstrap and backstrap to their individual hand dimensions. The buttstock and grip were both originally built for the AR platform, meaning that if for some reason you don't agree with Remington's choices, you can replace them with your favorite AR parts to further make the PCR your own.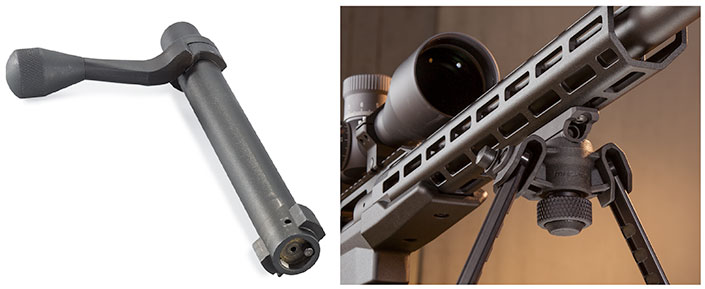 Before taking it to the range, I decided to get it set up with a few products that I had lying around. As the PCR comes with a Picatinny rail, I mounted a Tract Toric 4-20x50 mm long-range scope onto it using a Warne XSkel 20-MOA mount. When testing a gun, it isn't fair to use anything short of the best glass, and Tract has found a way to get Schott lenses in front of the everyday eyeball for a fraction of what we used to pay.

Warne mounts ensure proper sight height and that the scope stays put throughout recoil and temperature changes, eliminating shot-to-shot variation. The PCR comes from the plant with a three-shot, sub-MOA guarantee that is confirmed through fancy computer testing that involves a series of microphones. Although I love technology and even trust my livelihood to it, my answer is always the same when I read something like that—"Let's see." 
Range day was a Long Island dream for early May. The weather was in the low 60s, the air was dry and there was only a slight breeze to deal with. From a distance of 100 yards, I conducted the typical "group therapy" of firing five, five-round groups of three different types of ammunition. In the lineup, we had Hornady's Superformance 120-grain loads, Federal Premium's Gold Medal 140-grain Sierra Match King loads and Black Hills' Gold 147-grain ELD-M offering. I chose these particular ammunition types because they span the range of typical bullet weights that are fired through the 6.5 Creedmoor.
Nearly every group met the sub-MOA guarantee during its first three shots, and some groups even remained that tight through shots number four and five. Overall, however, I would say the rifle certainly had its preference in ammunition—as a good number of firearms will do—as most five-shot groups were larger than 1 MOA except for the Black Hills load. While I tend to shy away from blanket statements regarding ammunition, it looks like the Remington PCR I tested preferred projectiles of the 140- to 147-grain weight class. 

I would wager a handloader could get sub-MOA results with 120-grain bullets with the right powder and charge weight. After accuracy testing was completed, I ran through several magazines in different shooting positions to include improvised cover and obstacles, just as one would in a PRS-style match. I found the gun to be relatively agile and was able to easily balance it with the right sandbags put in the right places. Overall, the perceived recoil was mild, and the PCR was effortless to move around various positions.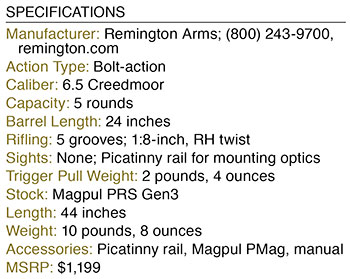 My range day ended with a field stripping that involved completely unloading the rifle and removing the bolt via the release in front of the trigger. Once removed, there is nothing more involved to clean the bore from breech to muzzle. If needed, the handguard can be taken off with just the removal of two screws, and the same is true for the chassis. However, these parts rarely need to come off unless perhaps the gun gets doused in a sudden downpour and you want to allow the ferrous parts to dry before they rust.
For those looking for a trouble-free, modular, precision rifle, give the PCR a look. With an MSRP of $1,199, it costs a little bit more than the average rifle, but quite a bit less than most other chassis options.