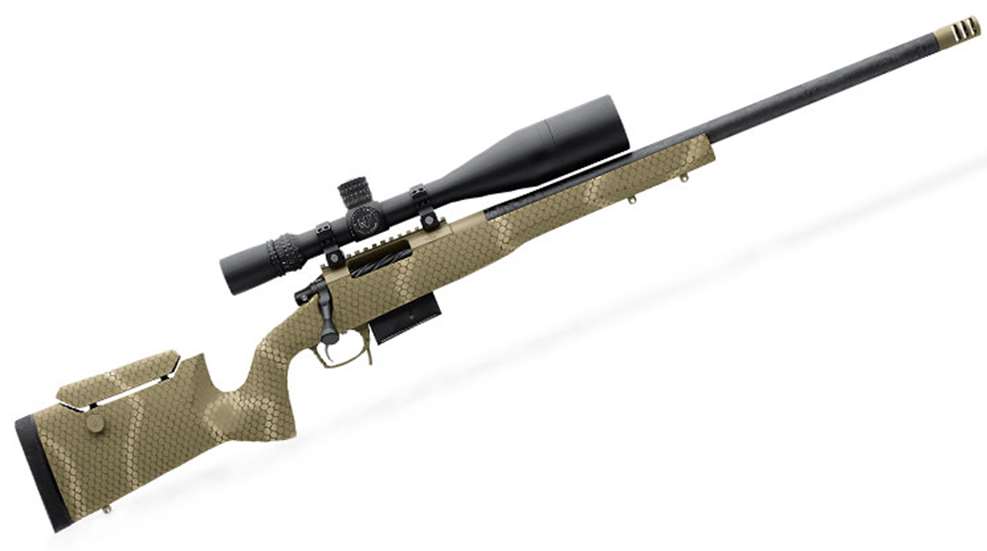 While such barrels are not a new idea, Proof Research's process is, and its focus is on providing the best overall product. Along with a change in the wrap's "very proprietary" composition and application, the company opened a state-of-the-art facility, bringing the entire process under one roof.  Building its own barrel blanks suited to the wrap, a custom rifle shop has been added to provide complete systems in order to take full advantage of the carbon-fiber-wrapped barrel with custom-designed actions and carbon-composite stocks.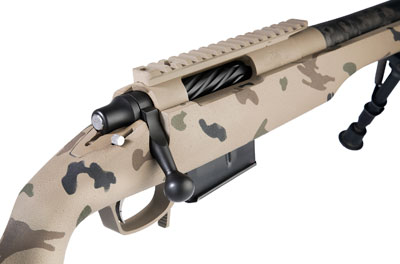 The Tac II starts with Proof Research's T6 action. Built from 416R stainless steel, it uses EDM-cut lug ways for smooth bolt operation. A fluted, one-piece bolt with a mini-M16 extractor and tactical bolt knob complete the action. The T6 is bedded to a Proof Research composite stock using carbon fiber. Built using a monocoque design, the stock utilizes Kevlar and carbon fiber for strength and weight reduction. Sling studs are threaded into aluminum, which is sandwiched between the two synthetic materials to maintain strength. Sitting atop the T6 action is a 20-MOA scope rail attached using 8-40 screws and pinned for stability and strength.
The Tac II's stock is adjustable for length of pull using spacers, and cheek height can be changed easily using a knurled knob. The Badger Ordnance bottom metal provides an oversized trigger guard and large magazine release accommodating the Accuracy International AICS magazine system. My test sample was fitted with a Jewell trigger, but the company offers Timney options, too.
A desert-tan Cerakote finish protects the action, bottom metal and barrel extension, while a Multicam-type Cerakote pattern covers the rest of the stock. One, five-round AICS magazine was provided in the supplied Pelican hard case.
The Tac II is available in chamberings from .243 Win. to .338 Lapua Mag. I tested a model in 6.5 Creedmoor with a 24-inch Proof Research carbon-fiber-wrapped steel barrel in a Sendero profile, though barrel lengths from 16 to 28 inches are available. This patented wrap is designed to shed heat—not trap it—and it can take substantial abuse. With a 1:8-inch twist, it shoots most commercial loads well. Threaded for a suppressor, it came equipped with a SureFire QD suppressor mount/muzzle brake.
The overall ergonomics of the rifle are excellent, and the difference in weight is clear. Listed weight minus the optic is 8.5 pounds, which is about as light as a bolt gun with a 24-inch barrel can be.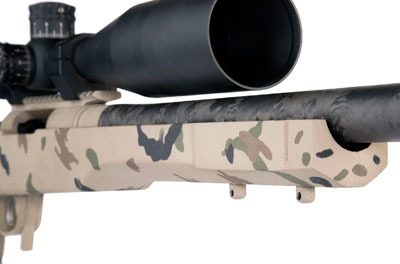 I opted for a Nightforce NXS 3.5-15x50 mm scope with an illuminated MLR2.0 first-focal-plane reticle mounted using the included 30 mm rings from Seekins Precision. Also included was a Harris HBRMS 6- to 9-inch swiveling bipod to the forward sling stud for added stability when firing from the prone position or from a bench.
Testing at 100 yards from prone, I loaded two Hornady factory loads, along with two of my handloads. I also took it out to 300 yards, where the final test consisted of two, 10-shot groups fired consecutively to evaluate the carbon-fiber-wrapped barrel's capacity for withstanding heat.
Groups at 100 yards with the 140-grain bullets were mostly less than .5 inch—the handloads substantially inside that size. Hornady's 140-grain A-Max was the tightest shooter among the factory loads, and my 139-grain Lapua Scenar handload produced similar results. Both of my loads used 41.5 grains of 4350 powder and Federal 210M primers, providing moderate velocity but superior accuracy.
At 300 yards, all groups measured less than 1 inch, holding well inside of .5 MOA with every load. The 140-grain Berger handloads won the day with a solid .70-inch group, which rivaled some efforts at100 yards. In the final test, all 20 rounds fell inside 2.5 inches, with no heat-stringing or flyers.
Whether preparing for a 24-hour, 30-mile sniper challenge, duty deployment or simple precision-rifle enjoyment, the Proof Research Tac II seems to be a perfect fit, no matter your mission.
Specifications
Manufacturer: Proof Research; 406-756-9290
Action Type: Bolt-action rifle
Caliber: 6.5 Creedmoor
Capacity: 5 rounds
Barrel: 24 inches; carbon-fiber-wrapped steel
Rifling: 5 grooves; 1:8-inch RH twist
Sights: None; 20-MOA rail for mounting optics
Trigger Pull Weight: 2 pounds, 8 ounces
Stock: Proof Research, Kevlar and carbon fiber
Length: 46.5 inches
Weight: 8.5 pounds
MSRP: $6,850
Shooting Results
| | | | | |
| --- | --- | --- | --- | --- |
| Load | Velocity |   | Group Size |   |
|   |   | Smallest | Largest | Average |
| Hornady Match 120-grain A-Max | 2,889 | .46 | .55 | .48 |
| Hornady Match 140-grain A-Max | 2,737 | .41 | .53 | .47 |
| Handload: 139-grain Lapua Scenar, 41.5 grains of 4350, Federal 210M primer | 2,650 | .39 | .47 | .40 |
| Handload: 140-grain Berger, 41.5 grains of 4350, Federal 210M primer | 2,600 | .27 | .33 | .30 |