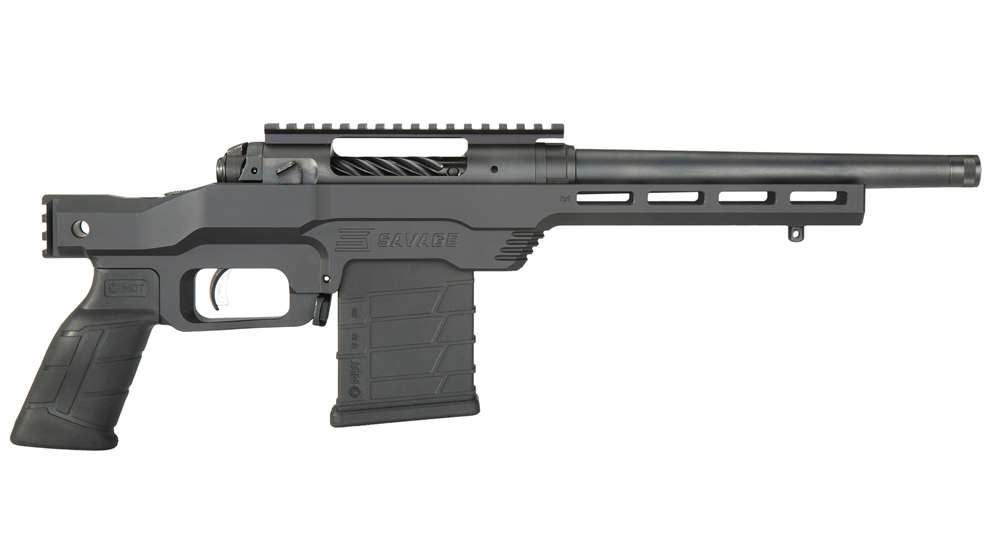 Classically, a tactician has always had to decide between the range and power of a rifle or the mobility and ease-of-handling of a pistol. In most cases, an attempt to cure the issues of each platform is met with a severe handicap of its best features. Typically, beefing up a pistol makes it too cumbersome and only offers a few more yards worth of range. On the other hand, most neutered rifles leave one questioning why they are lugging around the excessive weight and bulk of a long gun for only a marginal increase in control. Savage Arms is seeking to end the dilemma with its newest offering, the 110 PCS (for Pistol Chassis System), and I was able to spend some time on the range with one. 
For those familiar with the 110 Elite series of bolt-action rifles, the lineage of the 110 PCS will be quite apparent. Just as these rifles are set into an aluminum chassis made by MDT, so is the PCS. In this case, the two companies worked together to create a modified version of the LSS chassis that features a 7-inch M-Lok fore-end, conventional sling stud, rearward QD socket and a barricade stop machined into the forward portion of the magazine well. As this is a pistol, the 110 PCS also features a vertical Picatinny rail at its rear for the addition of a brace. Like most MDT chassis systems, this one runs AICS-pattern magazines and features an ambidextrous mag release.


The action of the 110 PCS is unique, as it is a blend of both the right- and left-handed 110 variants. Many will recognize the right-side ejection port typical for most Savage actions, while southpaws will immediately notice the left-handed bolt handle. This is done so right-handed shooters can keep their shooting hand grip while they cycle the action, similar to how a lefty would run a bolt gun off of a bipod. This action is mated to a heavy barrel via Savage's signature barrel-nut system and is finished with caliber-appropriate threading. As my sample was chambered in 6.5 Creedmoor, it was cut with 1:8-inch 5R rifling, which in theory would stabilize bullets intended for a rifle application.
Savage does not include iron sights with the 110 PCS, but the company does ship it with a pre-mounted Picatinny rail. I used this rail to mount a 2.5-8X long-eye-relief pistol scope, which would allow for a full presentation and keep me from getting too close to the firearm as it recoiled. My test day provided calm conditions with an ambient temperature of 31 degrees Fahrenheit, not awful for February in Northern Pennsylvania. The temperature on the range, however, was about to increase.
When I fired the first round, it was as if the paparazzi had found me and put a flashbulb right in my face. All of that unburnt power made for a spectacular display, albeit a bit distracting. On a positive note, the recoil wasn't half bad and wasn't anywhere near what I expected—I settled into this thing expecting .460 S&W, and what I got was more like a ported .44 Mag. So, I guess if I had to suggest a muzzle device, I would recommend a flash-suppressor over a muzzle brake.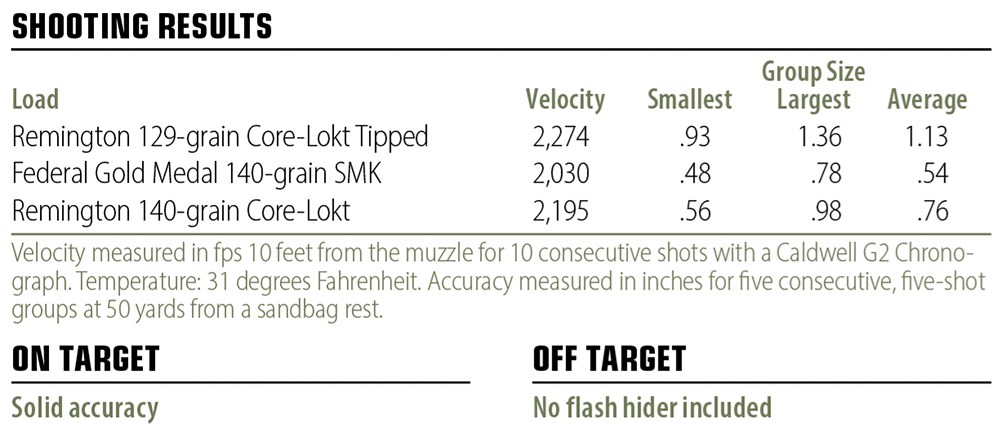 Shooting a rifle cartridge from a pistol only makes sense if you get appropriate velocities, which was my primary concern when shooting the 110 PCS. To my delight, it reached in excess of 2,300 fps with some of the test ammunition, putting these rounds on par with lighter handloads when fired from a rifle. While speed is important, it doesn't mean a thing if all it does is miss the target really fast, so accuracy testing was up next. Again, I was pleasantly surprised by what the 110 PCS had to offer. Most of my five-shot groups measured close to 1 MOA, with the Federal Gold Medal Match offering breaking it on one occasion. With that being said, I would not be reluctant to engage steel out to and maybe even beyond 800 yards with this setup, as the only limitation would be the pistol optic. 
As I packed up my gear, several applications for the Savage 110 PCS became apparent. I could see police departments adopting it, as it is certainly accurate enough for urban-sniper applications, with its compact size aiding in rapid deployment. Although I was skeptical when it was first introduced, it only took five shots over a chronograph to assuage any concern, and in short order I found myself wishing for farther targets and more ammunition.