by
posted on January 18, 2019
Support NRA Shooting Illustrated
DONATE
One of the core values at Ruger is the belief that new products drive growth in the company. That probably explains why they have continued to introduce one new product after another, all eagerly snapped up by their loyal customers. While not a new product–it's an extension of an existing line–the Precision Rimfire Magnum is certainly new to Ruger's customers.

As you may be aware, Ruger first disrupted the long-range rifle market with their affordable and accurate Ruger Precision Rifle or RPR. Since then it has appeared in a number of calibers, most recently in two Magnum models chambered in .300 Winchester Magnum and .338 Lapua Magnum. At the other end of the scale there's the little RPR Rimfire chambered in .22 Long Rifle based upon the excellent American Rimfire rifle line. Now we have a Magnum Rimfire version in .17 HMR and .22 Magnum, with the .17 HMR being the subject of this evaluation.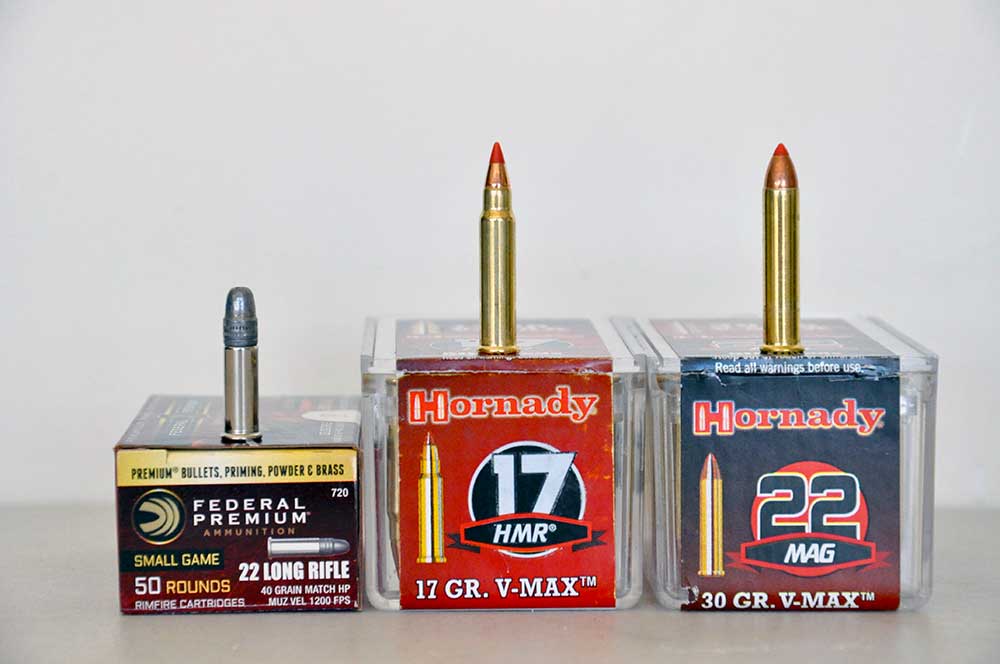 The little .17 Hornady Magnum Rimfire was created in 2002 by necking down a .22 Magnum case and loading a .17 caliber bullet. Bullet weights are slight, from 15.5 to 20 grains in Hornady's loadings, and the pointy little bullets have a muzzle velocity in the 2500 feet per second (fps) range. That's pretty fast for a rimfire round, and I have to tell you, these tiny bottlenecked cartridges are, well, cute. What's it for? It's a speedy little varmint round with explosive terminal ballistics inside of about 150 yards.

Ruger has two new magazines for the Magnum Rimfires based upon the rotary magazines for the 10-22. One holds 9 rounds and appears to be an elongated version of their .22 LR rotary magazine. Likewise, the BX-15 extended magazine is a bit bigger, holds 15 rounds and is the perfect size for shooting off a rest or a bipod. Like the larger RPR the Rimfire Magnum (RM) has an AR-pattern pistol grip and a stock adjustable for comb height and length of pull.

Unlike its bigger brother, the stock of the RM doesn't fold to the side, as it's not necessary for bolt removal. The cold-hammer-forged barrel is 18 inches long and is threaded ½-28 tpi for the addition of various accessories, most obviously for a silencer. A thread protector protects the barrel threads and muzzle crown. A Picatinny rail sits atop the receiver, the fore-end is a Magpul design with M-Lok and the bolt can be adjusted for a short rimfire pull or a longer one to mimic the centerfire rifle should you wish to use the RM as a trainer. The Ruger Marksman trigger is adjustable from about 2.25 to 5.0 pounds and the trigger on this sample breaks cleanly at just a touch over 3 pounds. The bare rifle weighs a substantial 6.8 pounds and has a suggested retail price of $529.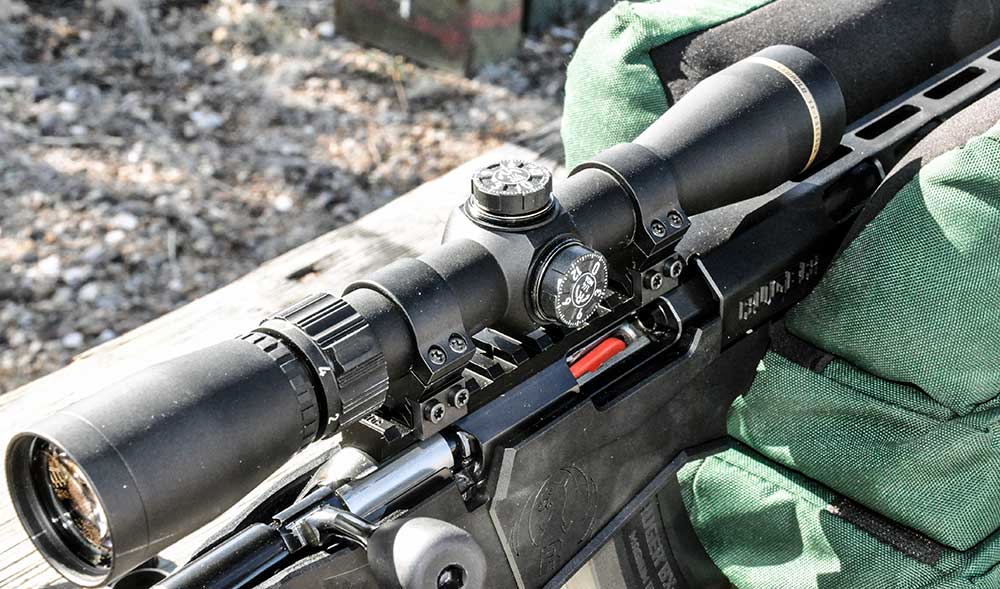 For the past year or so Leupold has been building out their VX-Freedom line of high quality but economically priced riflescopes. Two new editions are a 3-9X and 2-7X designed for rimfires so I ordered the 2-7X model for this test. This is a 1-inch-tube scope with a 33 mm objective lens and ¼-minute adjustments for windage and elevation via the finger-adjustable turret dials. The scope reticle is called a Rimfire MOA, being a duplex style with vertical hash marks for elevation. I mounted the scope atop the rail with a set of Leupold PRW medium height rings. The suggested retail for this VX-Freedom scope is $234.99.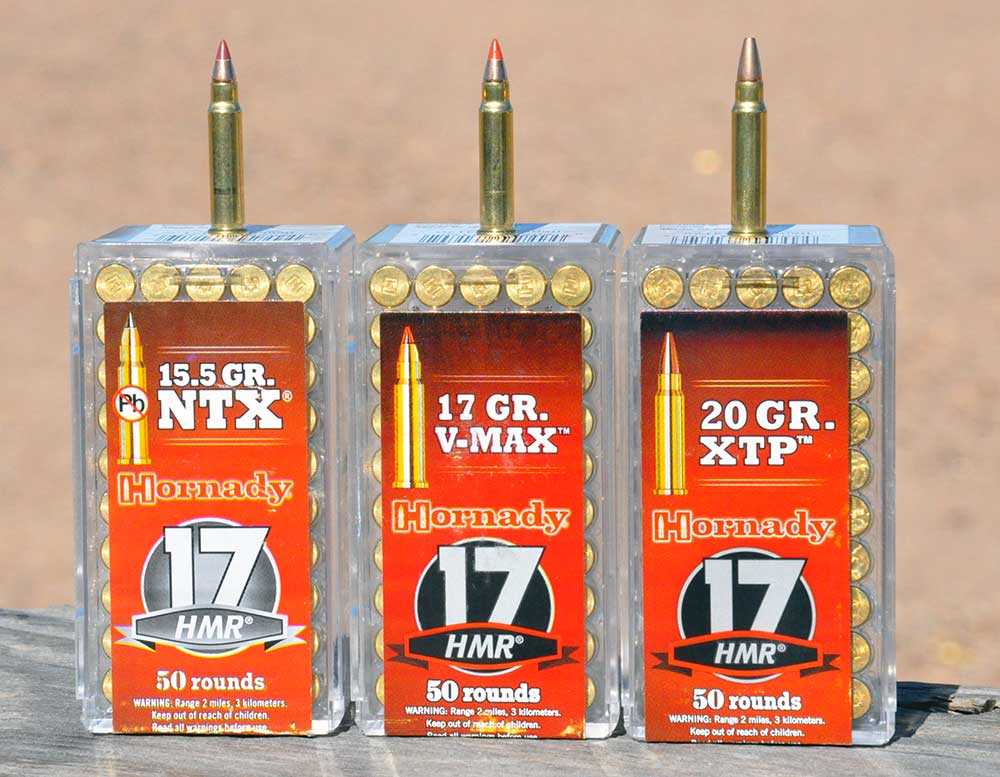 Considering Hornady invented this round I went to that source for ammunition and came up with three loadings. Here's how they stacked up shooting off sandbags on the Gunsite Academy York Range:

Five consecutive 5 shot groups fired at 100 yards off sandbags.

Hornady 17 grain V-Max, muzzle velocity 2550 feet per second. Smallest group, 1.06 inches, largest group 1.88 inches, average group size 1.394 inches, extreme spread 0.82 inches.

Hornady 20 grain XTP, muzzle velocity 2375 feet per second. Smallest group 0.79 inches, largest group 1.37 inches, average group size 1.046 inches, extreme spread 0.58 inches.

Hornady 15.5 grain NTX, muzzle velocity 2525 feet per second. Smallest group 0.95 inches, largest group 1.45 inches, average group size 1.24 inches, extreme spread 0.5
inches.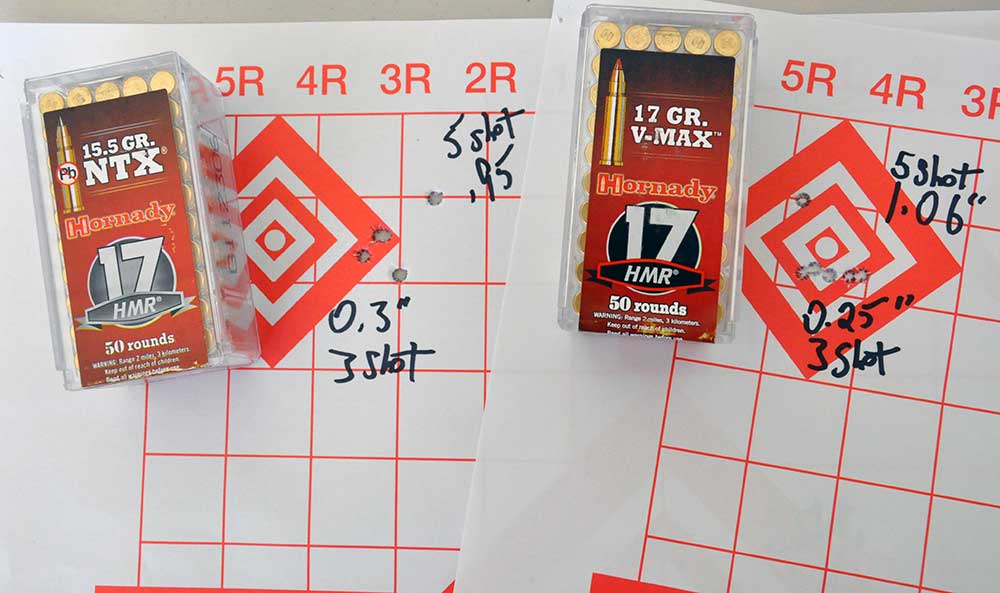 Interestingly, I also measured the smallest three shot cluster of shots in each group and came up with some very small groups that averaged about a third of the size of the five shot group averages.

Being my first experience with the 17 HMR cartridge, I was pleased with the way this rifle shoots. There is almost no recoil, you can see rounds hit through the scope and they get downrange very quickly. It's accurate, easily shooting "minute of squirrel" and fun to shoot. Really, the only downside is that .17 HMR rounds are pretty expensive. However, if you're looking for a short-range varmint setup, the Ruger Rimfire Magnum may be just the ticket.