Ruger calls it "the one rifle to have if you can have only one", referring to the Ruger Scout rifle. I can't argue with that because, you see, the Ruger Scout was my idea. To make a longish story shortish, while I was working as the Operations Manager at Gunsite Academy I convened a meeting of industry folks, Gunsite's owner Buz Mills and Ruger's PR man at the time, Ken Jorgensen. About a year earlier Ken had dropped off a Ruger Frontier bolt-action rifle in .308 Win. and the more I shot it and thought about it, the idea for a Gunsite Scout Rifle started to form. I brought it to the aforementioned meeting and posed the question, "Why can't we make this into a Scout rifle?" The rest, as they say, is history and the Ruger Scout went on to become one of Ruger's best-selling rifles of all time. 
Now made in a variety of calibers and variations, the Scout remains as we had envisioned it, a very good general purpose rifle suitable for hunting, police and ranch work and defense. It comes with excellent ghost-ring sights, scope rings and a forward mounted rail that allow a multitude of sighting possibilities. Whether laminate, wood or composite, the stock is adjustable for length-of-pull through the use of the included spacers. The cold-hammer-forged barrels are accurate and threaded to accept suppressors, muzzle brakes and flash hiders and are free floated in the rifle stocks. The robust, Mauser style bolt action is reliable and offers semi-controlled round feeding and positive ejection.  



The subject of this review is the new Ruger Scout rifle chambered in 350 Legend. As you may recall, Winchester announced the 350 Legend caliber to some fanfare at the 2019 SHOT Show in Las Vegas. You might want to think of the legend as a .357 Magnum, Magnum rifle caliber. It nominally launches a 150 grain .357 caliber bullet at about 2300 feet per second. This is a bit mild by rifle standards but that's exactly the point. The Legend has enough oomph to be effective on deer size game without being punishing to shoot. Here's the thing; in some states bottlenecked, high velocity rifle cartridges are prohibited for hunting. Straight walled cases are allowed so that means hunters in these states generally use caliber like the .444 Marlin, .45-70 Government and .450 Bushmaster, these calibers being boomers, if you know what I mean. The Legend is a solution to those who want enough power, but not too much, in a caliber comfortable to shoot and ideal for youths. 
Comparing the Legend to the Bushmaster is instructive. The cases are the same length, and the overall cartridge length is the same, or pretty close, depending on the particular bullet. What you have in the Legend, to my way of thinking, is a scaled down .450 Bushmaster. If you compare a .223/5.56 case to the Legend, it's almost as though the Legend is a blown-out .223 case loaded with a bigger bullet. In fact, I found the 5 round Legend magazines, provided with the Scout will accept .223 Rem. ammunition, but the 10-round magazine for the .223 Rem. Ruger Scout will fit in the Legend rifle, but will only accept one round of 350 Legend ammunition. 
So, it was a natural for Ruger to create a .350 Legend Scout, as the base rifle was already in production, or so it seems to me. And why not, the 350 Legend has taken off and become quite popular. Ammunition in various bullet weights has become available, and for my test I was able to come up with these varieties from Winchester and Hornady: 
Winchester Deer Season XP (Extreme Point) 150 grain at a listed 2325 feet per second.
Winchester Super X Power Point 180 grain at a listed 2100 feet per second.
Winchester Super Suppressed 255 grain hollowpoint at a listed 1060 feet per second. This round is clearly aimed at the sub-sonic .300 Blackout market.
Hornady Custom 165 grain FTX (Flex Tip eXpanding) at a listed 2200 feet per second.
Hornady American Whitetail 170 grain soft point at a listed 2200 feet per second.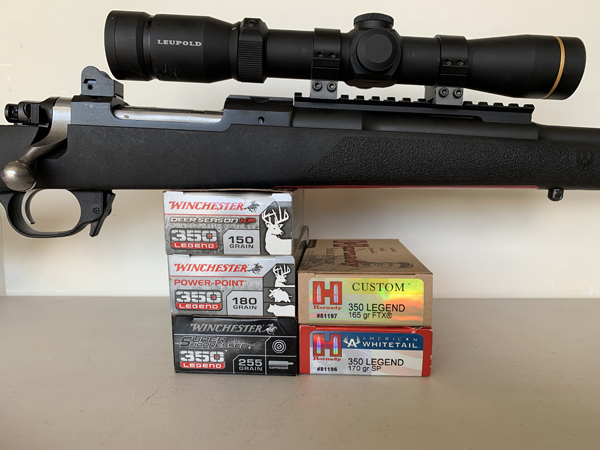 I hauled the Scout to Gunsite's York rifle range and shoot three shot groups at 100 yards off sandbags. Before doing that, I installed a scout scope on the Ruger, a Leupold 1.5-5 VX-R Firedot in 30 mm, medium-height rings. Sadly, this scope, the best of the available scout scopes in my opinion, has been discontinued and I'm unable to ascertain whether Leupold plans on replacing it with another model or dropping it altogether. 
While I spent several hours shooting the Legend Scout, I could have happily shot it all day and plan to take it back to Gunsite and run it through some of the hunting and tactical simulators. Regardless of bullet weight I found the Legend to be a soft shooting round in the Ruger, falling somewhere between a .223 Rem. and .308 Win. 
Overall accuracy for the different loads was good, each producing an average of about 1.5-inch groups. Some were a little smaller, some a little larger but the overall average for all groups fired with five different loads ended up being 1.57 inches. While I initially zeroed the rifle for the 150 grain Winchester load, and all the ammunition shot pretty close to that zero, the exception was the subsonic Winchester 255 grain load, which shot more than two feet higher at 100 yards. So, while you might be able to interchange the standard weight ammunition, the heavy bullet definitely requires re-zeroing the rifle. 
The 350 Legend is a good fit in my favorite rifle. It's accurate, mild-shooting and might be just what you're looking for.