by
Shooting Illustrated Staff
posted on February 11, 2019
Support NRA Shooting Illustrated
DONATE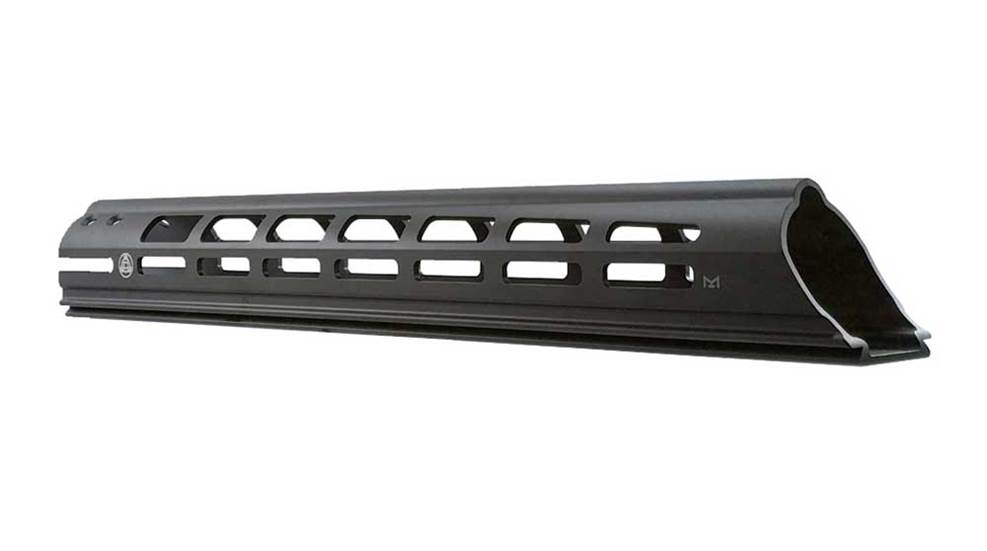 With an increasing number of rifle shooters taking part in Precision Rifle Series competitions and other long-range shoots,
Catalyst Arms
aimed to provide the components needed for competitors and enthusiasts to find success. After speaking with top competitors in PRS and other precision-rifle disciplines, the company released its Fast Track rifle handguard, loaded with the features shooters need to succeed at distance. The handguard is purpose-built for use on AR-15s, as well as the
Ruger
Precision Rifle.
At the bottom of the Catalyst Arms Fast Track handguard, consumers will find an Arca Swiss-style rail, a mounting system that's grown increasingly popular with precision shooters. The mounting point allows shooting tripods and other accessories to be attached directly to the handguard, and these accessories and shooting rests can be moved to any position along the length of the handguard, depending on what kind of configuration a shooter needs.
One of the added benefits of this design is the full-length rail continues all the way to the forward face of the magazine well, allowing shooters to brace the magwell up against barricades for added stability. This increased flexibility also allows users to mount tripods as close to the rifle action as possible for maximum stability. The flat surface of the Arca Swiss-style design also ensures that there are no snagging points that can hang a gun up on barricades, ensuring that shooters won't lose seconds off their time while trying to find a solid mounting point.
The bottom and sides of the Catalyst Arms Fast Track handguard feature flattened surfaces that allow competitors to build solid shooting positions from bags, barricades and other surfaces. At the top of the handguard, consumers will find a low-profile design that allows precision-rifle owners to mount their optics as close to the bore line of their rifle as possible. Other features include M-Lok attachment points at 3-, 6-, and 9-o'clock positions along the length and circumference of the handguard, enabling the attachment of other accessories.
Attaching the Fast Track handguard to an AR-15 or Ruger Precision Rifle is easy, thanks to a dual barrel-nut system that can be aligned and torqued with little difficulty. Fitting the handguard to an AR-15 requires the use of a low-profile gas block, and the design is only compatible with short-action Ruger Precision Rifles. The handguard measures 15 inches long, 2 inches high and 1.75 inches wide and, with the dual barrel-nut assembly included, the entire unit weighs 19 ounces. The suggested retail price on the Catalyst Arms Fast Track handguard is $219.95.