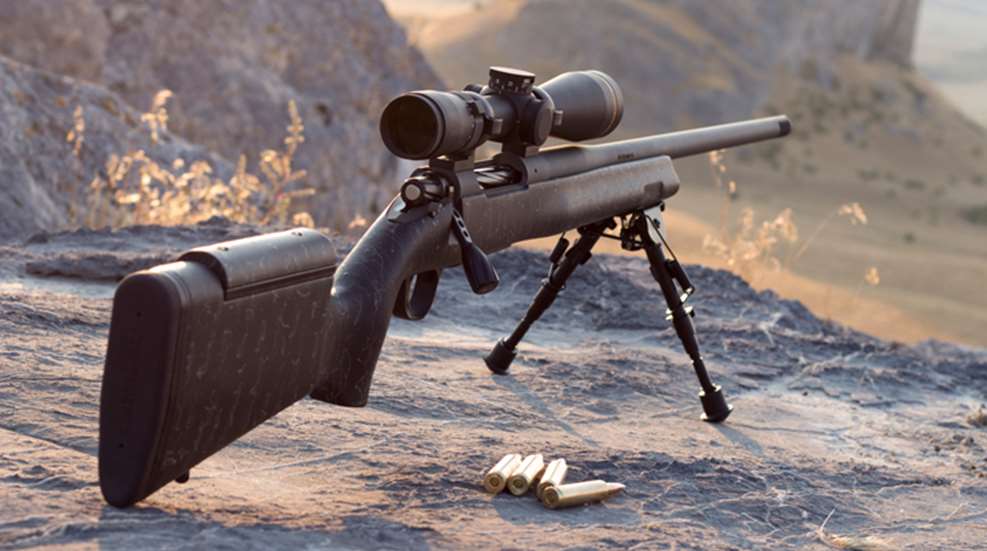 The popularity of long-range rifle shooting has exploded over the last decade, and odds are you can find a match somewhere near your home on any given weekend. Regardless of whether you're a serious competitive precision shooter or simply love seeing how far away you can hit a target, though, you need a rifle that is accurate enough to consistently make hits at great distances.
The good news is that you have a lot more long-range rifle options available to you today than at any time in history. When long-range shooting was less popular most serious distance rigs were custom-made rifles that took lots of time and money to own. But thanks to increasing demand and modern machining technology even off-the-shelf guns can accomplish what it required a tuned rifle to achieve just a few decades ago. If you love the challenge of long-range shooting then there's never been a better time to build your own dream gun. Here are nine of our favorite rifles under $2K.
Browning X-Bolt Max Long Range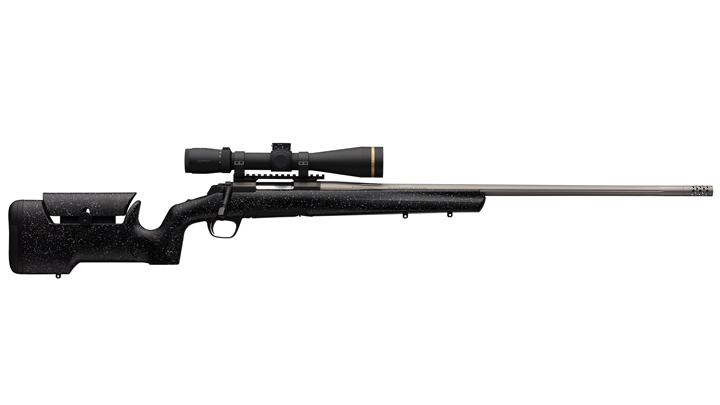 Browning's flagship target rifle comes with their new Max composite stock with a fully adjustable comb. Like other X-Bolt rifles, the Max Long Range come with three-lug bolts for a short (60 degree) bolt lift which means faster, smother cycling and no mashed knuckles. The oversized bolt knob is easy to operate the crisp, clean Feather trigger is exactly what you want from a target rifle. Heavy target barrels help reduce recoil and dissipate heat and there are dual sling studs up front for mounting a bipod.  Browning uses their own proprietary barrel lapping system that helps further enhance the accuracy of this tack-driving machine. $1,299.99-$1,359.99. browning.com
Christensen Arms Mesa Long Range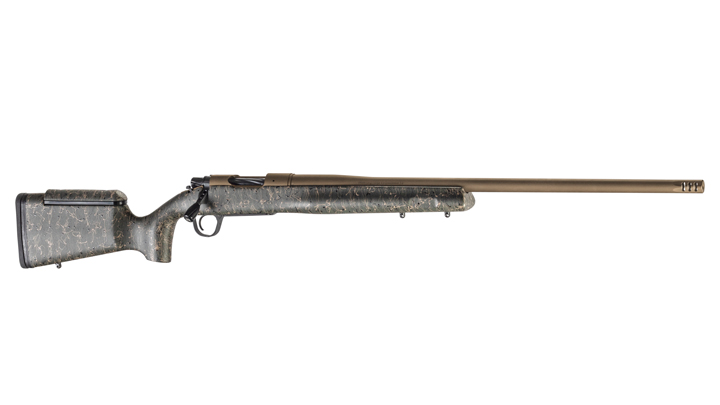 Christensen Arms is a familiar name to any serious precision shooter and the company's Mesa Long Range rifle competes against target bolt guns costing thousands more. These rifles come with a long list of accuracy-enhancing features including Christensen's own 416R stainless steel barrel with medium Palma contour and the company's adjustable carbon fiber stock. The barrel is topped with a stainless steel seamless side-baffle brake and buyers can choose between Tungsten and Burnt Bronze Cerakote finishes on the metalwork. Invar pillars and spot bedding further enhance the accuracy potential of this rifle. Christensen Arms promises sub-MOA accuracy, but with the right shooter and the right load many of these guns will do better than that. $1,595. Christensenarms.com
Mossberg MVP-LR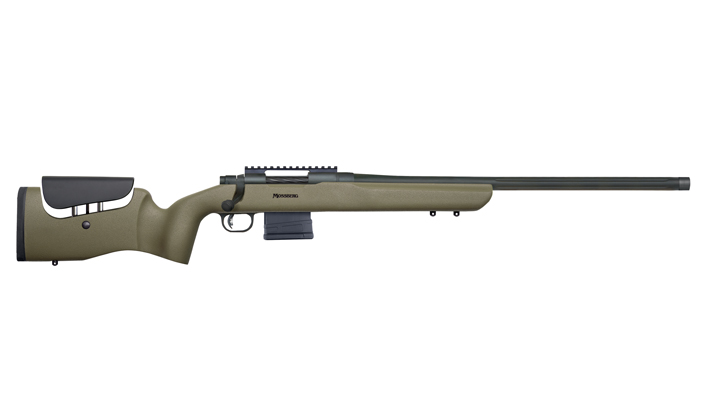 Mossberg has a century-old reputation of delivering reliable firearms at an affordable price, and the MVP-LR proves you don't have to spend over a grand to own a dedicated long-range rifle. This gun comes with a threaded medium bull barrel (20 or 22 inches), detachable box magazines, and a Picatinny top rail for mounting optics. The pillar-bedded OD green stock features an adjustable comb that features Mosscote, a rubberized material that eliminates the sandpaper-on-my-face effect you get when shooting some composite stocks. A Mossberg Lightning Bolt Action (LBA) 3-7 pound adjustable trigger comes standard, and as an added bonus the 7.62 NATO model utilizes M1A/M-14 and AR-10-style magazines. $910. Mossberg.com
Ruger Precision Rifle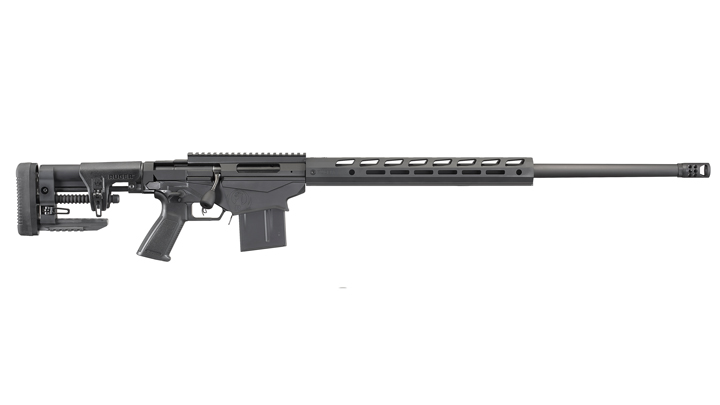 Ruger reinvented the long-range market with the launch of the Precision Rifle, a feature-loaded factory gun that simply requires a scope and a sight-in session to be competition-ready. These guns come with a laundry list of premium features including a Ruger MSR stock that adjusts to the individual shooter, a Ruger Marksman adjustable (2.25 to 5 pounds) bladed trigger, Precision Rifle Hybrid Muzzle Brake, M-LOK slots, 20 or 30 MOA rail, detachable box magazines (two included) and much more. The upper and one-piece bolt are machined from 4140 and the lower is comprised of aerospace-grade 7075-T6. It's clear that the engineering behind this gun came from serious shooters with features like a contoured mag well faces for bracing against supports and an extended trigger reach AR-style pistol grip. Accuracy potential from these guns is extraordinary. $1,599 to $2,099. Ruger.com
Savage Precision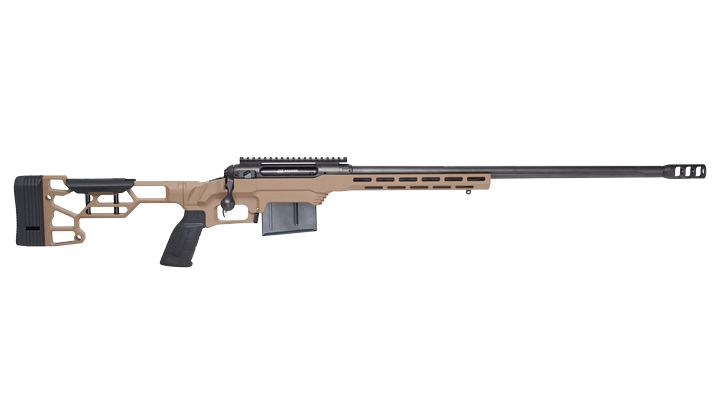 The name says it all. This rifle comes with a Savage 110 blueprinted action and a heavy, threaded carbon steel barrel nestled in an MDT LSS XL chassis with a FDE Cerakote finish. As with the Ruger, chassis adjustments are quick and simple and the AccuTrigger dials from 4 pounds all the way down to 1.5 pounds. Each of these guns comes with a 20 MOA top rail for mounting optics and there are plenty of caliber options from which to choose including the ubiquitous 6.5 Creedmoor and the popular .300 PRC. The control layout of this rifle is very shooter friendly, from the easy-to-operate tang safety to the oversized mag release button located in front of the trigger guard. The Precision rifle I shot printed tight five-shot groups out to four hundred yards, but you can push this gun way beyond that. $1,499. Savagearms.com
SIG Sauer Cross Rifle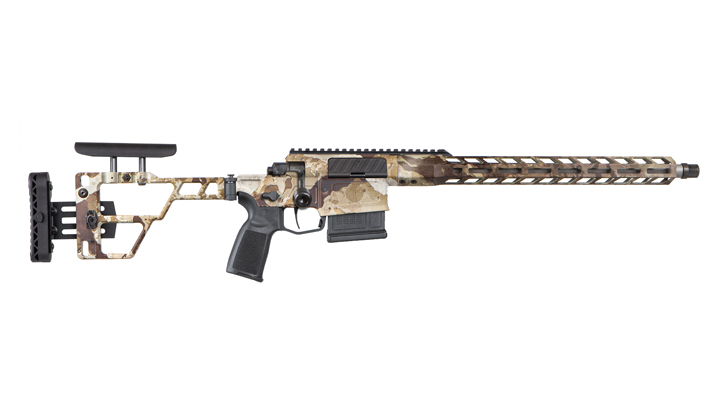 Add a precision bolt rifle to SIG's ever-expanding product universe. And, as with other SIG products, this rifle is reshaping the bolt gun market. The American-made CROSS rifle features a one-piece aluminum receiver and a folding, adjustable SIG Precision Stock. These guns come with stainless steel threaded barrels of either 16 or 18 inches and a free-floating aluminum handguard. Detachable five-round box magazines come standard, as does a superb two-stage match trigger that allows you to shoot extremely good groups with this gun. Unlike other guns on this list, some of which weigh ten pounds or more, the bantamweight CROSS checks in under seven pounds, which makes it the most portable gun listed (especially when the stock is folded). As if redefining precision bolt guns wasn't enough SIG had to develop their own precision rifle cartridge for this gun, too, the 277 SIG Fury. The rifle recently got recalled, but if it's anything like the P320, SIG will have the problem fixed and the end result will be worth the wait. $1,779. Sigsauer.com
Springfield Armory Waypoint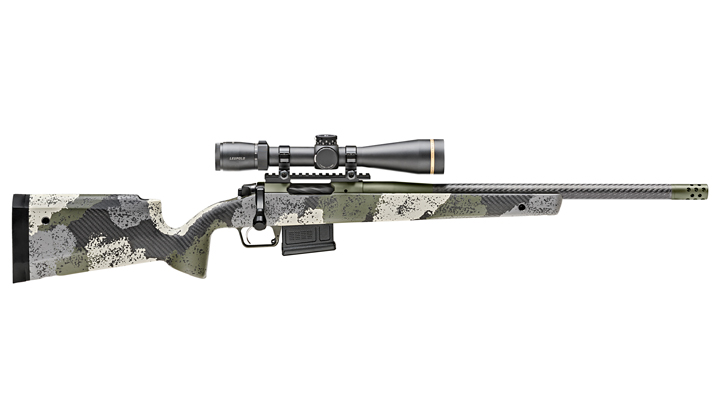 Springfield enters the precision bolt gun market this year, but it's clear from looking at their new Waypoint rifle that years of shooting experience went into the development of this gun. This rifle comes with a tubular steel action with integral recoil lug and an EDM raceway for ultra-smooth operation. The carbon fiber stock (available fixed or adjustable) is excellent, and buyers have a choice between a fluted steel or carbon fiber-wrapped barrel. Both barrels are threaded and come with an SA radial brake and a thread protector.

The TriggerTech trigger is superb and adjusts from 2.5 to 5 pounds, and five QD mounts come standard. This gun uses AICS-style magazines and the oversized ejection port and hybrid dual plane feed ramp help ensure smooth cycling. Springfield went straight for the top with their first precision rifle, but they delivered an American-made gun that shoots with anything in this price category. In fact, Springfield is so confident in this gun's accuracy that they back it with a sub .75 MOA guarantee. $1,699-$2,399. Springfield-armory.com
Performance Center Thompson/Center LRR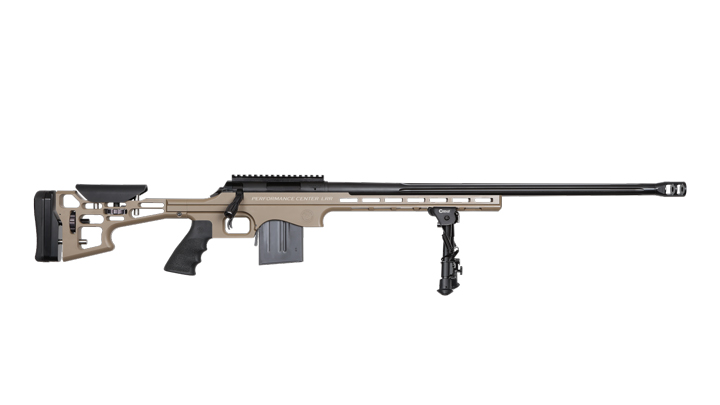 Thompson/Center's Performance Center LRR is more affordable than many competing guns on this list, but don't think that means it's stripped-down. On the contrary, the LRR features a 20 MOA top rail, a heavy-contour fluted barrel with a muzzle brake and 5R rifling, and a Performance Center trigger that adjusts from 2.5 to 3.5 pounds. Chassis color options include black or FDE and the stock is adjustable for the individual shooter, and each of these guns come with a 10-round detachable magazine, a Caldwell Pic Rail XLA fixed bipod and soft case. You can elect to buy the rifle alone or, if you prefer that your long range rifle is ready to go out of the box, select the package version that comes with a pre-mounted Vortex Diamondback 412x40 scope. $1,211-$1,503. Tcarms.com    
Winchester XPR Renegade Long Range SR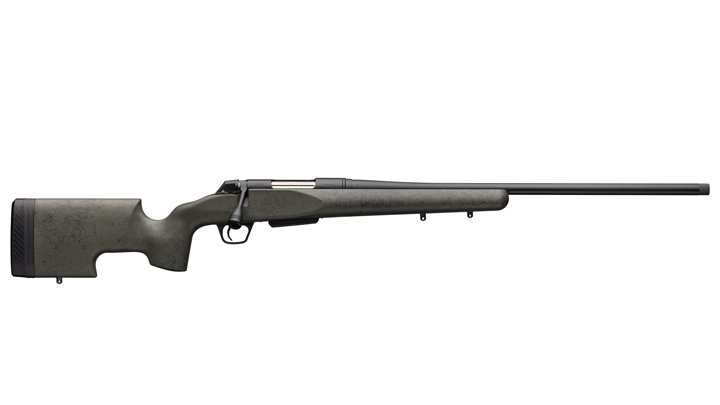 The Renegade is one of the best bargains going in long-range rifles at the moment. It features a free-floated, button rifled barrel that is thermally stress relieved and threaded. The Grayboe stock features a cutout in the buttstock for resting on bags, a flatted forearm and an upright pistol grip that encourages a comfortable wrist position. While the comb of the stock is fixed on this rifle it does come with LOP spacers that allow you to customize the fit. Winchester's MOA trigger is crisp and easy to control, and this gun's perma-cote finish on the metalwork cuts glare and protects against corrosion. Weighing in at 8.5 pounds, the Renegade is far more portable than some other guns on this list, and its accuracy potential and relatively low price tag ensure it a spot on our list of best long-range guns. $1,069.99.
winchesterguns.com