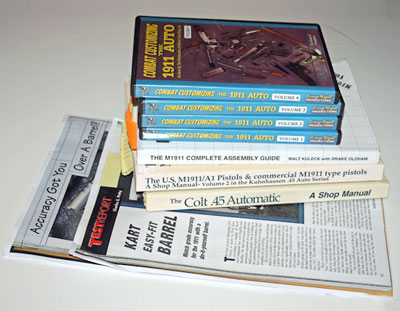 Every now and then the urge hits us all to reassert our individuality. While it may not be as colorful or chaotic as teenaged rebellion, one example where this drive for individuality manifests itself is customizing our firearms. Being a dyed-in-the-wool, 1911 maven you might image I've owned my share (and rightfully so). Through collecting and ordering various custom builds and my own occasional tinkering, I've developed not only an appreciation of the inner working of what has come to be described as one of the greatest pistols ever made. But, more importantly, it's helped me develop an understanding of essential requirements for a 1911 to meet my needs for self-defense. While the Boyd Bunker has no shortage of variants suited for the task, the fact remains none of them were built by my own two hands. So, despite sporting various components and parts of my choosing, they lack the individual touches, pride of ownership and the due diligence associated with blood, sweat and tears that results from a self-appointed project.
With that in mind, I decided to comb through the copious bins and boxes of related accessories, articles, parts, technical manuals and tools I amassed throughout the years for just such an occasion. Fortunately, upon hearing of my idea, acquaintances within the firearm industry (who work with 1911s on a daily basis) were quick to offer all manner of guidance, input and support. While each served as an invaluable torrent of information from which to draw, I made it known ahead of time my goal was to see how much I could accomplish on my own. Therefore, chances are my primary reasons for contacting would be to pick their brains for advice, and a request for assistance would be a last resort.
Whether you're a firearm enthusiast in search of a custom 1911 without the custom price tag, or a tinkerer waiting for the inspiration for your next gun-related project, it doesn't take a ballistic scientist, a workshop chock-full of expensive machinery or a professional gunsmith to build a 1911 for self-defense, if you follow these step-by-step instructions.
My budget goal for this build is $2,000. This is the first of a multiple-part series on how to build a 1911. I'll discuss the parts/accessories I selected and the reasoning behind it. Instructions regarding assembly will be included in the subsequent installments.