Support NRA Shooting Illustrated
DONATE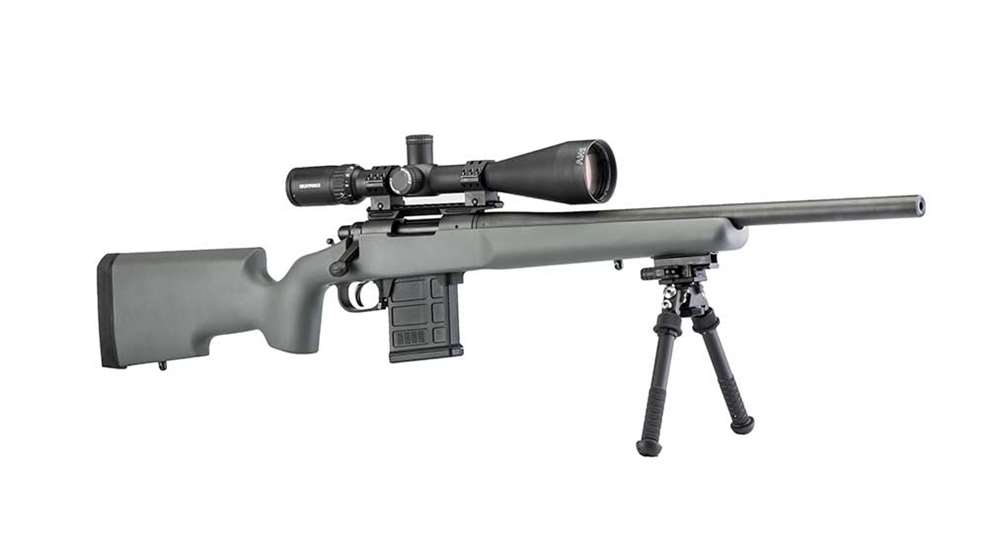 Photos by Jesse Snyder.

A few years ago, I decided to fill a critical hole in my gun collection and added a Remington 700 SPS Tactical rifle in .308 Win. to my gun safe(s). Until that point, I had owned plenty of bolt-action rifles but never an actual Remington 700 (I know, right?). Since I'm one of those gun owners that can't ever leave any firearm well enough alone, I figured it'd make a great starting point for an upgrade project, thanks to the huge aftermarket support of the 700 platform.

Initially, I ran into a bit of a problem. Before tearing it apart and loading it with aftermarket components, I decided to take the thing to the range and see how it'd do. After all, I needed a benchmark accuracy group, right?


It was one heck of a benchmark. Using 168-grain Federal Premium MatchKing at a distance of 200 yards, I shot a five-round group just below MOA. Rather than mess up a good thing, I left the rifle alone for a few years. However, the lure of the aftermarket loomed over me, and I soon began seeing some products for the Remington 700 I just couldn't ignore. Three products in particular stood out.

Upgrade No. 1: Grayboe Renegade Rifle Stock

When you're upgrading a rifle like the Remington 700, it helps to have an end goal in mind. Since I started with the heavy-barrel Remington SPS Tactical, I figured I'd stick with the tactical/target theme and build a heavy rifle that's perfect for benchrest or prone shooting. Enter the Grayboe Renegade stock.

This stock is designed from the ground up and purpose-built to be perfect for shooting off the bench or building up a solid position in the prone with bags. The fore-end uses a unique "beavertail" design that's much more flat and wide than many of the options on the market, but that provides a solid, even surface to mount on a shooting rest or sandbags.

It's also equipped with a nearly vertical pistol grip, which gives shooters a bit more leverage when pulling the butt tightly into the shoulder and maintaining a firm, solid position on the rifle. The stock also features a cut-out hook just forward of the toe to facilitate the use of bags or to insert a support hand for making small changes to elevation and windage.

The company uses a special design process using composite materials and builds rifle stocks from the ground up to exacting specifications. Indeed, when I received the Renegade stock, the tolerances were perfect. All of the components fit into the cutouts exactly and required no final fitting, trimming or polishing. Installation took mere minutes, converting the rifle into a custom-built precision shooter with a free-floated barrel and all of the necessary ergonomics for comfortable target use.

The Grayboe Renegade stock weighs in at just under 4 pounds and is available in both bottom-metal and BDL configurations for Remington 700 long- and short-action rifles. The price on the Renegade starts at $349, and the company features a number of other stock designs for rifles with different aims in mind.

Upgrade No. 2: Mesa Precision Arms M5 Bottom Metal

Easy reloading is a good thing, right? That's why I opted to convert the BDL-style Remington 700 SPS Tactical to accept a detachable, common-pattern magazine designed by a company that makes such things. Suffice it to say that these single-stack, short-action magazines are available from Magpul, and you can (and should) buy them there.

In addition to accepting an easy-loading detachable magazine, the M5 Bottom Metal from Mesa Precision Arms is a finish option buyers can select from Grayboe. This means that your rifle stock arrives with the bottom already cut out for the aftermarket magazine well, and let me tell you, you won't get a more perfect fit than the one the guys at Grayboe provide.

The bottom metal, weighing about a pound, is machined from aerospace-grade aluminum and features a hard-anodized black finish. To facilitate faster and easier loading, the mag well uses a funneled interior that feeds the magazine into position. An additional design feature is the addition of a barricade on the front edge of the magazine well, a great benefit for shooters using bags, because it means they can load the front edge of the magazine well into the bag to produce a more solid shooting position.

Magazines are locked into place with a release lever located on the front edge of the trigger guard and are easily removed with a simple forward push of the lever. One thing I noticed about the mag well is that magazines locked into place seem to have quite a bit of play. However, I never noticed any feeding issues, so it's mostly an aesthetic thing, if that sort of issue matters to you.

The Mesa Precision Arms M5 Bottom Metal starts at a retail price of $165. For an additional charge, the company will inlet your stock to fit the assembly.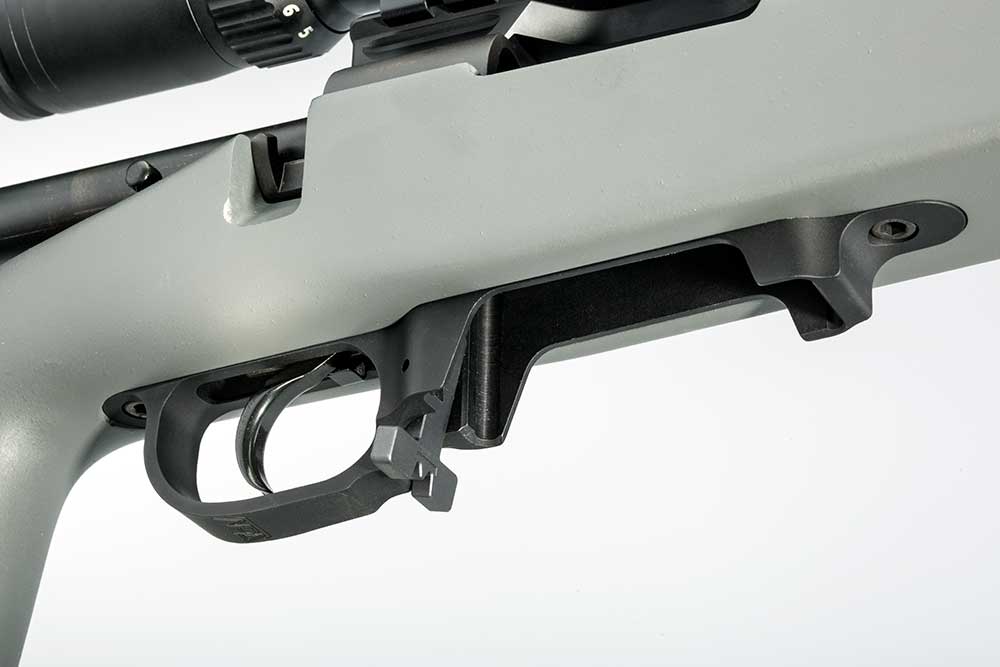 Upgrade No. 3: Huber Concepts Tactical Staged- Break Trigger

I met John Huber at the 2017 SHOT Show, and he's someone who knows a heck of a lot more about triggers than I ever will. All of that knowledge and passion comes together in his company's new Tactical Staged-Break Trigger, which Huber claims is the next evolution in the rifle trigger.

In his view, a big part of the reason shooters miss precision shots is directly related to the amount of time and energy it takes to pull the trigger and allow the lock to actuate. He backs up his theory with a mess of graphs, computer simulations and motion-physics principles that, frankly, are way over my head. However, his initial thoughts make a great deal of sense, and he believes he's solved it with his new trigger design.

The Huber Concepts Tactical Staged-Break Trigger uses a unique, patented combination of ball bearings, different metallurgy and design methods to improve trigger lock times, shorten trigger travel and reduce the amount of energy required to break the final trigger stage.

The two-stage design features a light first-stage take-up that travels to a solid wall. This wall is factory-set to the user's preference between 1.5-3 pounds. I chose to have mine set at 2.5 pounds. Once the requisite amount of pressure is applied, a short, crisp snap releases the sear and fires the gun. Each Huber trigger ships with several sheets of specs, graphs and measurements backing up his new design. The two-stage Remington 700 options start at $295.

So, after all of these upgrades, do you get a more accurate gun? I mentioned earlier that the Remington SPS Tactical shot a pretty decent group from the box a few years back. Before adding in all of the listed upgrades above, I took it to the range again and shot a group that measured 1.13 inches at 100 yards.

After adding in all the upgrades, the final 100-yard group measured in at 0.8 inches. So, finally, we ended up with a rifle that looks better, handles better and shoots better. What more can you ask?