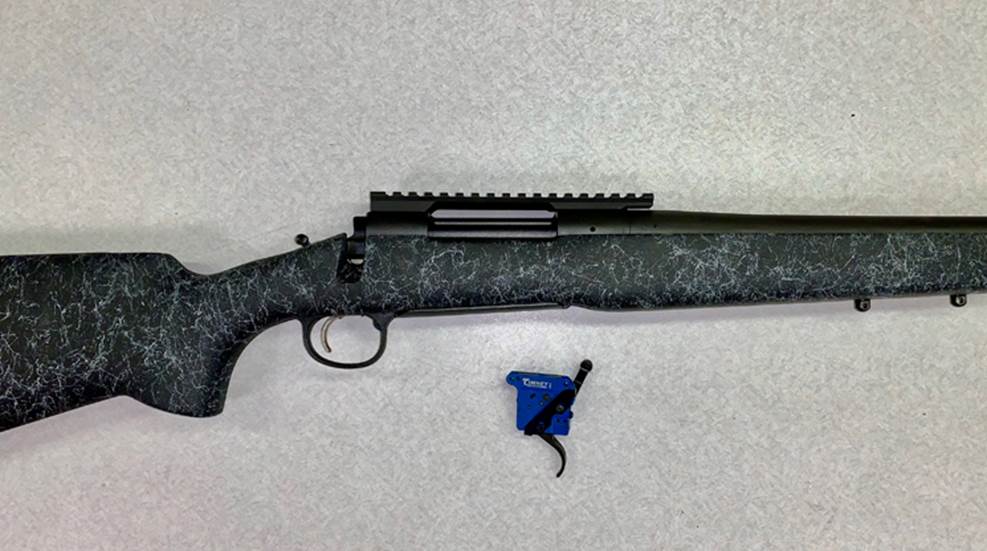 One of the simplest, yet most-important, improvements you can make in a long-range setup is installing a new trigger. While the Remington trigger is pretty darn good right out of the box, there's always room for improvement. The Calvin Elite 2-stage trigger from Timney Triggers offers a two-stage trigger with a half-pound first stage and a one pound second stage – basically, an exceptionally light take-up followed by a light, crisp break. This is clearly a trigger meant for a gun that's going to be shot from a bench more than carried in the field, with a trigger that invites slow, deliberate actions for optimal results.

One of the great things about the trigger units from Timney is that they genuinely are "drop-in" – you remove the old trigger from the receiver group and replace it with the Timney upgrade. One note of caution on the Remington trigger – make sure you follow all installation instructions carefully and avoid impinging the bolt stop or bending the safety lever. Timney has instructions, tips and installation videos on its website, so take a moment to familiarize yourself with the procedure should you decide to install the trigger yourself.

A couple important notes: Before beginning any work on a firearm, whether it's a simple cleaning, mounting a scope, adding an accessory or performing an upgrade, make sure the firearm is unloaded. Check the magazine, cycle the action and check the chamber to make sure the firearm is unloaded. Also remember to keep the firearm pointed in a safe direction at all times. Then, double-check to make sure it's unloaded.

Also, if, for any reason, you're not comfortable making alterations to your firearm, don't hesitate to bring it to an expert. Whether you don't have the right tools, like, say, a sight pusher; a proper workspace or even just that you don't feel comfortable, enlisting the aid of a qualified gunsmith is never a bad idea. Even if it's something your buddies tell you is easy, listen to your instincts. If you're apprehensive about working on something that goes bang, bring in the pros.