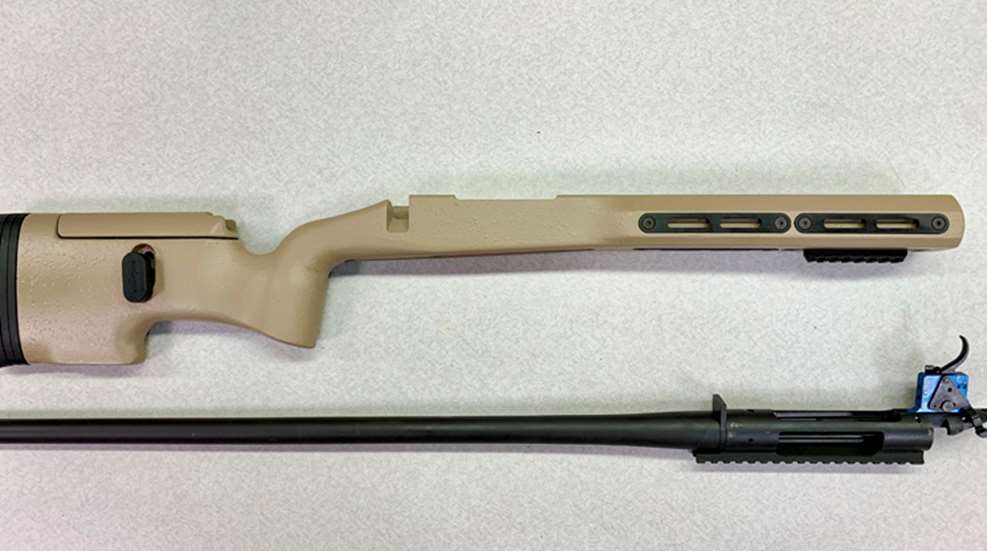 The next upgrade we're making to our Remington 700 is the stock. Grayboe introduced the Ridgeback a while ago, at the time bringing the first M-Lok-equipped composite stock to the market. It offers on-the-fly cheekpiece adjustments, spacers to change length-of-pull, three sides of M-Lok rail and numerous color options.

One of the simplest components is a small bubble level built into the stock just behind the receiver. It ensures the rifle will always be level, removing cant from the list of factors that can throw off your long-range shot. While this is a simple addition, it's nothing short of genius, and makes a world of difference when fractions of an inch count.

As for the actual removal of the old stock, here's the beauty of the 700 – it's literally two screws, on either side of the trigger guard. Remove these screws and the receiver and barrel should lift right out of the old stock to be placed into the Grayboe. Check to make sure the holes in the stock lines up with the receiver, and re-install the screws. If you're pretty sure you're going to keep this configuration, it's not a terrible idea to add some Loctite here.

A couple important notes: Before beginning any work on a firearm, whether it's a simple cleaning, mounting a scope, adding an accessory or performing an upgrade, make sure the firearm is unloaded. Check the magazine, cycle the action and check the chamber to make sure the firearm is unloaded. Also remember to keep the firearm pointed in a safe direction at all times. Then, double-check to make sure it's unloaded.

Also, if, for any reason, you're not comfortable making alterations to your firearm, don't hesitate to bring it to an expert. Whether you don't have the right tools, like, say, a sight pusher; a proper workspace or even just that you don't feel comfortable, enlisting the aid of a qualified gunsmith is never a bad idea. Even if it's something your buddies tell you is easy, listen to your instincts. If you're apprehensive about working on something that goes bang, bring in the pros.