by
posted on September 3, 2015
Support NRA Shooting Illustrated
DONATE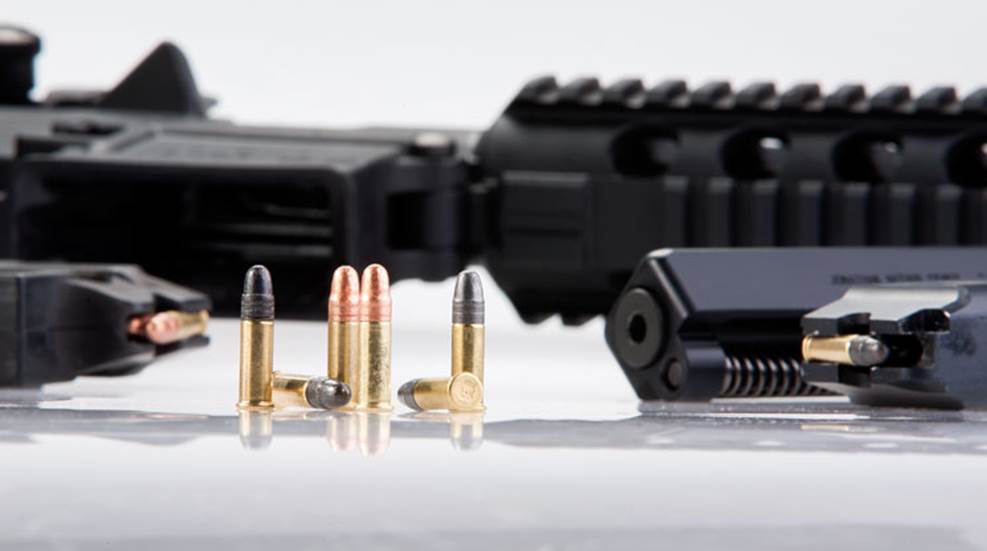 Before the recent shortages, .22 LR ammunition was plentiful, inexpensive and varied. These days, it's harder to come by, but manufacturers are working overtime to bring more rimfire to stores so we can continue practicing, plinking and introducing new shooters to the sport. In the past, there were generally two types of .22 LR ammunition available: inexpensive bulk ammo best suited for plinking or light training, and "boutique" ammo, made to more exacting specifications—but priced accordingly.
Now there's a third category of ammunition emerging on the market. Recognizing the incredible demand for AR-15-style rifles and semi-automatic handguns, manufacturers have been producing high-quality .22 LR stand-ins for training purposes. With ever-increasing numbers of centerfire arms being sold, the rimfire counterparts are also seeing an upswing. Ammunition manufacturers responded by tweaking their product lines to include brands specifically formulated for high-throughput .22 LR semi-automatic firearms. Are these loads truly better than bulk options? We had to find out.
The three different flavors of "tactical" .22 LR were run through the standard protocol for ammunition testing, with 10 rounds fired to achieve velocity readings for each firearm tested. Another 25 rounds were expended in accuracy testing (five, five-round groups) at 25 yards, per firearm. To test each load for function, a more informal test was prepared using steel and other reactive targets, where each firearm had multiple magazines of each load run through it in a typical training/plinking scenario. It's less-formal, but more indicative of the type of actual use that this ammunition might see.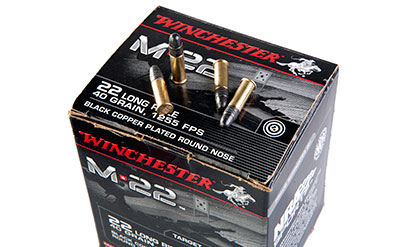 Winchester M-22 40-grain
Winchester
introduced its M-22 line of copper-plated lead round-nose .22 LR ammunition in 2011 in response to the rising interest in "modern sporting rifles"— AR-15-pattern rifles. With the staggering increase in sales of these rifles, incidentals like dedicated .22 LR uppers and conversion kits also increased. Shooters were buying AR-platform rifles in droves, discovering how fun they were to shoot, but seeing a decided drain on their wallets. The market arose for rimfire variants, and for .22 LR ammunition specifically tuned for use in semi-automatic rifles.
"The M-22 is designed for optimum performance in modern sporting rifles," explained Winchester's Shotgun and Rimfire Product Manager Brad Criner. "We tweaked the powder recipe for improved functioning, and black plating has shown to improve accuracy and reduce fouling."
In testing, the M-22 was found to produce the largest number of failures of the three loads examined. Taking the Glock conversion kit out of the equation resulted in a much smaller number of overall failures, certainly within the margin of standard rimfire manufacture. Most failures observed were failures to fire, an observation made across all firearms.
The general sense, though, for the M-22 was quite positive. Fans of
Winchester's Super-X .22 LR
will be familiar with the overall feel and performance, although several factors differentiate the two brands. Most prominent is the black copper-plating, added to reduce fouling and leading of barrels, resulting in longer mean times between failures caused by build-up.
MSRP: $54 (500-round box); 
winchester.com
; (800) 356-2666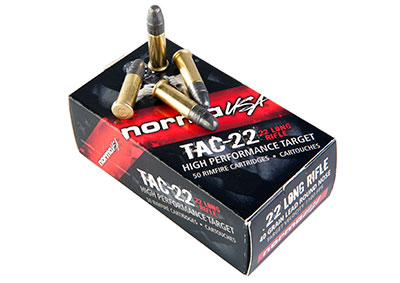 Norma TAC-22 40-grain
Norma's
entry into the rimfire world last November caused quite a stir. Known for producing top-shelf hunting and target centerfire ammunition, NormaUSA has vastly expanded its product line with both rimfire and common centerfire pistol calibers. The TAC line of ammunition covers common cartridges in the self-defense and competition realm, and the TAC-22 represents the company's first foray into rimfire ammunition. In addition to the new .22 LR ammunition, .223 Rem. and .308 Win. are also available now.
When asked why the company chose to make this new line of ammunition,
Norma USA's
Ron Petty answered, "We at Norma are expanding our offerings to include rimfire. It is an excellent product to introduce consumers, especially youngsters, to Norma's quality and product offerings." Petty continued, "Our TAC-22 has excellent quality and accuracy. It is built specifically to Norma specs by sister company RWS (Ruag Ammotec) and is target quality."
The TAC-22 was the only rimfire ammo of the three that was not copper-plated, incorporating instead a traditional lead, round-nose bullet. It appeared to have a coating of sorts, resulting in a slight sheen upon handling. Of the three brands, the TAC-22 was the only individually packed ammunition, coming in 50-round boxes rather than in one bulk box. A nice touch—the 50-round boxes have tabs to facilitate opening.
Performance of the TAC-22 was pretty much what is expected from a company like Norma. Recorded velocities were close to the manufacturer's specifications (Norma measured 1,100 fps; testing achieved slightly slower results) and accuracy was superior. It ran very well in all tested firearms, even in the conversion kit for the Glock 17. The overall consensus on the ammunition was quite positive, with great function and accuracy. Its packaging makes for convenient trips to the range.
MSRP: $59.99 (500-round box); 
norma-usa.com
; (928) 830-3338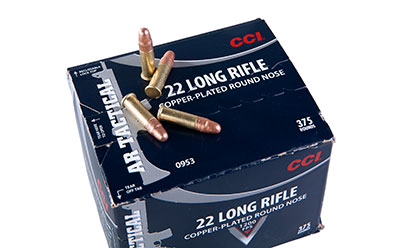 CCI AR Tactical 40-grain
CCI
has traditionally been known for higher-end .22 LR ammunition. From its Mini-Mags specifically called out for the SIG Sauer Mosquito, to the Stinger ammunition favored for rimfire concealed carry, to specific subsonic rounds for suppressed firearms and everything in between, CCI is one of the first manufacturers thought of when top-shelf rimfire ammunition is mentioned. It's a natural progression for a company known for quality, reliable, consistent ammunition to dip its toe in the "tactical" rimfire world, and the result is the AR Tactical brand.
In discussions with
CCI
over the impetus for creating the AR Tactical ammunition, the company was direct. "Some of the AR-style rifles and conversion kits can reliably run on virtually any .22 LR and some are a bit more finicky. We designed the CCI AR Tactical 22 Long Rifle ammunition to be a one-stop shop for reliable, accurate .22 LR performance within all AR plat- forms and conversions," explained Mike Holm, CCI's ammunition product line manager. 
Holm went on to explain what makes the AR Tactical different from other CCI offerings: "CCI AR Tactical 22 Long Rifle ammunition uses a 'target-grade' bullet. It's this specialized bullet profile that gives the round its reliable feeding in AR-style rifles. Many hours of testing and reviewing high-speed video went into selecting the right velocities and cycle times. The end result was an ideal load that performs best in AR-style rifles."
The fewest stoppages or failures of any kind were experienced when testing CCI's AR Tactical .22 LR ammunition, slightly more than a dozen throughout more than 500 rounds fired. Accuracy was excellent, with group sizes smallest or second smallest across all platforms. Velocity was closest to predicted, with the M&P15-22 from Smith & Wesson giving a 10-round average of 1,190 fps—compared to the 1,200 advertised by CCI.
There was no better indication that the
CCI
was the top performer in the group than in the Glock conversion kit. Where other ammunition would fail every round or two, the CCI would often only have one failure per magazine. In velocity and accuracy testing of both factory firearms there were no failures of any kind, which is impressive considering both guns had been shot extensively and were quite dirty. Even the two conversion kits only experienced a small number of failures, and all of those at the very end of informal testing when all guns were dry and caked with gunk.
MSRP $24.95 (300-round box); 
cci-ammunition.com
; (800) 379-1732 
Better Times Ahead
Not all rimfire ammunition is created equal, that's for certain. Many of us have had the unfortunate experience of picking up a box of bulk ammo that just didn't work in our favorite .22 firearm (which is why this author has several .22 LR revolvers, pump-action rifles, and lever guns to fall back on). As semi-automatic variants gain popularity, especially those based on the AR-15 platform, more shooters will be looking for ammunition they can rely on to work well with their preferred plinker. Rather than picking up several boxes of bulk fodder and hoping that one of them works with their favorite rimfire semi-auto, shooters now have specifically designed offerings to help narrow the field.
We've detailed three new .22 LR options from established manufacturers specifically tuned for best performance in semi-automatic firearms. Our experience showed that dedicated firearms worked best with all three brands, and conversion kits were slightly more picky. At present, it may seem like .22 LR is in the same category as unicorns and 50-mpg sports cars, but all three companies assure us more is on the way. Once this new ammo starts hitting store shelves, it'll be worth picking up a box and trying it out in your favorite rimfire semi-automatic.
Rimfire Rifles

To see how all three tactical .22 LR offerings performed in typical rifles, we chose a dedicated .22 LR rifle and a .22 LR conversion kit for an AR-platform rifle. The
Smith & Wesson M&P15-22
was the purpose-built variant, while the CMMG drop-in bolt conversion filled that role.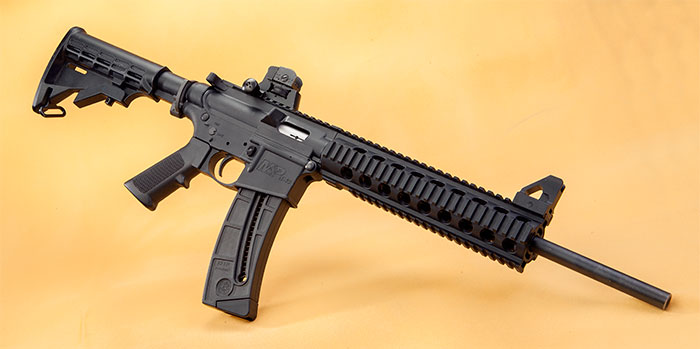 Smith & Wesson M&P15-22

When it comes to AR-15-based .22 LR rifles, few are as well-regarded as the M&P15-22. Introduced only five years ago, it has come to rival the mighty Ruger 10/22 for "favorite plinking rifle" status, based mostly on the popularity of the AR-15 platform it emulates. Coming from the factory with a 25-round magazine certainly helps, as well as being set up to accept a dizzying array of accessories and accoutrements.
Another reason it's so popular is it's a rock-solid performer. During extensive "informal" testing with a friend, it became a running gag as to who would test the M&P, because it was boringly accurate and reliable—load up 25 rounds, fire all 25 rounds, report no problems.

Only the Winchester M-22 gave any trouble of appreciable measure; the single other incident was exactly one failure to load using the Norma TAC-22 toward the end of testing (when, to be fair, the M&P15-22 was positively filthy).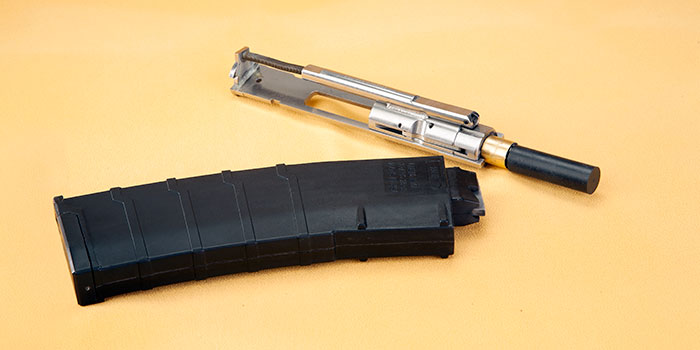 CMMG .22 LR Conversion kit
The role of conversion kit for rimfire rifles was played by the robust
CMMG Bravo .22 LR
unit. This unit was swapped with the bolt and magazine in a DPMS A-15 carbine, which is all that needs to be done to put the CMMG kit in place. Open up the A-15, remove the centerfire bolt-carrier group, and put the Bravo conversion in. Close the rifle, insert the loaded .22 LR magazine and you're off to the races.

One of the legitimate concerns of .22 LR conversion kits in .223 Rem. rifles is the mismatch of caliber diameter. In some cases, accuracy will suffer, since the smaller round doesn't receive the full benefit of the rifling.
It's hard to definitively refute this from the results we achieved, considering the overall accuracy out of the
CMMG
kit was a bit worse than out of the dedicated M&P15-22; however, given the minor difference in overall results, for its intended purpose the CMMG kit worked fine. The conversion kit was not quite as "boring" as the dedicated rimfire M&P, with more failures observed during testing, but overall the CMMG conversion kit was  a strong performer with all ammunition tested.
Rimfire Handguns 
A similar course of action was taken to test the three different brands of purpose-driven .22 LR ammunition in handguns.
Ruger's SR22
served as the factory pistol, and a Ciener conversion kit for the full-size Glock 17 was chosen. Owing to function problems with the Glock conversion kit, a
SIG Sauer .22 LR
 conversion for the SIG P226 was used for informal testing.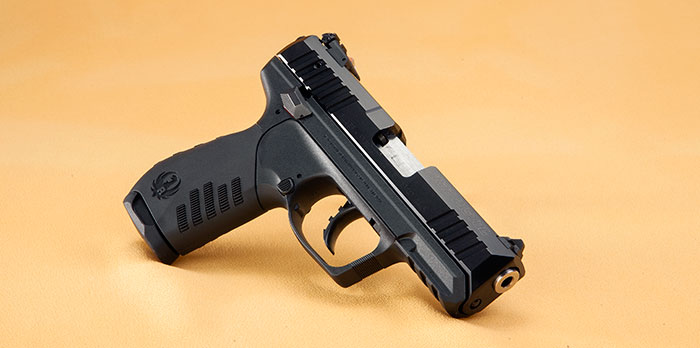 Ruger SR22
The factory .22 LR pistol for this exercise was the
Ruger SR22
, a training pistol for Ruger's centerfire SR series. The SR22 is an inexpensive yet robust rimfire option for folks looking to perform a large amount of shooting with a handgun similar to their full-size pistol. It's also a smaller handgun for younger shooters or those of smaller stature who might find a full-size pistol more challenging.

Of the two handgun platforms, the SR22 was by far the more reliable, with only four overall failures to fire experienced with the Winchester M-22. All
CCI AR Tactical
and
Norma TAC-22
ammunition functioned without incident. It was less accurate and provided lower velocities than the Ciener conversion kit in the
Glock 17
. However, it features a shorter barrel and corresponding sight radius, which could account for these differences.
Informal shooting at steel and other reactive targets did not result in any failures. The Ruger SR-22 performed much like the old commercial for that battery—it kept going  and going, no matter what it was fed.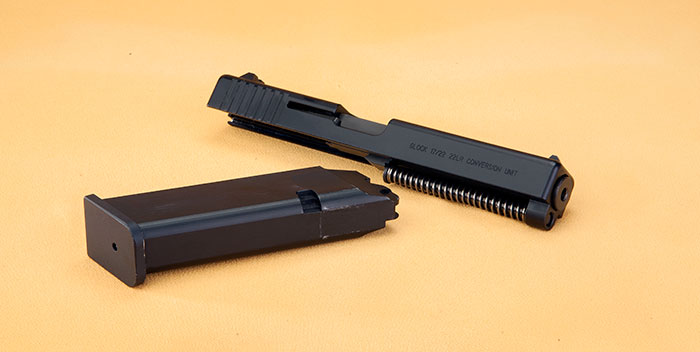 Ciener .22 LR Conversion kit
A Ciener kit for the
Glock 17
was selected to represent .22 LR conversion kits for handguns. Given the immense popularity of Glock semi-automatic pistols, it was only natural to chose a kit that would allow a large number of folks to turn their daily carry pistol or duty sidearm into an inexpensive plinker.
Unfortunately, many failures were encountered during the velocity and accuracy testing, and in the "free-form" drill the kit proved so unreliable it was shelved in favor of a
SIG Sauer .22 LR
conversion kit which offered a significant upgrade in reliability. The Ciener conversion did offer superior accuracy and greater velocity than the Ruger. Velocities approaching those of the rifles were achieved with the hottest of the ammo, and accuracy—while not as tight as the longarms—was superior to the Ruger by a significant margin.

The CCI AR Tactical .22 LR again functioned well in the Ciener conversion, resulting in only two failures during velocity testing and a dozen while shooting for accuracy. The Norma TAC-22 had a dozen failures, and the Winchester M-22 gave the most glitches of all three brands, with several dozen reported in testing.