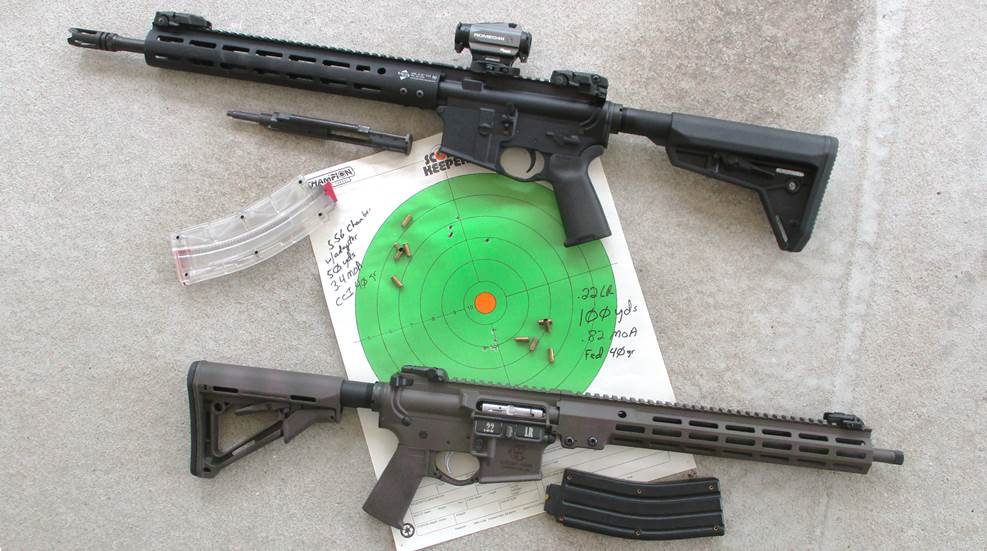 Conversion kits and dedicated rimfire uppers can lessen training costs while helping to maintain proficiency on your primary defensive carbine.
I feel confident in saying that for well over a century, most new shooters have cut their teeth on .22 LR-chambered firearms. This trend endures because the advantages of the little .22 are as valid today as they were when it debuted at the end of the 19th century: lower recoil, report and cost, reduced range, smaller/lighter guns and ammunition and oftentimes, simpler operating systems.    
As of this writing, .22 LR ammunition is once again readily available, with a wide variety of target loads offered for 7 to 8 cents per round. There is also a reasonably good chance that you can find a rimfire platform that is similar to your "go-to" centerfire rifle. In addition to the well-known semi-automatic, single-shot, lever-, slide- and bolt-action .22s that have been around for generations, near-clones of modern sporting rifles—such as AKs, ARs, HK94s and SCARs, among others—are also available, generally starting around $400. 
If a new rifle is not in the budget, single-shot chamber inserts that allow the use of .22 LR in centerfire chambers—usually in .223 Rem./5.56 NATO barrels—are a simple and cheap way to use rimfire ammo out of an existing rifle. But, being glacially slow to load, they are not much fun with which to plink. Unsurprisingly, AR owners have the most options for shooting .22 LR out of existing firearms. Swapping a small-frame AR's upper-receiver assembly with a dedicated .22 LR upper can save $100 to $200 over the cost of a full rifle, while maintaining the advantages of a caliber-specific chamber and barrel, familiar form factor and use of your existing lower receiver. 
While a dedicated .22 LR upper is the best way to keep your AR's rimfire groups tight, it is not the only way to use your existing rifle. For slightly less than $200, drop-in bolt-conversion units allow you to fire .22 LR through an existing .223 Rem/5.56 NATO barrel. CMMG also offers a model for use in 5.7x28 mm chambers. These bolt-carrier groups (BCGs) employ the same basic design as those used for dedicated rimfire units, except that the bolt's front forms a .22 LR chamber that protrudes into an existing .223 Rem./5.56 mm chamber. Aside from changing out the BCG, a .22 LR magazine is usually all that is needed to convert a 5.56 NATO AR from centerfire to rimfire. A small number of triggers have problems with .22 LR bolts, so check with the manufacturer to be sure before buying.
Naturally, this design has some limitations. Projectiles must move through nearly 2 inches of the unrifled, over-bored chamber extension before reaching the host barrel's throat and rifling. Also, because all ".22-" bore cartridges are not equal, .223 Rem./5.56 NATO barrels have internal land-to-land diameters that range from one- to three-thousandths of an inch larger than .22 LR bores. The smaller rimfire bullets still stabilize fairly well, with group sizes at 50 yards varying from less than an inch to several inches, depending on the ammunition and barrel used. While sufficient for training and general plinking, a drop-in conversion unit may not achieve the "Minute of Squirrel Head" level of accuracy to which most .22 LR rifle shooters are accustomed.
Most AR-style .22 LR bolt-carrier designs employ a self-contained recoil spring and guide rod, allowing a short bolt to move through the full cycle of operation on integral rails and without the carrier reciprocating in the receiver or receiver extension. Conventional AR buffers and springs are not needed and can be left in place or removed. 
Functionally, these operating systems differ from centerfire ARs in a couple ways. Most designs do not allow the .22 BCG to be locked back manually with a mil-spec bolt stop. Rather, once the magazine is empty and the bolt is retracted, the mag's follower will block the bolt, providing a last-round, hold-open function. Removing the magazine releases the bolt. Replacement bolt catches and drop-in adapters which allow bolts to be manually locked back and released are also available. Likewise, an optional drop-in plate will make an AR's forward assist work with a .22 LR bolt.
CMMG appears to lead the .22 LR bolt carrier (and barrel) market at the moment, though several other companies produce similar versions. Older conversion units from Colt and Jonathan Arthur Ciener, Inc. for AR, Mini-14, Thompson .45 ACP and AK-series rifles sometimes show up in the used market, too. 
While a good number  of the current-production .22 LR AR magazines and bolts are cross-compatible, be sure to verify before buying. Also, remember that even though a .22 LR direct-thread suppressor may fit on a .223 Rem./5.56 NATO barrel's 1/2x28 tpi thread pitch, it should never be used with any larger caliber. That may sound obvious, but my suppressor-industry sources tell me that calls from customers who have blown their .22 LR suppressors apart on 5.56 rifles are surprisingly common.
I have built a fair number of AR rifles and upper assemblies chambered in .22 LR and the results have always been satisfactory. Sub-MOA accuracy at 100 yards is achievable with 16-inch barrels and standard ammo, so long as the shooter does his or her part behind the trigger. In light of supply issues and the high cost of living today, rimfire options that expand your range time with familiar rifles are definitely worth considering.