The competition for "Best Hybrid Holster" has been hot and heavy ever since someone realized that putting a leather backer on a Kydex shell makes wearing the holster more comfortable while retaining the benefit of a stiff shell. The market has been flooded for years with company after company vying for top dog. Some makers get it right, while others miss the mark.
One company that seems to have figured out the formula is Raw Dog Tactical. The company's Defender Pro IWB series hits its target in several areas.
Initial impressions right out of the box indicated that the holster features solid craftsmanship and a great blending of materials. The 1/8-inch thick leather backer is robust and strong, yet soft enough to bend and contour to the shooter's body, a must in the comfort department. Outside, the shell was perfectly molded to my Smith & Wesson Shield 9 mm and attached firmly to the backer with five large flat head screws.
One of the biggest complaints about hybrid holsters is a lack of retention adjustment, which for most is absolutely true. This may not be an issue when the holster is brand new, but over time the leather wears and stretches, losing its lock on the gun. It happens with every hybrid.

Some manufacturers have stepped up with rather innovative ways to beat this problem, including adding hardware around the trigger guard. Raw Dog Tactical went somewhat old school with its retention by simply adding rubber spacers inside the rear screws that clamp the front and back tighter around the trigger guard. This is a solid design that looks like the only way for it not to work is if the leather around the screws wears out, which would take a very long time and a lot of abuse.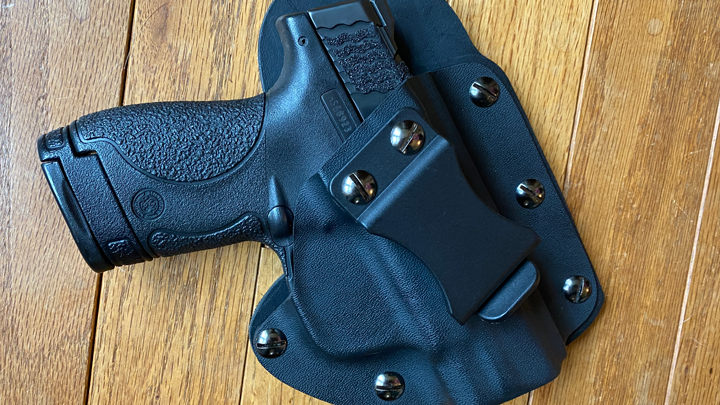 The Defender Pro Series can be worn either appendix or strongside hip with no modifications or add-ons. I chose strongside because that is my carry preference. I'm big on claws, which this holster does not have, but it concealed just fine under a hoodie with zero printing. Part of this might be due to the adjustable cant, which came slanted 15 degrees forward from the factory, putting the pistol grip in a more concealable forward angle. However, it is adjustable if you prefer a more upright carry position. 
Speaking of the clip, it is super strong and beefy yet flexible enough to easily slide over a 1.5-inch leather gun belt. It held confidently all day, never moving, shifting, or feeling like it would pop off, yet easily came off at the end of the day.
At an MSRP of $58.95, the Raw Dog Tactical Defender Pro Series is one of the best hybrid holsters out there for the money. Well worth a look.