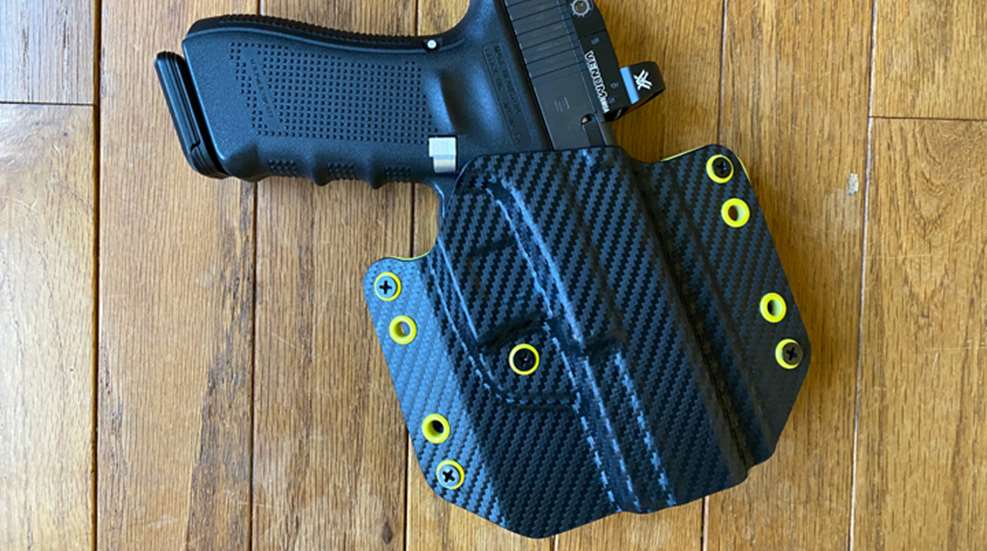 Whether or not you're a big fan of Greek mythology, you can't argue that putting two pieces of different color quality Kydex together and calling it "Gemini" is pretty darn clever. Gemini, the twins. Well played, Eclipse Holsters. But while this naming cleverness is all well and good, how good is the holster? That's the important part. Let's take a look.
The basic premise behind the Gemini is a two-piece Kydex design that allows the front and back panels to be separate colors or print patterns, chosen by you to fit your personality. There are 16 basic colors, 15 carbon-fiber-looking colors, 17 camo patterns, eight textured weave looks, and 57 specialty prints to choose from. If you can't find something you like out of those choices, you might be a diva.
For my review sample, Eclipse let me choose my color combo, so I went a bit rogue (for me, because I'm typically a low key, all black, not flashy holster kinda guy) and selected a black carbon fiber design for the front with neon yellow back plate and rivets. Compared to some of the other designs Eclipse offers—such as flower print, American flags, skulls, and a host of others—this was ultra-subdued. But it was just different enough to give it a bit of flare.
Great aesthetics aside, let's talk about function. I was immediately struck by how slim the entire holster is. In fact, I had to get my Glock 17 out of the safe and try it in the holster just to be sure it was thick enough to hold the gun. It was. When I strapped it on, the extra slim profile helped snug it up against my belt. I open carry at the range where I teach, so the concealability doesn't matter much there, but I like to tuck it away on my drive to and from. The Gemini kept the gun tight against my side, getting out of the way of the seatbelt buckle and making for easier up and down out of the car.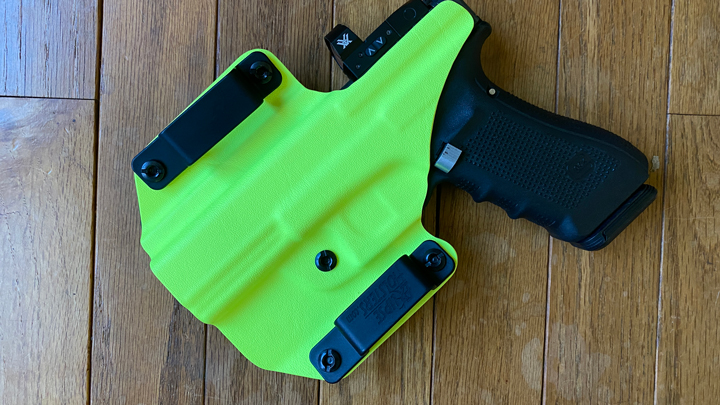 When I teach, I demonstrate draws and reholsters multiple times during class, so my holster needs to be quick to access and easy to use. The Gemini is both. Despite its slim design, the mouth is easy to find for reholster. And with simple adjustable retention, I can play with the draw for what I need. The belt clips, available in 1.5-inch and 1.75-inch, are sturdy, rugged, and easy to run your belt through.
With the increase in optics on handguns, it's nice to see the Gemini already optic cut from the factory. I have a Vortex Venom on my Glock, so this is an essential feature for any holster I would ever use. At $64.95 for basic colors and a few extra bucks for prints on Eclipse's website, this is a great price for a solid, customizable rig that delivers on the promise of style and function.