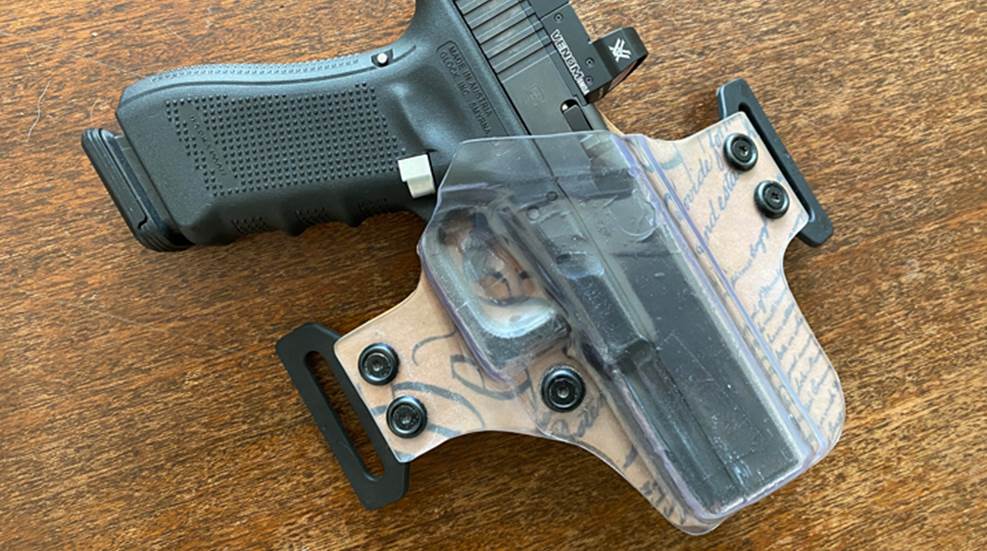 Nothing beats a custom holster. I don't mean a holster where "custom" means you get to choose from three different, but strikingly similar, designs. I mean a holster where you get to pick the front, the back, the clips, etc., and it's possible nobody else may ever choose one just like yours.
Missouri-based Spectre Holsters lives in two worlds: the off-the-shelf holster world and the custom holster world. When the owner gave me a custom holster to try, the difference was clear — a fully intended pun you will notice in a minute.
Spectre has carried its Phantom line since the beginning, a fairly uniform selection of IWB and OWB holsters for all the major gun makers out there. Customization was simply choosing a color and maybe which belt clips. But with the Phantom-Too OWB, you get to choose more.

On mine, for example, I chose a clear .093-inch Kydex shell screwed onto a tan backer that shows part of the preamble from the Constitution, starting with "We the People." It's a bit more than choosing black vs. FDE. For better concealment — a bit of a challenge with OWB — I chose ModWing loops because I like how they hold the holster a bit closer to the belt than speed clips or traditional belt clips, a big consideration when trying to conceal a Glock 17 under a jacket.
Structurally, the Phantom-Too is sound. The Kydex is beefy, the screws are solid, and the overall fit and finish is excellent. The single-screw retention adjustment works perfectly and effectively keeps the gun at the retention level you want. I had zero issues adjusting it, and drawing and reholstering was a breeze. I don't carry OWB much away from the classroom — I teach pistol classes at a local range — but when I'm teaching or working the showroom floor, I always open carry. This holster was terrific all day.
Now, a word about ordering. Because the Phantom-Too is not a stock item, you will need to contact the company via the Custom Shop page on their website. They are extremely friendly and eager to help you get the holster you want. Pricing will all depend on your selections. Options include optics-ready, color combinations, graphics and prints, belt clips, etc. Turnaround time depends entirely on order volume, so order early if you need it soon.
Spectre is a small shop trying to compete with the big holster manufacturers and is making great strides. The Phantom-Too is a worthy entry and well worth a look.