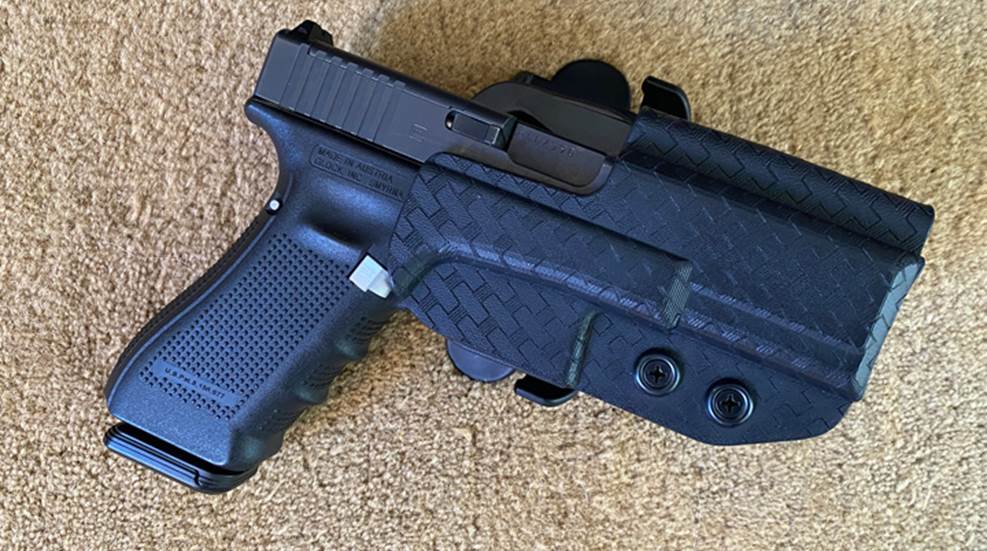 While it's unusual to find a holster that works well for multiple applications, Comp-Tac has pulled it off masterfully with their International line of OWB holsters. Typically, multi-purpose holsters don't serve any of their purposes all that great, but that's not the case with this one.
The International starts with a taco shell mold made from .08-inch thick Kydex that is finished as either plain or basket-weave. The one they send me was the latter, which I think is a nice touch. It gave it a clean, classy look that distinguishes it from typical holsters. The only hardware visible on the front is the dual Phillips retention screws right beneath the trigger guard for quick and easy adjustment. As I always do, I took my holster right out of the packaging, threw in my unloaded Glock 17, and turned the whole assembly upside down over the bed. The gun stayed in, even after a few shakes, so I didn't need to adjust anything, but it was nice that the screws were there just in case.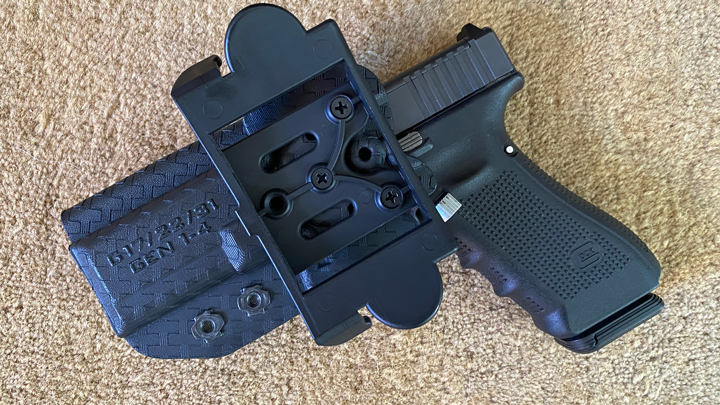 The belt clip assembly is beefy, perhaps a bit too beefy for some people's taste, but understand this holster is not designed for concealed carry. It is very much an open carry rig that doubles as an excellent competition setup. Adjusting the cant on the belt clip is a bit complex but not too bad. The good news is the holster and clip come separated in the package, so you can attach it the way you want from the beginning. To adjust it later, simply remove the three mounting screws and reassemble at the desired forward or back tilt. The clip itself accommodates both 1.5- and 1.75-inch belts with no changes needed, thanks to notches on the front and back edges.
Draws and reholstering are a cinch, especially with a big notch taken out of the front for quick and easy extraction. The gun stays firmly in place with an audible click until it's needed, at which time it slides effortlessly out with a minimal tug, perfect for speed draws under pressure. Obviously, with such a big chunk removed from the leading edge of the holster, it is completely optic ready.
As you might expect from a top-quality holster, it comes at a price. At $78, the International is not an inexpensive holster, but it shouldn't be. There is a lot at stake when you carry a gun. You need a holster that safely protects your gun while allowing you quick access when you need it. The International fits that criteria and is a solid choice.