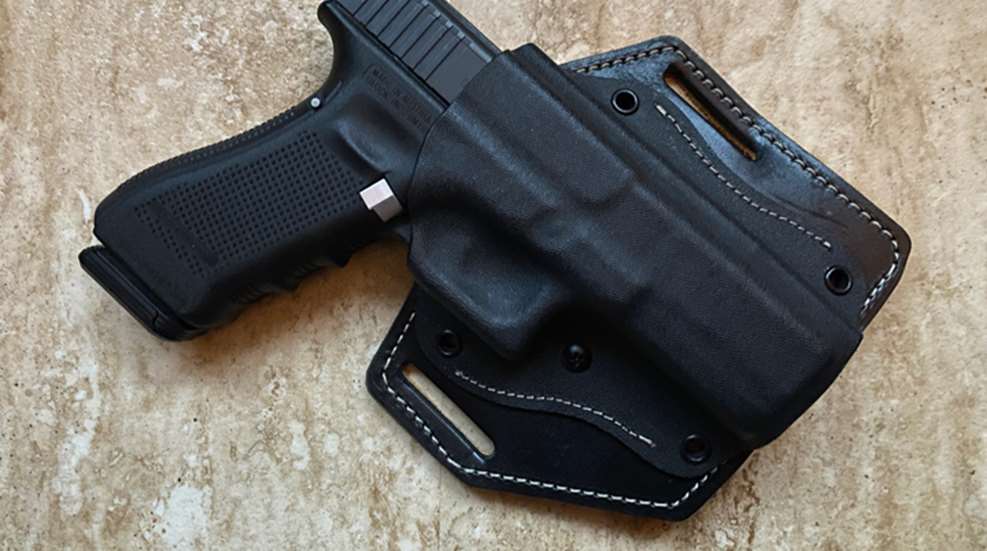 If you want comfort and function together in the best possible package, it's hard to beat a leather/Kydex hybrid. Throw in top quality leather and stitching, and you have a holster that not only feels great but looks great, too. Such is the case with the Falco Executive Hybrid.
I don't do a lot of open carry, but when I do, I want a holster that will both hold my gun correctly and look good doing it. No cheap, tasteless knockoff holster. The Falco Executive Hybrid plays the Oscar-worthy role of the stylish yet fully functional OWB.
Let's start from front to back. On the front is an extremely smooth yet strong Kydex shell that kept its finish even after I bumped up against a few things. I wore it on a day when I was teaching a class in the morning and then working on the retail floor in the afternoon, so I would have it on all day. Throughout the day, I naturally bumped into bay doors, benches, and other typical obstacles without a nick or scratch appearing on the shell.
The shell is bound to the leather backer by four open-hole rivets and a single retention screw right below the trigger guard, a rarity on hybrid holsters; most do not have adjustable retention. Behind it all is a massive leather backer that is really two layers of leather—one black, the other tan—beautifully stitched together. The leather is stiff enough to hold its form yet supple enough to easily conform to the waistline. Both the sweat guard and 1.75-inch belt loops are built into the backer.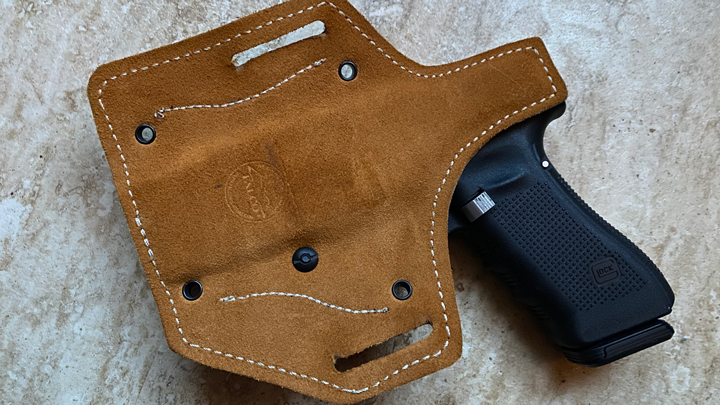 How did it perform? During class, I pulled the gun out and put it back probably 30-40 times as I demonstrated multiple draws and reholsters, and each time the holster performed flawlessly—so well, in fact, that I didn't even think about it.
Now, lest you think this is only a range holster, it's worth noting that it also shines as a concealable OWB. The Falco Executive Hybrid hugs tight against you, reducing its outline. On the way home from work, I easily concealed my Glock 17 under a light jacket. I stopped by the store to pick up a few things and never once worried about printing. And talk about comfortable! Even sitting in the car, I almost forgot I was wearing a gun.
The holster is currently only available in one color combination but for a large assortment of guns. There's even a lefty version for the wrong handers out there. At $89, it's not a cheap holster, but it's not supposed to be. Fine craftsmanship like this comes at a price. But it's a price worth paying for a comfortable holster that will likely last far beyond the included 5-year warranty.