Carrying concealed OWB can be a bit of a challenge most of the time, especially in the warmer months or climates where cover garments are light. Most of us opt to carry IWB because the gun tucks away easier, with less chance of printing. But every once in a while, an OWB holster comes along that changes the game. Such is the case with the ultra-slim 3i OWB Holster.
3i is a small, veteran-owned company in Ohio that does things a little differently. Sure, they make holsters. That's the common part. But they're holsters all seem to have just a little bit extra that sets them apart from other makers, which is critical in a market full of lookalikes and knockoffs. Let's face it, most holsters are 90 percent alike. So when one comes along that breaks the mold, we stand up and take notice. Say hi to 3i.
Their OWB starts with a basic two-piece Kydex design—front and back paddles with the gun in between—held together by four Phillips and Chicago screw sets that double as the belt clip fasteners. You have a choice of standard flush-mounted loops that stick out to the side and hold the holster snuggly against you, hidden larger loops that ride behind the holster, and slip on loops (also called speed clips) that let you take the holster on and off without taking off your belt. In fairness, none of these features are terribly remarkable. Many great holsters offer them.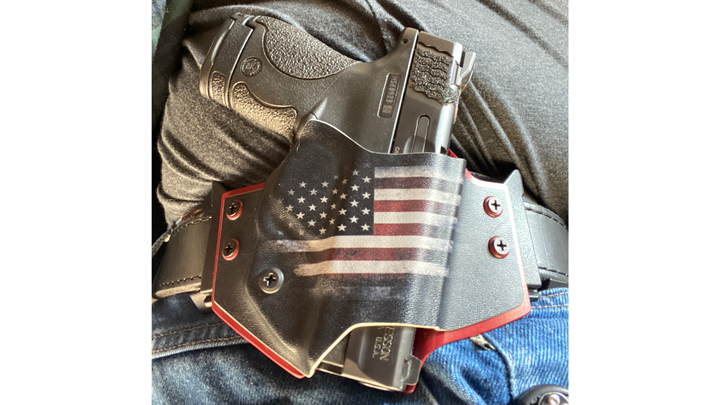 Also unremarkable but absolutely necessary is the single or double retention screws, depending on the size of the gun. Mine was for a Smith & Wesson Shield, so only one retention screw.
But here's where it gets interesting. Rather than sticking with a simple mold pattern that looks like every other holster out there, 3i offers interesting geometric cuts that catch the eye. An angular cut on the top, one on the bottom, just to keep things interesting. Now, you may ask why they ever bother if it's designed for concealed carry? Nobody will see it if it's hidden, right? You will. And you will appreciate the interesting design.
You'll also appreciate the assortment of colors and patterns available to customize the outside. The one 3i sent me has an American flag emblazoned across the outside, reminding me what I'm carrying a gun and the rights that my fellow Americans enjoy and defend every day.
It's more than aesthetics, however. The holster's function is flawless. Draw and reholster are easy, crisp, and sure, and the clips kept the holster in place all day, through all my daily activities. In fact, I liked it so much that it is now my go-to OWB holster for my Shield. 
At $75 for the basic model and $10-$20 for custom colors and patterns, the 3i is a bit on the high end of the Kydex market, but it's a solid holster that you'll love to use.