With the increased popularity of weapon-mounted lights, holster manufacturers are responding with new, innovative ways to accommodate this growing trend and the wide assortment of available lights. One such innovation is the LDS 2.0 series from CrossBreed.
LDS stands for Light Defender Series. The LDS 2.0 builds upon the legacy LDS with its leather backing and high-quality Kydex molded shell. Both the original and new version are held together by nine screws and rubber washers around the outside of the shell to not only keep the front and back together but allow nine points of retention adjustment.
And retention adjustment does not stop there. Unlike traditional light-bearing holsters, the LDS 2.0 does not use the light as the retention point. Instead, CrossBreed borrowed a hex key adjustable mechanism from their own Reckoning holster to push a paddle against the trigger guard. This device can be tightened down so far that it totally locks the gun inside the holster. You would never actually do this, but it's good to know the mechanism works that well.
The LDS 2.0 can be worn either IWB or OWB, but you must tell CrossBreed which you want if you order from their website since they don't include hardware for both. It would be nice if they did, especially at this price (see below). I knew I would use it for my Glock 17, so I chose the OWB configuration because it was highly unlikely I would carry as much in IWB mode due to the G17's bulk.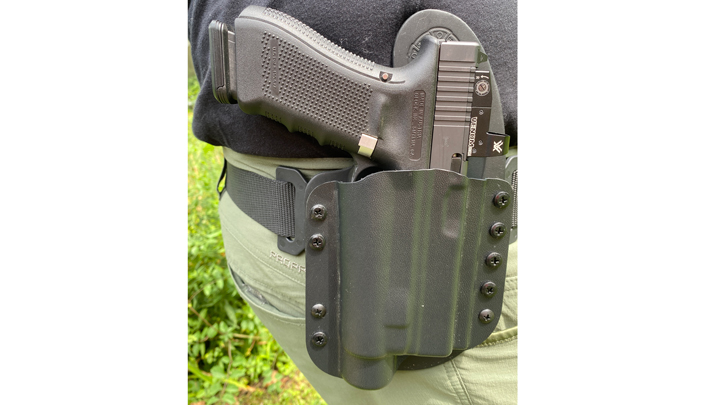 Instead, I added the OWB version to my rotation of holsters I wear when I teach at the range. For that application, it's been awesome. I draw and reholster multiple times during class, and the holster has performed flawlessly. Drawing is clean and crisp. Reholstering is firm, with an audible click when the gun locks in.
Craftsmanship on the holster is second to none. The leather is pristine, and the shell is perfect. No flaws, no rough edges, great handwork. The fasteners are top quality and adjust firmly but easily. At no time did I feel like my gun was in any jeopardy of falling out.
CrossBreed offers the LDS 2.0 for a variety of lights, including Streamlight, SureFire, InForce, O-Light, and others. If your model of light isn't listed, ask customer service; chances are they can still make a holster for it.
At $74.95 on Crossbreed's website, the LDS 2.0 is a great way to carry your weapon-light equipped gun either IWB or OWB.