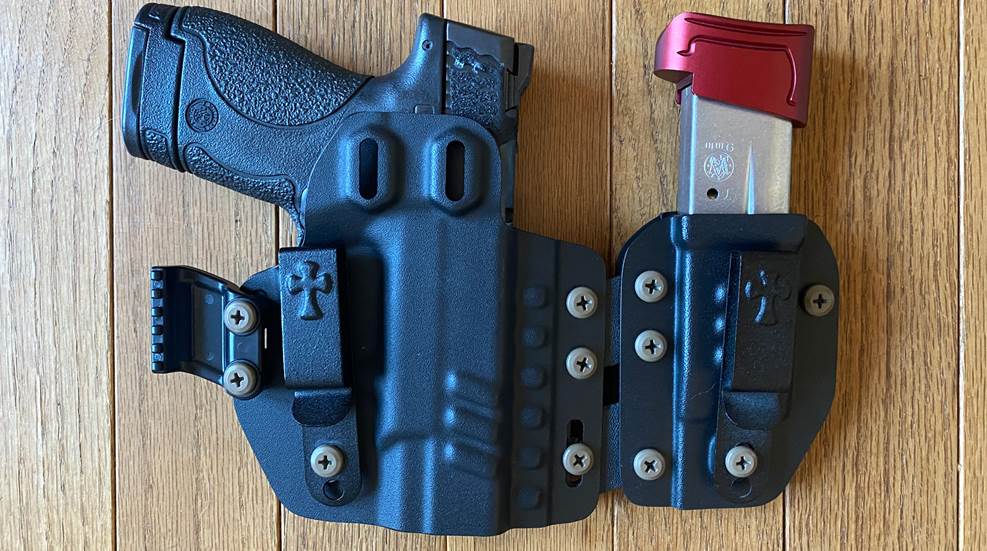 If you are a fan of appendix carry and have therefore shied away from CrossBreed because most of their holsters are designed for strong side carry, you might want to reconsider your idea of the Missouri-based holster maker. The new Rogue is a game-changer.
Over the last couple of years, CrossBreed has answered the call of the diehard appendix fans by introducing new holsters that are either totally appendix-focused or could be worn as either appendix or strong side hip. The first was the Reckoning (which also introduced CrossBreed's first adjustable retention system). The Kydex-leather hybrid did away with the traditional double clips spread wide and moved them closer together for more versatility.
Now CrossBreed has gone one gigantic step farther with the Rogue, a completely new design that bucks pretty much every trend in the CrossBreed arsenal. Gone are the widely spaced clips. Gone is the leather backer. Gone is the first-generation retention device. This new holster has indeed gone rogue.
All the traditional CrossBreed hybrid features have been replaced with a taco-style, fully Kydex main holster unit coupled with an also fully Kydex magazine pouch held together by two slim leather straps. (So they did manage to slide some signature CrossBreed leather into the design, just not in the traditional place.) The straps allow the mag pouch-holster connection to flex with your body when worn.
The Rogue comes as either a standalone holster or a holster and mag combo called the Rogue System. The only difference is the mag pouch. Both versions use two of CrossBreed's logoed steel clips that hold firmly onto your belt. If you prefer a different style clip, you can pick J-hooks, V-hooks, or UltiClips for an added charge. The one they sent me had the originals, which worked great.
The entire System was easy to put on and take off, sliding in place easily and staying there throughout the day's activities. In addition, thanks to a strategically placed claw—also a new feature in CrossBreed's line—the grip stayed tucked away, reducing the odds of printing.
Drawing and reholstering were easy and sure, with an audible click to tell me the gun was secure. Retention can be adjusted for the holster and mag pouch by simply turning a couple of screws.
If you've read my other reviews, you know I'm not an appendix guy, mostly because I'm a bit large in the abdomen, making it difficult to carry this way. As a result, I find most appendix rigs uncomfortable and awkward. However, this one was much better than most. It was more comfortable, didn't gouge my leg as much as others, and overall performed better than a lot of similar rigs I've tested.
Can you carry the Rogue strong side? Sure, but it's not designed for that, mostly because the connected mag pouch will be too far away if you're accustomed to support hand mag changes. Instead, it's a pure appendix rig at heart.
For $99.95 for the System and $79.95 for the standalone Rogue, both rigs offer solid appendix carry options in line with other similar holsters on the market. So if you're a big appendix carry fan, they're worth a closer look.