Ask anyone who owns multiple handguns about their holster collection and they will lament how much they have spent over the years because they need a different one for each gun. This is largely because most holsters have either leather or Kydex forms designed for particular guns and are not interchangeable. While this makes for awesome holsters that work really well, it can also be frustrating as the collection builds.
But Blackhawk has somewhat solved that problem with the Omnivore, a one-holster-fits-most solution for large framed semi-autos. According to Blackhawk's website, the Omnivore can accommodate more than 150 different pistols with the same holster. That's quite a selection! And I believe it because I have a Walther PPX, the predecessor to the Creed. It's hard to find holsters for this gun because it didn't sell well and has been discontinued. But guess what holster fits it. 
The Omnivore starts with a large rectangular Kydex box that you can immediately tell is not cut for any one gun. There are no contours that give away what gun its for. So how does it hold a gun inside? That's where what you can't see comes into play. Each Omnivore includes a proprietary Rail Attachment Device that fits on the Picatinny rail of your gun. When you holster the gun, the RAD locks onto the holster, using the device as the retention point. This has pros and cons.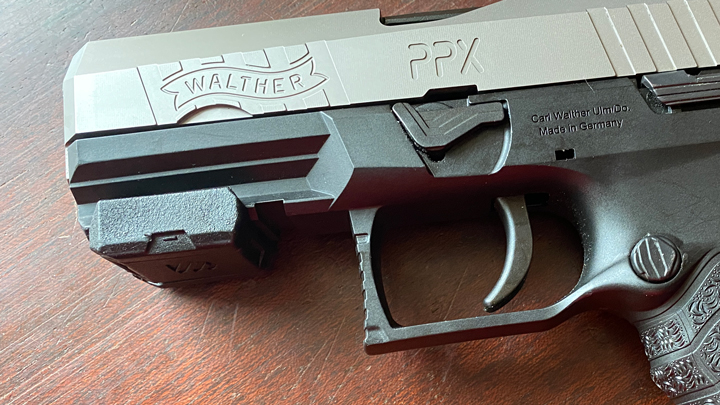 The pro side is it allows for the promised multi-gun use. Switch from one gun to the next by simply swapping the RAD to the new pistol. Blackhawk includes instructions about where on the rail the device goes for the best fit. Installation is simple.
The con side is now your Picatinny rail is occupied and can't hold anything else, such as a light. But—and this is a big BUT—if you already have a Surefire X300 or Streamlight TLR 1 or 2, you can choose that option when ordering and won't need the RAD because the Omnivore can use the light for retention just like on other light-bearing holsters.
The Omnivore is already optic cut from the factory, so don't worry about ordering anything special or cutting it down to fit once you get it.
Because this holster was originally designed for military and law enforcement, it features Level 2 retention with a push-down button on the thumb side. This takes a bit of getting use to but is a natural motion. I've had my Omnivore for over two years and everything on it still works as well as the day it arrived.
At $59.95 on Blackhawk's site, the Omnivore is a great value in a holster that firmly and safely holds a huge variety of guns with no modifications.