Blackhawk holsters have always been synonymous with top-notch duty rigs for law enforcement. You'll find them on the hips of many local police officers or sheriff's deputies, keeping their duty weapon safe and at the ready. But not every holster Blackhawk makes must live only in patrol vehicles. Such is the case with the T-Series L2D Non-Light Bearing Duty Holster. Even though it has "duty" in the name, it fits just as nicely in the civilian world.
Now, before we get going, understand the T-Series was never designed for concealed carry. It is very much an open carry holster. So if you only conceal carry, the T-Series is not for you. But if you ever open carry—at the range, during training class, etc.—the T-Series is a great option.
Blackhawk makes the T-Series in a variety of configurations, based on retention levels and light vs. no light, and it's available for a selection of full-sized guns. The L2D variation is currently only available for Glocks and SIGs, but Blackhawk told me they plan to roll out more options soon.
The T-Series is built around Blackhawk's signature Master Grip Principle, which starts with the shooter's hand and trigger finger already in the ideal location to grip the firearm properly during the draw. Blackhawk accomplished this by providing more than enough space to get your thumb comfortably and quickly between the grip and holster while your trigger finger naturally slides along an indentation on the outside and up to the pistol's rail on the draw.
Retention levels vary on the T-Series from Level 2 to Level 3. The L2D is a Level 2 (thus the L2 in the name), which means the holster not only has screw-adjustable retention below the trigger guard but also a thumb-activated retention lever between the body of the holster and the belt clip. If you're not accustomed to defeating Level 2 retention, this takes a little getting use to, but I found myself blowing through it without a second thought after only a few practice draws, mostly because the thumb lever is right where it is supposed to be.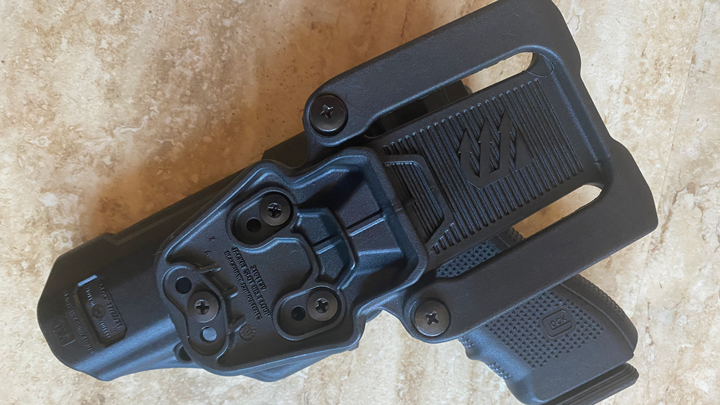 The thumb release is a huge improvement over the older Serpa model that received a whole lot of negative attention thanks to its retention lever being on the outside of the holster. The T-Series does not have that issue.
The entire holster is extremely rugged and well built. Double-thick polymer on the outside forms a strong frame with a hydrophobic lining for quiet and smooth draw and reholster. The belt clip is large enough to go over a duty belt, with a simple two screw adjustment for tightness.
At $129.95 from Blackhawk.com, the T-Series L2D is a trustworthy duty and range holster.