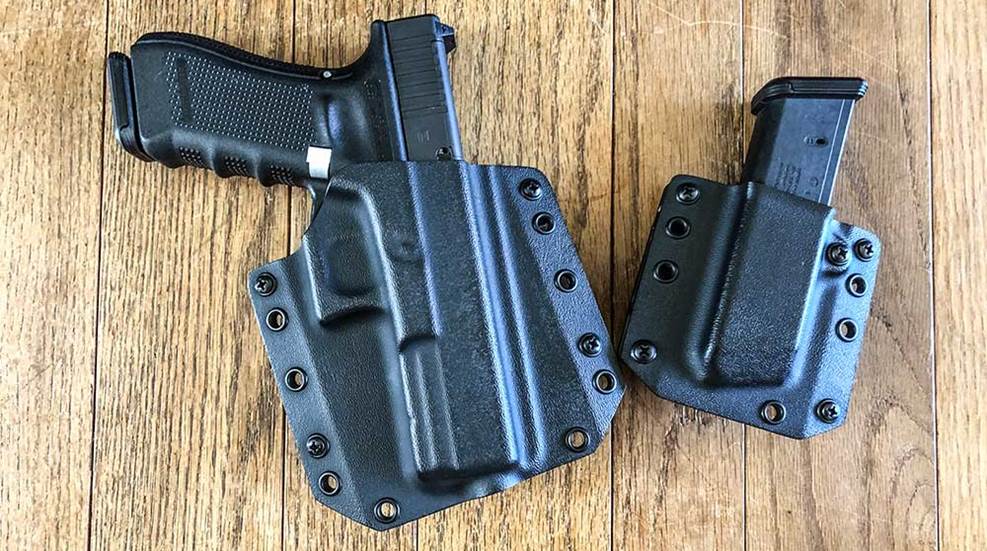 Sometimes, inside-the-waistband carry isn't an ideal concealment option or you want to open carry, such as at an outdoor range, another shooting event or you just want to hide it under a jacket. That's when you need a good-quality outside-the-waistband holster that brings the gun as close to your body as possible and keeps it there with good retention.

Texas-based Bravo Concealment offers such a package in its BCA 2.0 OWB holster. The BCA starts with a pancake shell made from two ultra-thin yet strong .08-inch thick kydex panels custom molded to your gun for best fit, riveted together in four places with extra holes for weight savings and if you want to add extra rivets later. Not sure why you'd need to, but they're there, just in case.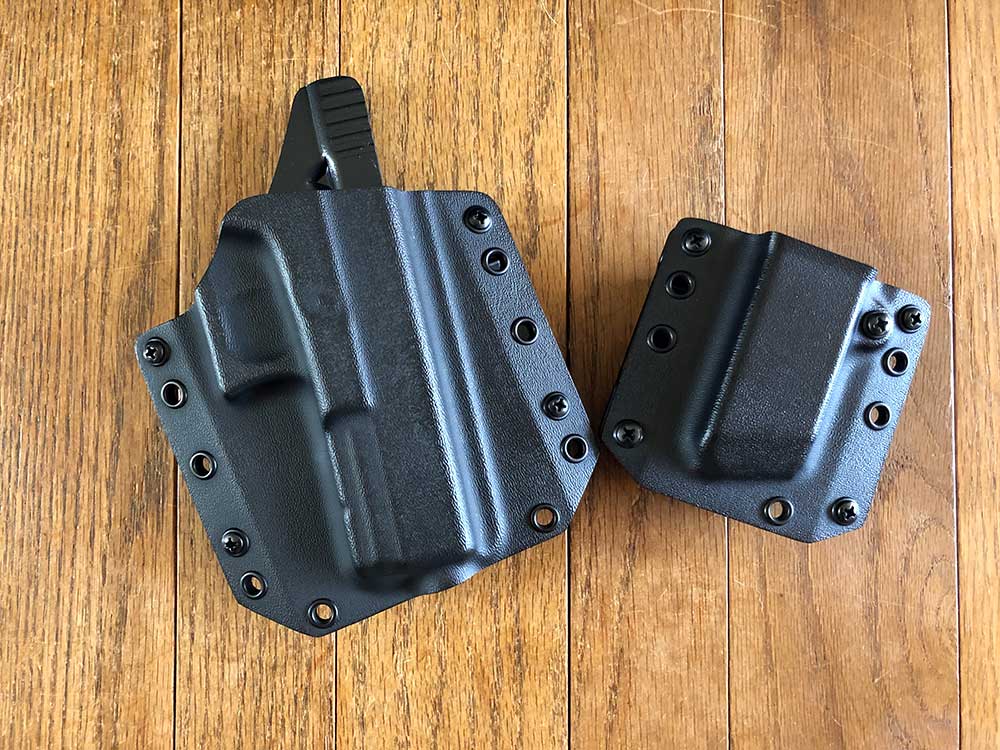 Fit and finish are excellent, with all edges smooth and comfortably curved to prevent jabbing in the waist when you bend or gouging your leg when you move. Retention is not adjustable, although the holster passed my "flip test," where I turn it upside down with an unloaded gun inside to see if it falls out. It held firm.

The BCA 2.0 is mostly the same as the original BCA introduced a few years back but with thinner panels and one nice added touch: a threaded barrel port at the muzzle end no matter what gun you choose, threaded barrel or not. If you upgrade to a threaded barrel later, you won't need a new holster. A taller sight channel also accommodates suppressor-height sights. These features are not often found in similarly priced competitors.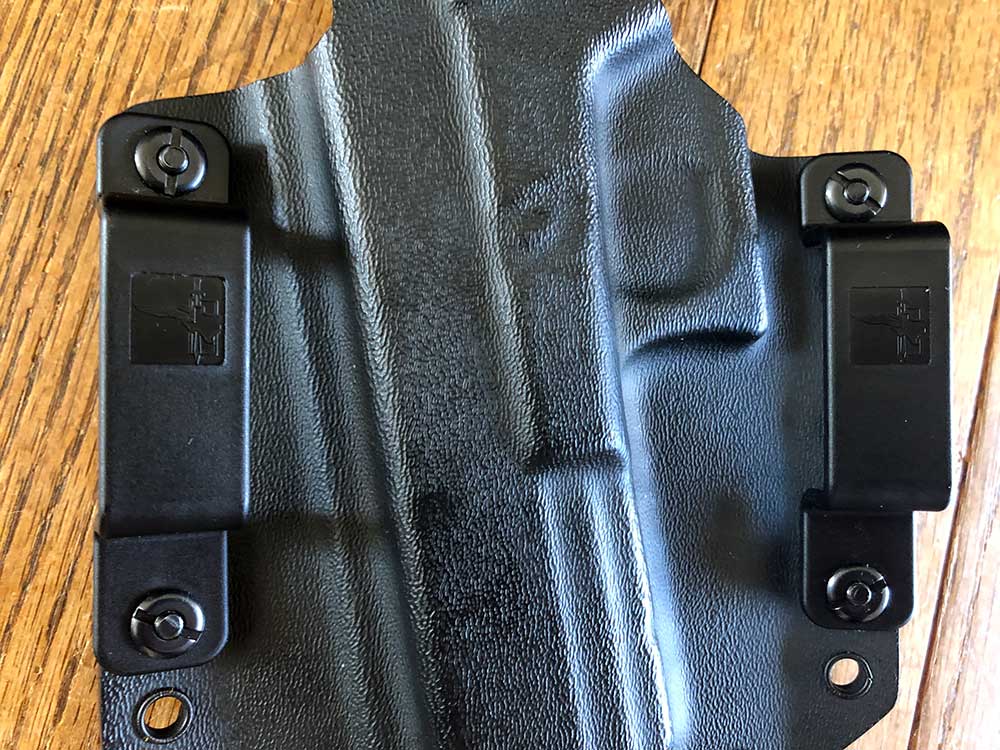 The holster is held onto the belt by two 1.5-inch Kydex belt loops attached near the outside edges of the back panel, allowing the belt to slide easily behind the gun and snug up very tightly against the waist. Between the thin Kydex and the tight belt loops, the overall package is only .16 inches thicker than the gun itself. This is especially beneficial when carrying under a light jacket that might otherwise print with a holster that sticks out a bit more.

Unfortunately, Bravo does not offer these for 1.75-inch belts. While 1.5-inch is by far the more common thickness, it would be nice to offer as an option. The extra hole at the bottom of the pancake will accommodate a longer loop, so you can customize with an after-market option, but it would be nice if Bravo offered this up front. Also, if you're left-handed, you're out of luck. The BCA is for righties only.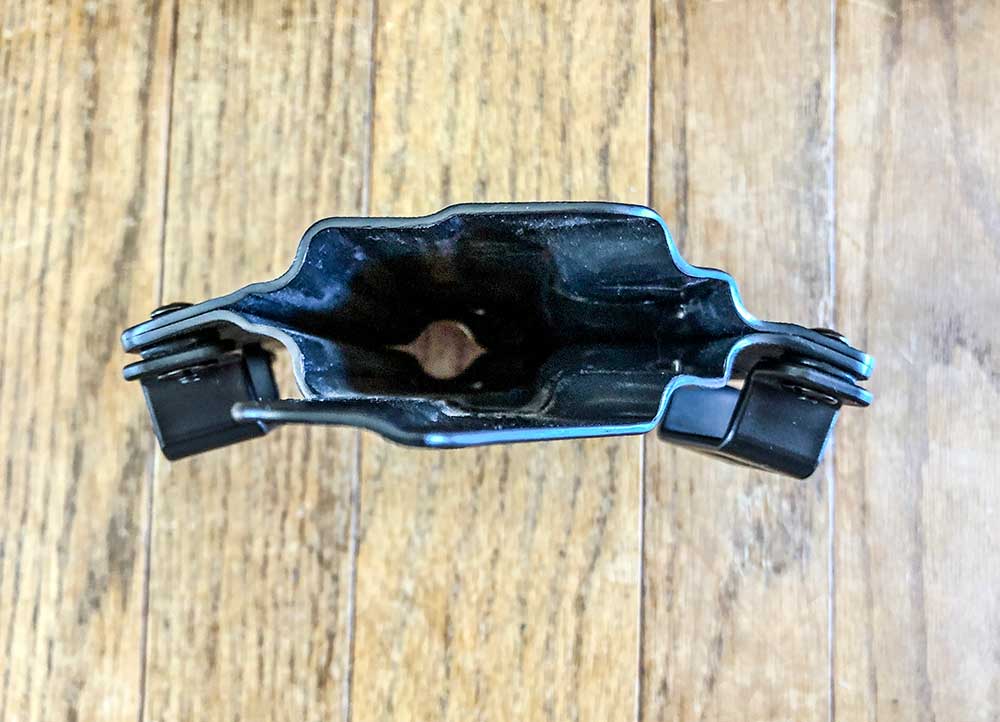 I first tested the BCA at an all-day defensive-pistol course, and it worked beautifully. The gun felt secure the entire day, through close to a hundred draws and reholsters. It was tight against my belt but with enough clearance to allow my thumb easy slide in between for a firm grip on draw and easy reholster with no danger of catching my shirt on the way in. Throughout the day, I shot from standing, sitting, kneeling, prone and retention, and the holster stayed right in place and withstood my weight landing squarely on it more than a few times unscathed.

A few days later, I tried it under a softshell jacket, and nobody had any idea I was concealing a full-size Glock G17 with accompanying mag pouch. It did print a little when I zipped the jacket, but typically I keep my jacket open for quicker access anyway.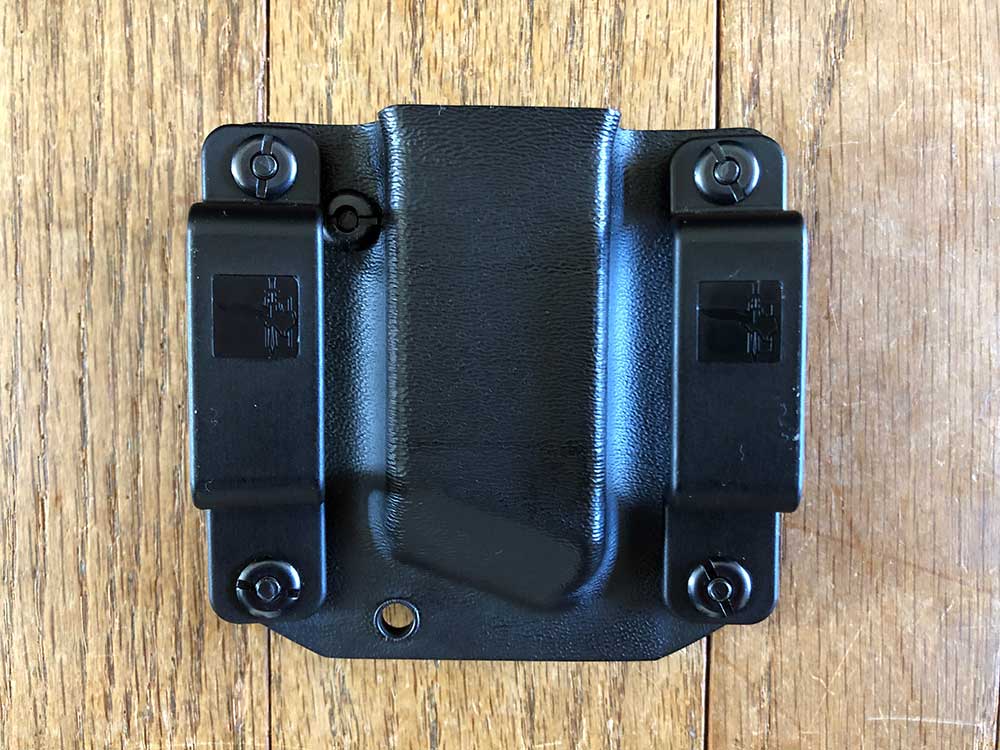 Bravo offers mag pouches for every holster, custom cut for the particular firearm model, not just a standard single or double stack. Oddly, the company offers these in lefty or righty configuration while the holster is only available for right-handers. Not sure how much sense that makes, unless you carry your mag pouch on the same side as your holster, but I suppose the mag pouch can make a fine companion for whatever left-handed holster you happen to settle on.

The mag pouches are made from the same top-quality materials as the holsters, including the same belt loops and screws. Reloads were easy, with easy in and easy out, and the adjustable retention let me set it the way I liked it.

The BCA 2.0 and mag pouch are priced on the moderate side at $49.99 and $29.69, respectively. At press time, Bravo was running a special for a $39.99 holster. Not sure how long that will last, but they are likely making way for the BCA 3.0 that recently came out. Sale or no sale, the BCA 2.0 is a good holster at a reasonable price.