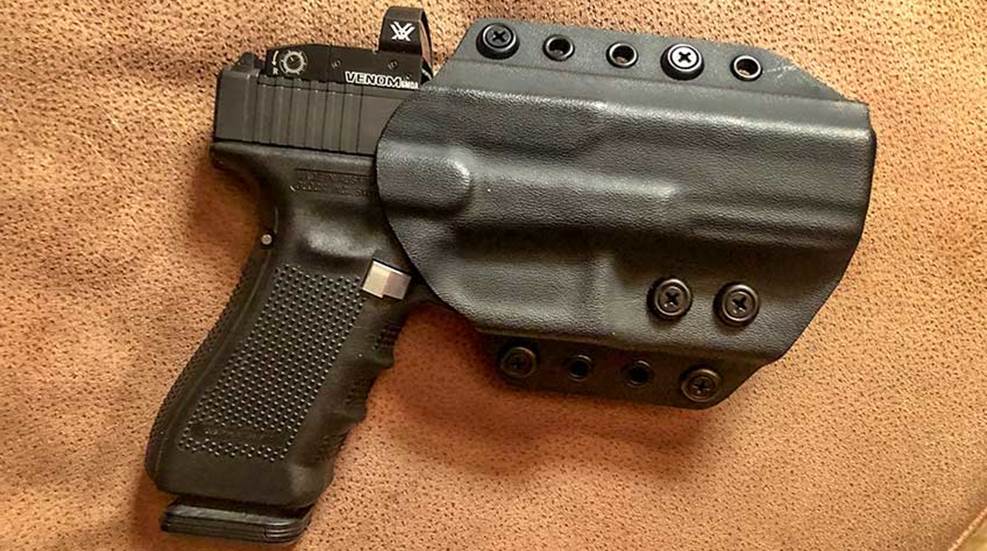 The world of Kydex holsters is peppered with companies large and small, from the heavy hitters whose names we all recognize to mom-and-pop operations that fill a niche with specialized products you won't find anywhere else. One of these is St. James, MO-based Lenwood, a boutique holster house that started when owner Jason Davis purchased a farm with a machine that he had no use for until inspiration hit one day.

Though he had no use for the machine itself, the conveyor belt caught his eye. In particular, the belt material itself. It was stiff and rugged, yet flexible. After buying a sewing machine on borrowed money, Davis started making belts and holster parts out of the leftover conveyor belt material, mostly for friends and neighbors at first, until he felt confident enough in his process and product to sell to the public.

One of Lenwood's most popular holsters is the Wraith, an OWB Kydex rig available in a wide variety of molds in the latest handguns, with an option to contact the company if yours isn't on the list. The Wraith also offers laser and light additions as well as an option to cover the whole holster in leather.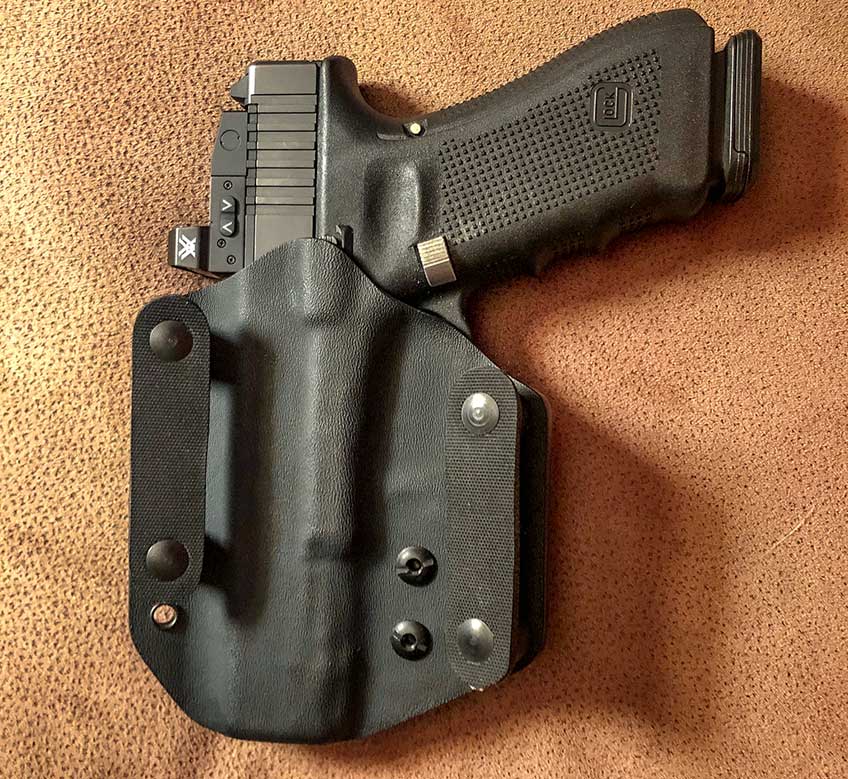 Where the conveyor belt material comes into play is the Lenwood Loops belt loops. Each of the two 3-inch oval conveyor belt strips is held to the back of the Kydex by a pair of screws with a 3/8-inch rubber spacer for your belt. The strips are staggered and set at a 20-degree forward cant for easy draw and reholstering. The aggressive texture of the conveyor belt material is both good and bad. It's just rough enough to grip your gun belt and prevent the holster from sliding around during everyday activities, but it makes installing the holster on your belt a bit more of a challenge than sliding smooth plastic clips over leather. But this is a minor inconvenience compared to the benefit of the tighter grip on the belt.

I ran this holster with my Glock G17 during an all-day training class this past summer with zero issues. The gun and holster felt secure all day long through close to a hundred draws and reholsters. Each time, the holster was exactly where I expected it, in spite of my rolling on the ground and changing shooting positions throughout the day.

The Lenwood Wraith retails for $60 for left- or right-handed shooters in black, olive, and coyote with options for six other color choices for a small upcharge, including the aforementioned leather covering. Lenwood also offers a $13 upgrade that converts the OWB into an IWB by changing out the clips.

Overall, this is a solid choice for a well-built OWB holster with a unique twist, thanks to the conveyor-belt strips. It's nice to see a reasonably-priced offering that easily stacks up against higher-priced alternatives, all while supporting a small player in the holster-making business.