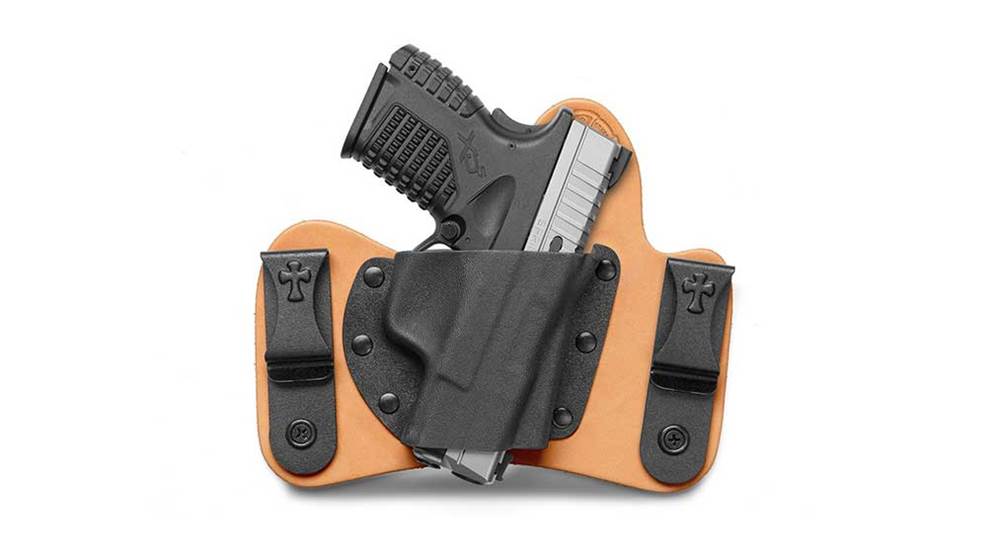 There is just something nostalgic about a leather holster. The look, the smell, the comfort. Even the cracking sound as you move around. But nostalgia only takes you so far when you're talking about an inside-the-waistband rig that will keep your gun protected and locked into place should you need to pull it out in that unfortunate circumstance of a deadly encounter.
The biggest complaint about all-leather holsters for IWB is they collapse when empty. You pull out the gun, take care of business (even if it's just shooting a few rounds at the range), and struggle to re-holster because the top is smashed closed and you have to either pull the holster out or reach around with your support hand to open the holster's mouth, all the while muzzling yourself. Neither option is suitable or safe. Enter the CrossBreed MiniTuck IWB holster.
Crossbreed's MiniTuck combines the best of both worlds: a soft, yet supportive leather backer with a molded Kydex pouch for a permanent opening, all held in place by two screw-mounted, powder-coated SnapLok steel clips strong enough to hold the holster and gun firmly in place but flexible enough to put on or remove with minimal effort. The clips are tuckable, too, if you like to wear a polo or dress shirt tucked in when you conceal carry. Just slide the gun into the holster and tuck your shirt into your pants and between the clip and the leather.
Speaking of the leather, it comes in two options: cowhide in black for $67.75 and horsehide in tan for $77.75. The model I received about six months ago – yes, this is a long-term test – was the more stylish and more expensive horsehide. Why horsehide? It's softer than cowhide yet just as strong. It costs a little more, well worth the extra $10. The tan color also gives it a bit of classic western flair that fits right along with the nostalgia mentioned earlier.
As with every holster review, the first thing to mention is initial impressions, something Crossbreed has mastered. I have yet to see a common man's holster that comes with the presentation Crossbreed puts into theirs. When the FedEx package arrived, I reached in and felt…soft cloth. Huh? I ordered a leather and Kydex holster that I expected to come in a plastic bag. Nope. Crossbreed ships the MiniTuck in a black cloth bag complete with a drawstring and their logo emblazoned in white on the front.
Once out of the bag, the holster shown on its own with beautifully crafted leather black-riveted to a Kydex shell that was treated with a special coating that made it look almost dull metallic. In fact, at first I thought it was metal.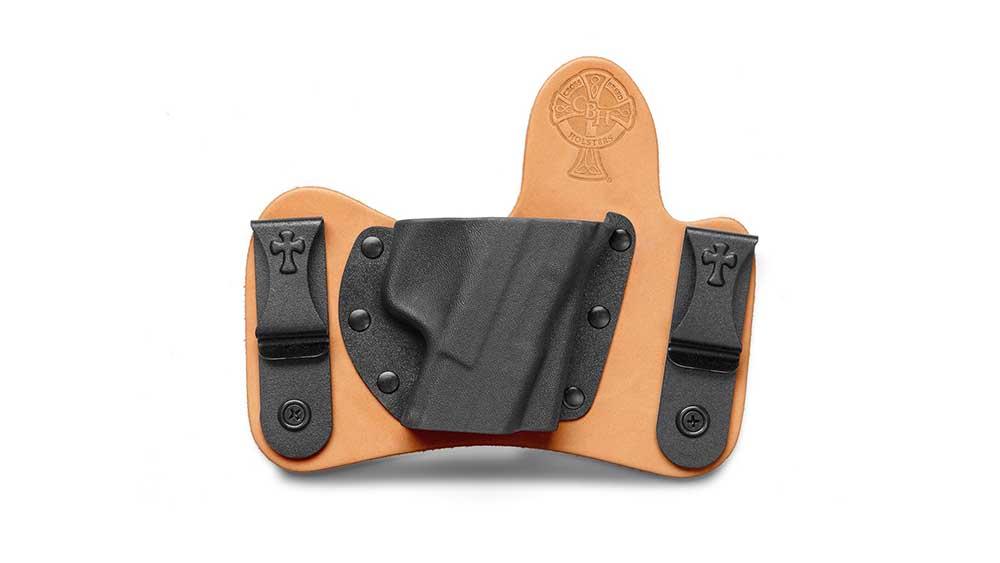 I grabbed my unloaded Shield and jammed it in. Perfect fit. Retention was dead on and it even held up to my flip test, where I turn the holster upside down to see if the gun falls out. It didn't. Which is good because you can't adjust the retention. As I pulled the gun in and out, I noticed the extra tall channel built into the Kydex to allow for oversized sights. That's a nice touch that too few holster makers include.
I strapped on the holster with a thick leather gun belt and everything fit exactly as advertised. The clips held firmly and the top of the Kydex barely peeked out the top of my jeans, letting the gun ride as low as possible while not getting lost inside my waistband. So far, so good.
Fast forward six months and by now I've worn the holster almost daily, including a couple of 12-hour road trips, and it has gotten more comfortable as it's broken in. The clips are still rock solid and the leather is in great shape. I failed to mention earlier that Crossbreed also threw in a small bottle of leather conditioner, which I'm just now starting to need for a minor bit of rubbing where the beaver tail meets the backer.
With all that is good and right about the MiniTuck, I did run into a bit of frustration one weekend this summer when I took a four-hour advanced CCW class outside in the Missouri heat. The holster stood up just fine to the rigors of repeated draws and reholstering, but when I took it off at home, the leather was soaked through and took two complete days to dry under a ceiling fan. Perhaps it was my lack of experience with leather holsters, but I didn't expect it to absorb that much sweat and take that long to dry. The good side is, once it dried, it was back to normal.
The Crossbreed MiniTuck is a solid, comfortable holster available in a laundry list of gun models, so there's likely a version designed for your go-to concealed-carry pistol.