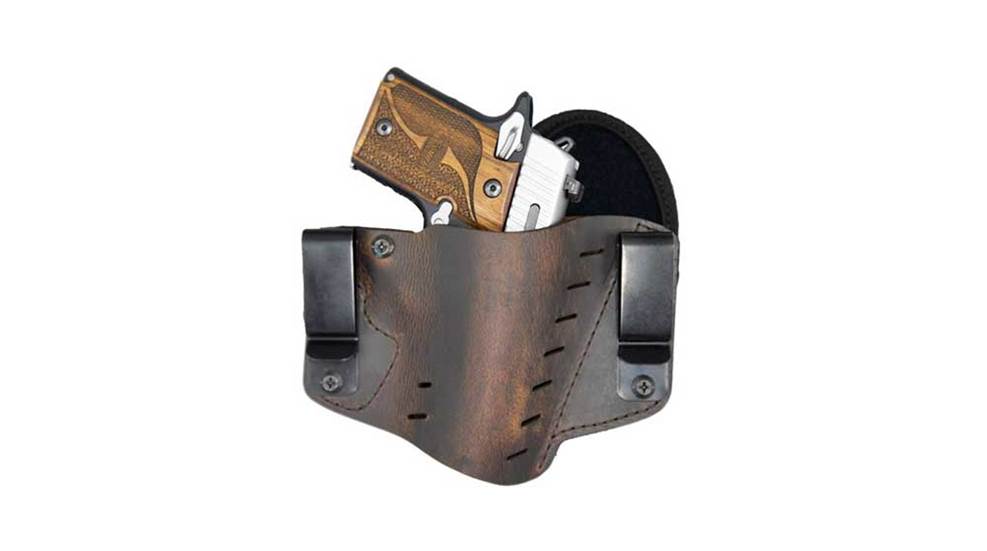 The new Comfort-Flex holster from Versacarry addresses two of the main problems associated with carrying inside the waistband: sharp edges against the wearer and sweat on the firearm. The Comfort-Flex features a removable padded foam backing that rests against the skin of the user, which helps protect both the gun and the gun owner. The foam pad is attached with industrial-grade hook-and-loop fabric for a secure hold and is machine-washable for fast cleaning.

The Comfort-Flex holster is built with efficiency in mind and designed with a forward cant to help conceal the gun and improve draw speed. Each Comfort-Flex holster is made in the USA with only the finest vegetable-tanned water-buffalo leather and is offered for right-handed users. Versacarry includes a unique design that leaves the holster with a slight gap to speed up the holster break-in time. Most leather holsters require you to break in your holster for best grip and fit before you are able to use it. By adding this gap, Comfort-Flex holster requires half the time to break-in of other leather holsters. 

Versacarry includes a screw located at the top of the holster that can be used to either tighten or loosen the tension, allowing you to adjust the tension that holds the gun in place. The Comfort-Flex holster is available with or without a spare magazine pouch attached to the holster and is available in three different sizes that will work with most pistol makes and sizes.

MSRP for the Standard Comfort Flex Holster is $60.00 and the Comfort Flex w/Mag Carrier is $70.00. For more information, please visit versacarry.com.