by
Evan Brune, Associate Editor, Shooting Illustrated
posted on November 19, 2018
Support NRA Shooting Illustrated
DONATE
In late November 2018,
CrossBreed Holsters
made a big addition to its concealed-carry lineup with a brand-new, do-it-all design. "The Reckoning" holster, as it's called, is probably so-named because, for every other holster in your collection, their day of reckoning is definitely here. With this new CrossBreed holster, you can replace any kind of appendix-carry, IWB, OWB or crossdraw rig with one option: The Reckoning.
To give you an idea of what kind of work went into the design of the new CrossBreed Reckoning holster, I'll give you a glimpse into the glamorous world of a
Shooting Illustrated
editor. Normally, when new products roll out, I get a box. After I've cued up the "What's in the box??" monologue 
à la
Brad Pitt's character David Mills in the movie "Seven" and sufficiently weirded out our mailroom staff, I slice it open and find a product, along with some basic marketing information. The information is always, "This is what our product is and what it does," and that's the end of it. For The Reckoning, CrossBreed didn't do that.
Instead, along with the holster, CrossBreed asked individuals in the firearm industry for their input in the design and construction of the new rig, letting us know that the holster was still being evaluated before being released. This kind of development process isn't novel, by any means, but companies typically reach out to select individuals or retain consultants in-house during the design and development process. For a company like CrossBreed to reach out to a wide smattering of people, regardless of their connection to the company, showed a real drive on the part of company employees to produce a holster that worked for as many people as possible.
For my part, I can provide input merely as a dude who carries a gun because, in this world, bad things happen to good people. In that vein, a holster like the CrossBreed Reckoning needs to meet a few key requirements: comfort, concealability and accessibility. Too often, I find holsters that provide one or two of these elements but never all three. To see if the CrossBreed offering provided them, I began working with and carrying in the Reckoning and have had about two weeks of experience with it.
CrossBreed holsters have a unique design in that, rather than going all-leather or all-Kydex, it's a blend of both. That way, you get the comfort of a leather backing combined with the retention of a Kydex half-shell. In my experience, carry comfort is a clear benefit of the Reckoning design, as I've been able to carry the rig inside the waistband without issue, even during long commutes or extended stretches sitting at a desk.
In terms of accessibility, that's where the Kydex half-shell and carefully-cut leather backing really shine. Any time you're trying out a new holster, get it into the position you find most comfortable and the one you'll use the most. After you've found it, grip the handgun while it's holstered. Can you get a full, solid firing grip? If the answer is yes, that's a good holster, and I'm pleased that the CrossBreed Reckoning design passes that test. The benefit of the half-shell is that, unlike all-leather designs, users can re-holster with relative ease. During dry-fire practice, that's a huge benefit, since owners can draw and re-holster (carefully) without having to remove and re-situate their rig for another draw.
Each CrossBreed Reckoning holster comes equipped with tuckable clips, allowing shirttails to slide into the space between the outside of the Kydex holster pocket and the inside of the waistband. This offers easy concealment, and there's no impediment to clearing cover when a fast draw is needed. My preferred carry position is strong-side IWB, and that's where most of my experience with the Reckoning comes in, but the holster is capable of facilitating many of today's popular carry positions and can even be used as an OWB rig with the company's add-on Speed Clips for an extra $10.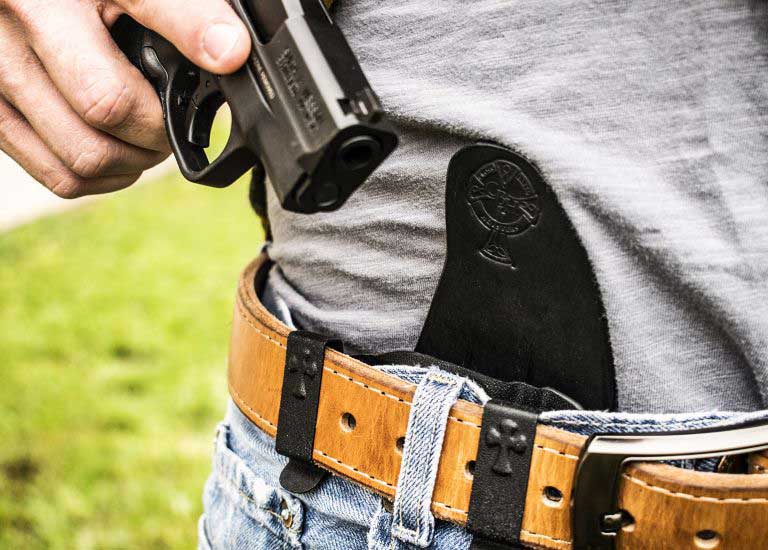 Personally, I don't have a huge body of experience with appendix-carry designs, so I turned to
Shooting Illustrated
Managing Editor Jay Grazio for his input on the usability of the CrossBreed Reckoning for appendix carry. After fitting and sitting with the holster in the appendix-carry position, he found it comfortable to use. One caveat to keep in mind when considering the Reckoning for appendix-carry use is that the dual-clip design requires a bit more thought and planning than single-clip designs. Some pant-and-belt combinations may not mesh well with two clips, though the placement of the CrossBreed holster's two clips is well thought-out and is designed to facilitate use with as many dress options as possible.
One drawback that's always plagued the half-and-half designs for which CrossBreed is known is that a Kydex half-shell mated to a smooth-sided leather backer doesn't offer nearly the same level of retention as a double-sided shell. To solve this issue, the company added an inventive retention mechanism that rides beneath the trigger guard of a holstered firearm. To adjust retention up or down, an included Allen key drives a threaded plug onto a flexible, polymer rib. This, in turn, puts increased or decreased pressure on the bottom side of the gun's trigger guard, allowing users to fine-tune retention.
All these features found on the CrossBreed Reckoning holster can be had at a price of $64.95, which is a pretty good deal when you consider how much you'll spend for separate holsters for appendix-carry, IWB, OWB and crossdraw use. Currently, CrossBreed lists more than 50 different firearm fits and is working to roll out more options. Plus, as the design develops, you'll possibly see other unique add-ons to make this already-versatile design even more flexible. As it is, though, the CrossBreed Reckoning offers comfort, concealability, versatility and accessibility in spades, all at an easily affordable price. What more can you ask for in a concealed-carry holster?