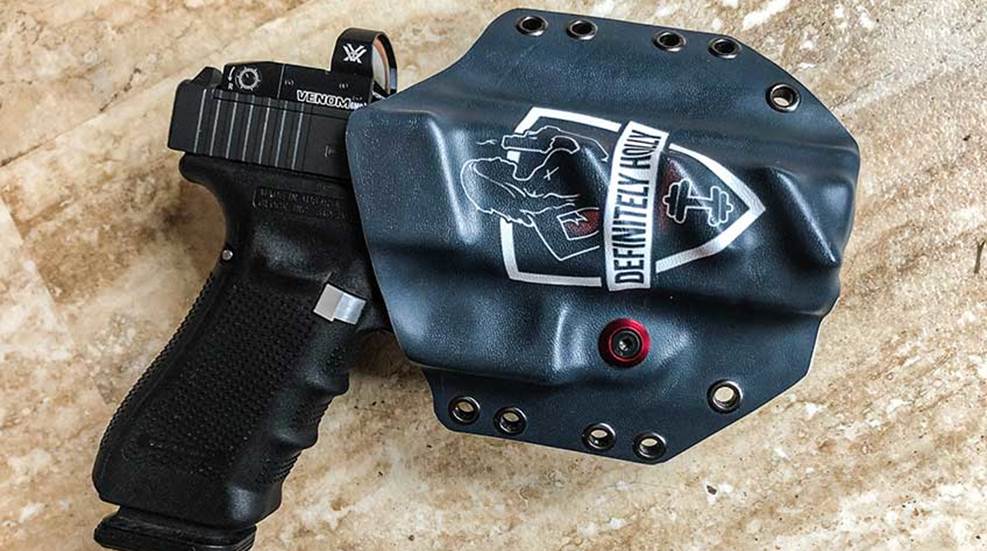 Like a lot of smaller holster companies, Definitely Holly, a Midwest startup launched in 2018 by Holly Hoechstenbach, wears its Second Amendment heart on its sleeve. A self-described conservative, Christian millennial and "free spirit who walks the road less traveled," Hoechstenbach didn't grow up around guns but learned to appreciate them when she moved out on her own and took a job five hours away from her parents' home.

She purchased a Smith & Wesson 9mm Shield for self-protection and trained on how to effectively use it. Today, she trains other women to be just as self-sufficient and proficient not only with firearms but with mindset and situational awareness. Out of her love for guns sprang the Definitely Holly product line.
For my review, Hoechstenbach provided me an OWB version for my Glock G17. My first impression of the holster was that it looked amazing. The holster shell is constructed entirely of .08-inch thick Kydex, with separate panels front and back (as opposed to a one-piece taco shell design), with the company logo screen printed bright white right over the dark grey background.

The panel itself featured some extra molded details: three parallel diagonal bumps descending the slide contour for a bit of visual and tactile interest. Right below the trigger guard is a single retention screw with an attention-grabbing shiny red ring receiver. There is no doubt where to adjust. All of this pointed to amazing attention to detail in the design.
My second impression, however, was that the holster was too tight, at least at first. The gun fit so well that I couldn't pull it out. I love great retention, but this was too much. So, I reached out to Hoechstenbach with a short video demonstrating my dilemma. She suggested two courses of action: 1) work the Kydex out through repeated draws and reholsters with a dry gun, or 2) send me a new one. Rather than make her send me a new $76 holster, I chose to spend time working it as I watched TV. Sure enough, that did the trick.
Oddly, the holster is held onto the belt by a UTI clip, a fastener typically found only on competition holsters. This isn't entirely bad, however, as UTI clips are incredibly strong, but it does make the holster a bit harder to conceal, since it sticks out another half inch compared to conventional belt hooks or loops.
Since I received my Definitely Holly holster last summer, Hoechstenbach has added an IWB version, available in a variety of gun molds. These holsters are great quality, easy to use, and right in the price range of the company's competitors. A solid option, overall, and a great way to support a small 2A-focused business.