Every once in a while, the holster world throws us a curveball. Such is the case with the 1791 Gunleather Tactical Paddle Holster OWB (Outside The Waistband) holster because, well, it's not leather. In fact, there isn't a stitch of leather to be found anywhere on it. Not the shell, not the paddle, nowhere. The word "leather" is in the company's name, but this holster is clearly made from Kydex. But that's okay, because the company has demonstrated they can play nicely in both worlds.
The Tactical Paddle Holster OWB starts with an asymmetrical taco shell with some interesting diagonal visual details that have nothing to do with the shape of the gun but are just for decoration, which is something you don't find much in the normally straightforward world of Kydex holsters. The open-ended muzzle design allows for threaded barrels, or in the case of the Glock version they sent me, the flexibility to use it for either a G17 or G19 since they share essentially the same frame and slide setup.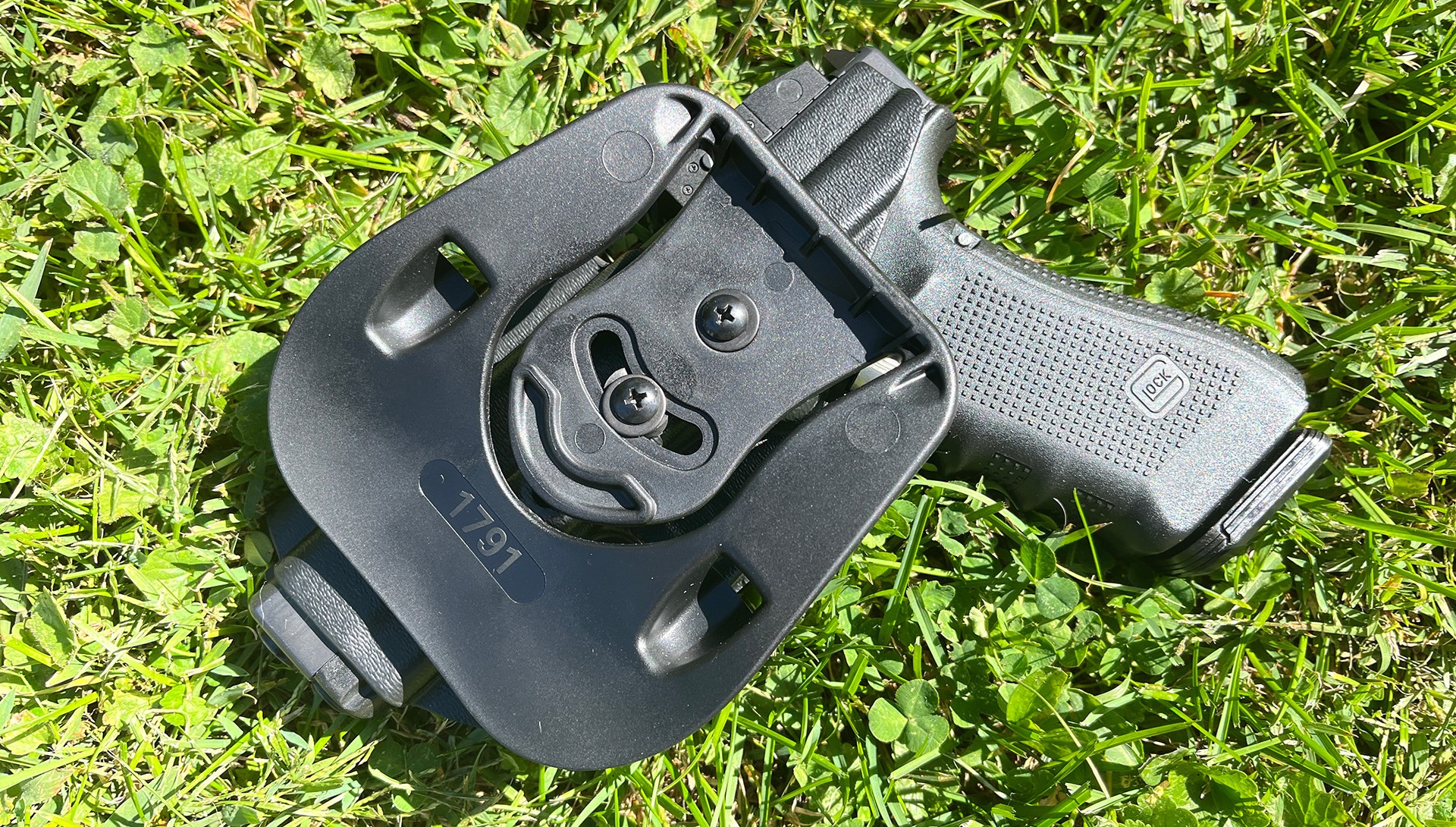 Retention for your pistol comes from two screws that are under the trigger guard which also close up the taco shell. The factory settings were perfect out of the box, but you can change the tension with a simple turn of two screws.
For peace of mind, 1791 built in an audible click when the gun goes into the holster so you can feel and hear that it's clocked into place and not coming out on its own. However, the draw was still easy with a straight-up motion.
The holster is held to the belt with a 1.75-inch paddle with enough flex to work it over and behind a belt but was rigid enough to stay in place all day. It's nice to see the bigger dimension for those who like the wider belt, yet the paddle also worked well with my 1.5-inch belt.
I used this holster when I taught a pistol class with several draws and reholsters, and it worked flawlessly. Later, I worked some dryfire drills in the basement, and again the holster performed as intended, with no issues.
Cant is adjustable with a single tension screw on the back of the paddle, up to 15 degrees forward or backward. I tightened the screw down in the fully upright position, and it held all day and was still locked in place when I took it off after class.
At $64.99 with a lifetime guarantee, the Tactical Paddle Holster OW from 1791 Gunleather is an outstanding Kydex product from a company that staked its reputation on leather goods.