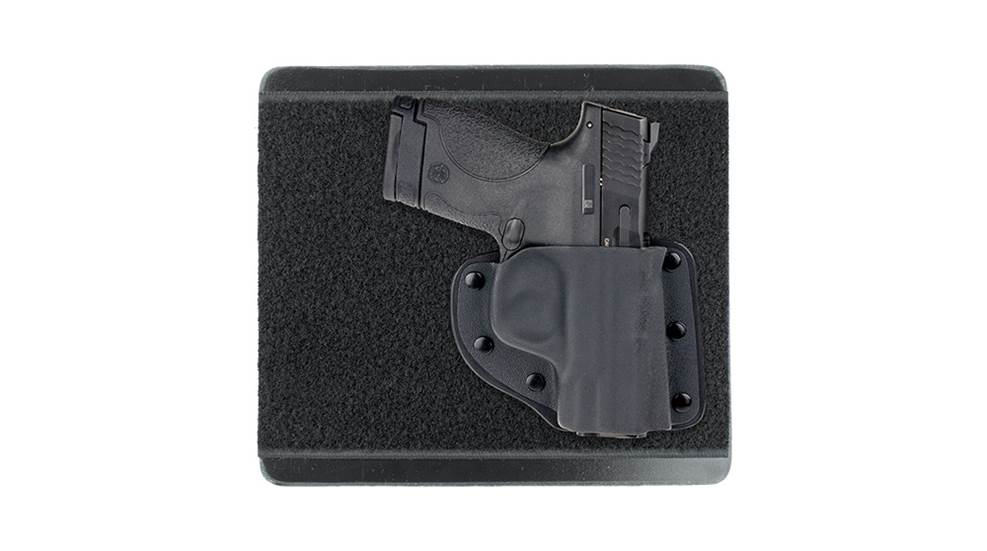 Every once in a while, a product that's so simple and effective comes along that you slap yourself on the forehead and wonder why you didn't think of it first. Enter the CrossBreed Pac Mat, stage right.

Let's start off by establishing that, ideally, on-body carry is the way to go. A holstered gun on the hip, ankle, underarm, even clipped to your bra for the ladies, is the best way to carry a gun. It's immediately accessible, never gets accidentally left behind and muggers won't take your firearm if they snatch your purse or backpack. In a perfect world, nobody would ever need to entertain off-body carry.

However, we don't live in a perfect world (thus the need for guns for self-defense in the first place), and sometimes we must make accommodations for less-than-perfect situations. One of those is the occasional need to accommodate off-body carry.

One consideration when deciding how to carry off body is storing the gun where it is quickly accessible yet safely out of reach of prying eyes and wandering fingers.

The Pac Mat from CrossBreed is a great solution. Designed to fit into a standard size backpack or sling, the Pac Mat starts with a flat 9-inch x 8-inch Kydex-lined board on one side by a loop field. This board provides rigid support inside the bag, so the firearm always stays in place right where you put it, never wandering around each time you shift the bag or set it down. From there, the system builds on CrossBreed's reputation for modularity and cross-platform compatibility.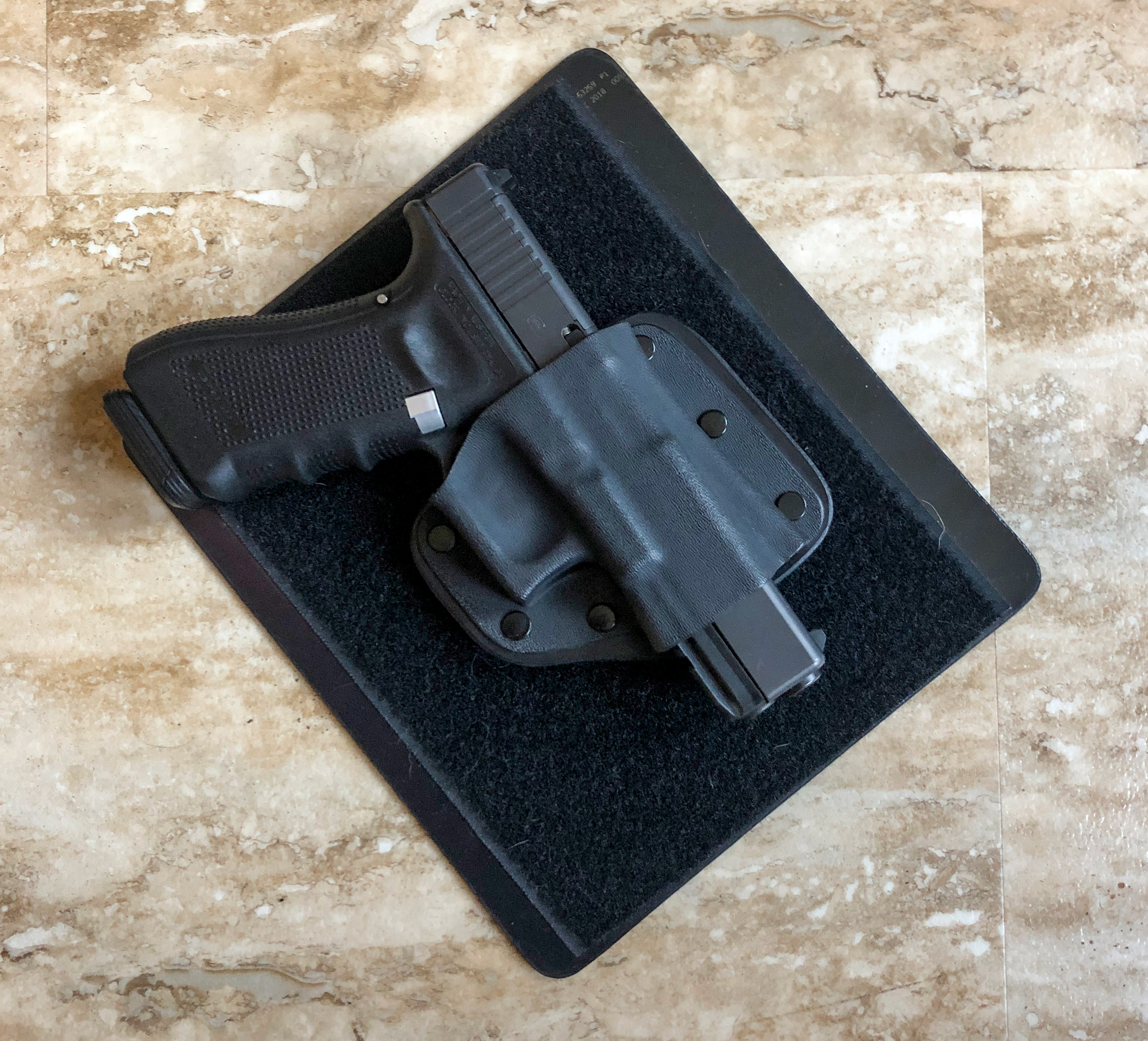 The included modular hook-and-loop-backed Kydex holster–available molded for pretty much every handgun on the market–affixes easily to the loop field on the board, forming a solid bond that won't easily separate even when carrying the Pac Mat in a full backpack with a fully-loaded, large-frame gun. The holster can easily be positioned and repositioned anywhere on the board you want. If you move the holster over enough, you can also add a spare hook-backed mag pouch next to it, keeping them both handy.

One huge benefit of this system is you can switch out the holster instantly. For instance, I carry either a Smith & Wesson M&P Shield or a Glock G17, depending on the situation, and can easily swap out the holsters for both. If you carry multiple guns–either together or interchangeably–you only need to purchase the second holster. Swapping them out takes only seconds.

The beauty of this system is that you can carry it in pretty much any backpack compartment that's available, so long as you have square inches to accommodate the backer. For my test, I attached the Glock holster with a fully load G17 (17+1) and a spare mag pouch with full mag to the Pac Mat and carried it inside the laptop compartment of my backpack every day for several months. Thankfully, this particular backpack has two laptop compartments, so I didn't have to sacrifice any tech-carrying capacity to carry a gun.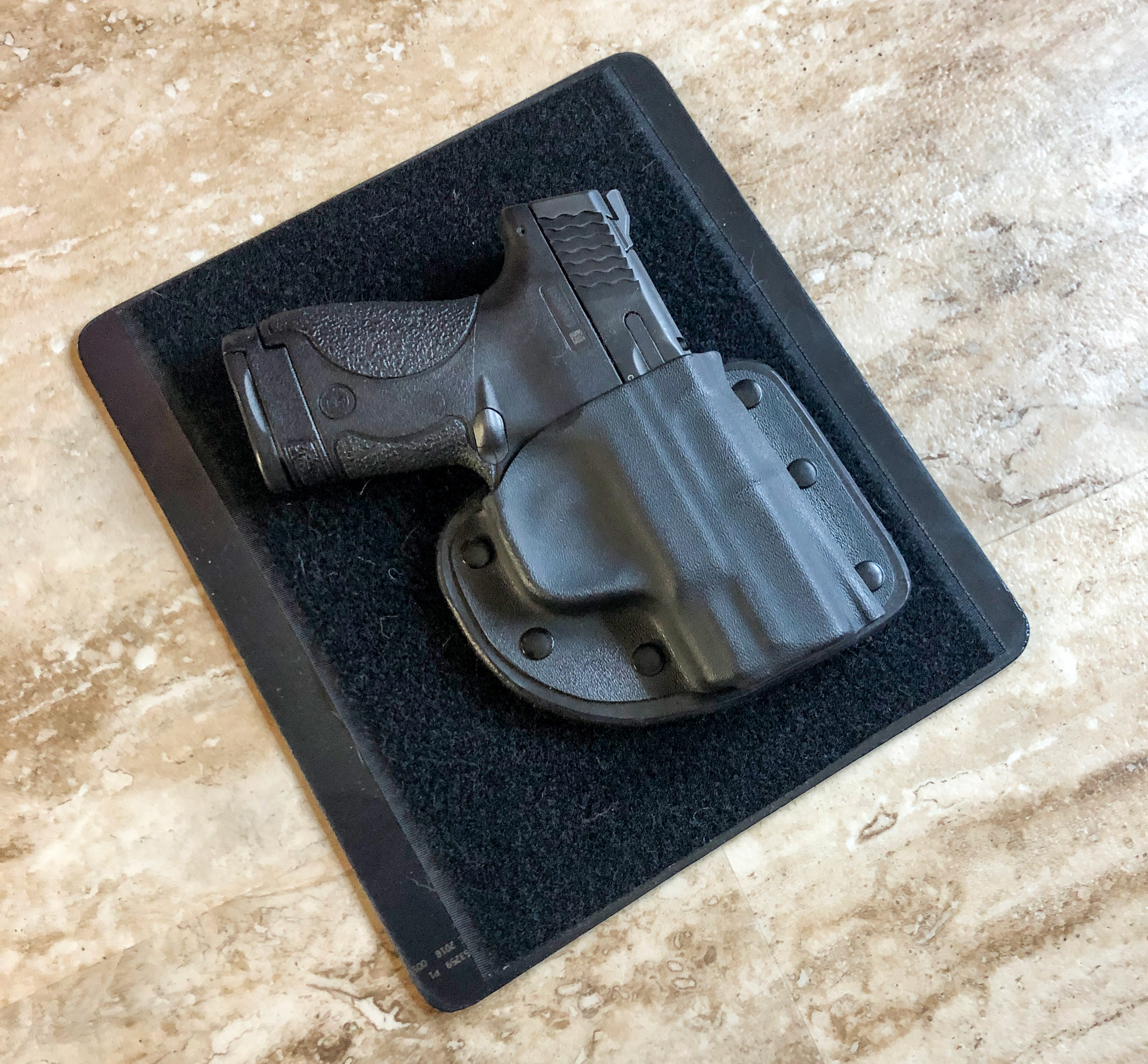 At first, I was unsure how rough I could be with the backpack, concerned that shifting it around or setting it down too hard might dislodge the Pac Mat, or worse, dislodge the holster and cause the gun to fall out. As it turned out, however, my fears were unwarranted. After a day or so of carrying, I realized the gun was secure and the size and shape of the backer prevented the board from rotating. The gun stayed where I left it and was right where I expected it to be when I reached it to check.

Now, while I say all these great things about the Pac Mat–and there is a lot to recommend it–it's not without its flaws. The one that stood out the most was a lack of retention adjustment. CrossBreed does a great job of molding the Kydex to the gun, but I would like to see an adjustment screw just in case you'd like to tighten the holster a bit. It's personal preference. In fairness, the entire time I had the Pac Mat inside the backpack, the gun never fell out. Still, it would be nice to have the option to adjust retention.

The CrossBreed Pac Mat (retail price $44.95) comes with a holster for your handgun. Holster options include molds for guns with and without red dot or suppressor sights. If you prefer a smaller board for purse or smaller bag carry, pick the Mini Pac Mat, a downsized 6-inch x 6-inch version of the same system for $42.95.